Madison Square Garden hosts its first playoff game in over five years. Will the Big Apple boys be able to kick the demons the Celtics have sicked on them in the final minutes of Game 1 and 2?
Posted by Matt Moore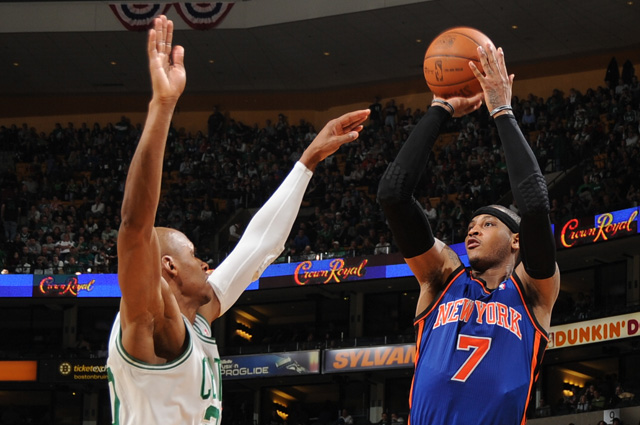 The Narrative:
Close only counts in horseshoes and hand grenades. That's the reality of where the
Knicks
are at. A stellar performance by Stoudemire in Game 1 crushed by a terrible performance from Melo and a vintage
Ray Allen
three. A superhuman response from Melo in Game 2 without Billups or Stoudemire, vanquished by
Jared Jeffries
bowled over on one end, intercepted on the other. The Knicks fought so well in the first two games. And they have nothing to show for it.
The crowd at MSG will be there. But you have to wonder about the emotional response of the Knicks. Those were two tough, tough losses to take. And versus a usual six seed who would just be happy to have shown some life and been in the conversation, New York's on a different level. The market, the city, the superstars, the expectations all mean that they're supposed to finish those games when they have the chance, even with the vagabonds they currently have in key rotation positions. Trying to get a lock on how the Knicks will come out is pretty difficult. You have to believe Stoudemire will be ready, having been in so many playoff games. Melo might be in the same boat, but he might also be checked out after doing what he did in Game 2 and having the game blown up by Jeffries electing to pass.
The Knicks' best effort will come from riding that surge of emotion. They can't out-execute the Celtics, but if Stoudemire's back, Boston also won't be able to throw nine-hundred defenders at Melo at once. The Knicks need to get out in transition, create steals, scrap like they did in the first two games and hang on. Surrendering late leads isn't just a way to lose a game. It's a way to lose a series. Just ask Indiana.
The Hook:
You know who's been terrible?
Landry Fields
. Which isn't really fair to say since he's a rookie and all, and he hit the rookie wall about two months ago. Essentially, since the Melo trade, he's fallen off the map. Whether it's chemistry or lineups or balance, Fields hasn't been able to make the same kind of impact he did early in the season. Which would be something we'd excuse and move over, but as thin as the Knicks are, they need every player who could be considered "good" to contribut. Fields is 2-7 in this series with a rebound, a turnover, and a block in 35 combined minutes. He was even 0-2 at the free throw line. Fields doesn't have a great offensive repertoire and isn't any sort of speed demon. But he's got to make his presence felt somewhere. Hustle plays, easy layups, steals, blocks, somewhere. He's got to put in some sort of impact. The Knicks don't have enough players for Fields to no-show. That's just the reality of where he's at.
The Adjustment:
Stoudemire might be back, and he killed the Celtics in Game 1. The Celtics aren't known to just accept certain guys doing damage. So they'll likely be more aggressive with STAT at the elbow and low. The elbow is Stoudemire's ISO starting position. Since the Knicks are likely without
Chauncey Billups
again, there isn't a ball-handler to really attack with Stoudemire in the pick and roll (and isn't that a shame). So those elbow possessions will be up should Stoudemire give it a go. Expect the Celtics to possibly back off the elbow jumper to keep Stoudemire from driving, hoping those back spasms will tighten up his release to distract him. When he does drive, expect more low help, as neither Turiaf nor Jeffries have proven they can handle, collect, or produce off the dump-off pass.
Also expect a really healthy dose of elbows to the back of Stoudemire. If he plays, he's going to physically wish he hadn't. This is what the Celtics do.
If the Knicks are smart, they'll force the issue with the pick and roll. Yes, the Celtics are one of the best pick and roll defensive teams in the league, and yes, the Knicks are without a capable guard to run said system. But even getting Melo as ball-handler or working with veteran guard
Anthony Carter
could help. Stoudemire is so good in that set, to not use him is almost criminal.
The X-Factor:
Injury, obviously. Shaq's almost definitely out. Amar'e is a gametime decision. Billups is likely out. The Celtics have a handful of scrapes and bruises, including
Jermaine O'Neal
's wrist, which turned him from a major influencer in Game 1 to a near-liability in Game 2. Despite this being a Mike D'Antoni team, this has been a rough and tumble series, with some good defense played on both sides. There's going to be more hammering, more contact, more bad blood. The Celtics know that Game 3 and 4 are chances for the knockout punch. They also know that losing both means less rest before facing the
Heat
in the semis. The Knicks know the Garden is their last stand and another suckerpunch loss will pretty much doom them and the players will start to check out mentally. With the injuries in play, this is going to come down to a battle of wills.
And in that situation, you never, ever want to bet against the Celtics.
The Sticking Point:
The Knicks got a superb performance from Stoudemire in Game 1. They got an other-worldly response from Melo, short-handed, in Game 2. Their best hope in this series was for their star players to step up and take over the game. That happend. They still lost. The Celtics haven't shut down the Knicks' best players, but they've done enough, particularly in the last five minutes. Swagger's a cliche, but it's also got some truth to it. The Celtics know they can win, no matter what the Knicks do.
Can the Knicks find a different way to win, or are they just pretty much who they are? The Garden's waiting to find out.