Posted by Royce Young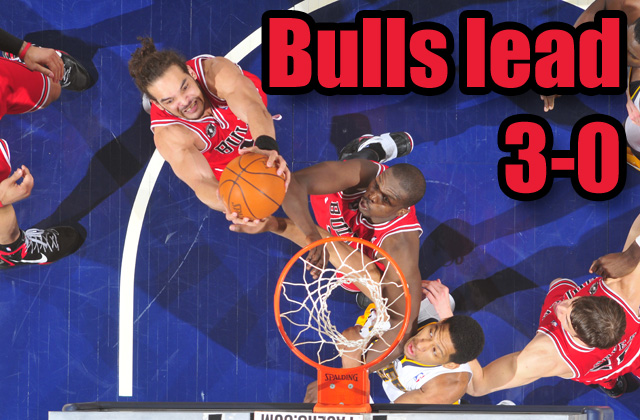 It's a lesson every team learns at some point in the postseason. Your star simply cannot do it all. Someone else has to step up. It's just about the oldest playoff adage.
For the
Bulls
,
Luol Deng
was a no-brainer. But
Kyle Korver
? Kyle Korver is now the Bulls big shot taker and maker?
Korver knocked down two more massive 3s late in Chicago's 88-84 Game 3 win over the
Pacers
. During the three games, Korver is 7-8 from deep. In big moments, the Bulls space out, let
Derrick Rose
isolate and look for a kickout to Korver. Who would've thought that would be Chicago's best crunch-time option?
But without Korver (12) and Deng's (21) secondary scoring, the Bulls are long gone in this one. I'm not going to sugarcoat it -- Derrick Rose stunk. He went just 4-18 from the floor and 2-6 from 3. Once again, he attacked the rim mercilessly which got him to the line 15 times. Thirteen of those trips were makes, and he finished with 23 points, but Rose was far from excellent.
Rose's game will be overlooked because a) the Bulls won and b) he made the game-winning shot with 15 seconds left. But he just wasn't very good in this game. There's no way around it. Not only was he missing shots, but he turned the ball over five times and only had two assists. Fawn over his layup to win it if you will, but, please realize, Derrick Rose is not the reason Chicago won this game.
Really, it was kind of a solid explanation as to why some were anti-MVP with Rose. It wasn't at all about Rose's game as much as it was about Chicago's stifling defense. The Pacers, who are a solid scoring outfit, notched only 84 points on 37.9 percent shooting, including 1-10 from 3. This is a Pacer team that loves to fire the 3, and the fact they only made one says something about Chicago's perimeter defense.
Here's a small secret though: Rose has not shot the ball very well at all so far this postseason. He's shooting just 37.8 percent from the field and 4-20 from 3. Take away his free throw dominance and he goes from apparently dominating the series to being incredibly average. On top of that, his assist-to-turnover is 14 to 14. Not very good.
That sounds like a dig at Rose, but it's not intended to be. Without him, the Bulls aren't up 3-0. Not even close. But let's not get overly worked up about Rose's first-round performance here. He hit a big, late-game shot in Game 3, and scored 75 points in the first two games. He's been pretty good.
But the Bulls are winning because the Pacers have no idea how to execute in the fourth quarter, they can't rebound, Korver has been huge, and, tonight, Luol Deng stepped up. Keep in mind that this is a 37-win Pacer team against the best record in the NBA. Yes, the Bulls lead 3-0, but it's just by a combined 15 points. By no means is this panic talk from me, because I definitely don't believe in that stuff, especially when you're winning, but I don't think the Bulls or Rose would tell you they're happy about how these first three games have gone. I think they all expected more.
At the same time, it could be a good sign. To get major, key crunch-time performances from players not named Derrick is huge for Chicago. Especially when you picture a series versus Orlando or Miami. Korver is notorious for coming back to Earth after a great stretch of games, but just having that threat on the floor is big for Chicago. And, if Deng shows up like this consistently, between Rose and the defense, the Bulls will be fine.
Which is all that matters really. The Bulls have never claimed it to be pretty. They just give you results.