Portland Trail Blazers guard Brandon Roy apologized for emotional comments about his playing time following Game 2. Posted by Ben Golliver.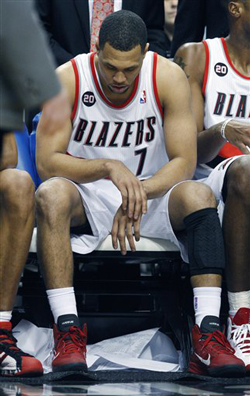 Following Portland's Game 2 loss to the Dallas
Mavericks
on Tuesday, Trail Blazers guard Brandon Roy expressed some frustration with his playing time,
telling reporters that he nearly cried
during the game because he only played eight minutes. Roy questioned why he was being subbed in after fellow reserves
Rudy Fernandez
and Patty Mills and said his pride was hurt by the treatment.
On Wednesday, Blazers coach Nate McMillan did his best to stomp out the drama. "As I said to Brandon, there is nobody in this state, including Brandon, that [wants] Brandon on the floor as much as I do," McMillan told reporters at the team's Practice Facility. "[Tuesday] night was a rotation that I felt we wanted to get back to our first unit and I went to that rotation. Bottom line is making decisions on substitutions is going to be me making those decisions as far as what's best for the team."
At Thursday morning's shootaround, Roy apologized for his remarks, which drew a large outcry among Portland's fanbase. "Frustrations, emotions, I'm sitting there, whenever your team loses, I get upset," Roy said during
an interview videotaped by OregonLive.com
. "It was something that shouldn't have been said but I can't go back on it now. The biggest thing is, if I offended anybody by those comments, I apologize. It was just out of wanting to be out there and being down 0-2 leaving Dallas. It was hard."
Roy said that he had met with McMillan but that the two hadn't spoken specifically about his comments. "Me and coach spoke. We'll be fine. It's the NBA, sometimes you have outbursts, you have to overcome those things and come together."
The issue also apparently hadn't been discussed among the Blazers as a whole. "We haven't talked about it," Roy explained. "The guys, we came in and watched film yesterday, I think everybody's focus is how can we beat Dallas. This is a minor distraction. We've got to get ready to beat Dallas and not make any excuses."
The former All-Star guard backed off his statements concerning the rotation, saying that those decisions are McMillan's to make. "I think he should go with what he feels is going to be right," Roy said. "If he's comfortable with a lineup being out there, I'm ok with having to be on the bench. I was just emotional last time and maybe I shouldn't have said nothing. But if that happens tonight then I won't be complaining about it."
For his part, McMillan said the comments and ensuing reaction won't affect his rotation decisions or his handling of Roy. "He's going to play his role which is coming off the bench and we will see," McMillan said. "There wasn't any minutes promised or anything like that. All of our guys want to play minutes. Like I said, I'm trying to put this team in position, and I've talked to the team about that, to win games."
Roy's focus for Game 3 is on making the most out of his playing time regardless of how many minutes he is given. "I've got to try to produce a little bit faster," Roy said. "I've always been somewhat of a slow starter in my career, I usually start off slow and pick it up. I've got to change that tonight, start off a little faster, be a little more aggressive and then if I don't play that much, I've got to be OK with it and then I'll always continue to support my teammates if I am on the sideline."
Roy is averaging one point, one rebound and 1.5 assists in 17 minutes per game in the playoff series. Dallas leads Portland, 2-0.