Can the Sixers make this a series or is Miami just too much for Philadelphia? First two games don't paint a rosy picture for the Sixers.
Posted by Matt Moore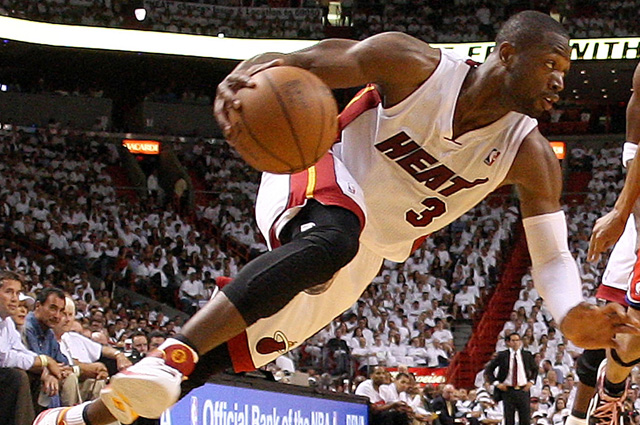 The Narrative:
It doesn't take a genius to tell you this is a must-win for Philadelphia. A loss and you can fold up the tents, carnies, the circus is leaving town. That's pretty obvious. There are things less likely than the Sixers charging back from an 0-3 deficit to even make the
Heat
sweat (see what I did there?). They just happen to include a colossal burrito devouring all life on earth and people on the internet learning to live in peace and harmony. It ain't happening. Philly had some things going right in Game 1, but Game 2 came along and sucked all hope in to a vaccumous black hole of defensive rotations and
LeBron James
dunking all the time. But, they'll be in front of the home crowd, as underwhelming as they may be, and this is their best chance to surprise some people and put the series into a little bit of doubt. We've seen nothing from Philadelphia to suggest that, should they lose this game, their spirit won't be crushed and the brooms won't be brought to the table.
The Hook
:
Chris Bosh
went off in Game 1. LeBron James dominated in Game 2. Is it
Dwyane Wade
's turn?
Jodie Meeks
has done a surprisingly good job in this series chasing Wade, from baseline to baseline, through screens, and contesting as much as possible. Wade's still having a good series because he's a very good player, but Meeks has done pretty well. In a game where you have to think the Sixers will start doubling Bosh and James, more, Wade may have a monster game. There's going to have to be help from the corners to James on the drive and Bosh in the post, and while it would be great to think the Sixers would bring help from a non-Big-3 defender, they haven't shown a willingness to be so brash as to leave one of the supporting players wide open much. They did some of that early in Game 1, when, if you'll notice, they were winning, but got away from it when the Heat started to overload one side with the Triad. If Bosh and James are willing passers, Wade's going to have a good chance at getting free, and that's when the havoc starts.
The Adjustment:
Before we got started, a key to this series was Philadelphia's ability to force the Miami offense out of the pick and roll and into more ISO sets. If they can slow the Heat down and put them in ISO, Miami may try and do too much individually and they choke themselves out on bad fadeaways and blown layups. Instead, in Game 2, the Heat had a 3-1 ratio of Pick and Roll to ISO sets. The Sixers
must
shut down the pick and roll and force the Heat into ISO or spot-up situations. There are some teams you can't do this against, they'll just keep hammering you with the P'n'R. The Heat, though, will succumb to the effort and go solo if you make it too difficult for them to run.
Spencer Hawes
,
Marreese Speights
, and
Elton Brand
have to show effectively on the ball handler to back him off or at least wheel him back enough for help to rotate over, and then they must recover against Bosh in the pick and pop for the mid-range. If it sounds like a lot for Philly to do? Well, that's why they're the underdog and the seventh seed.
The X-Factor:
Evan Turner
? The No.2 overall pick who didn't even play down the stretch for Philly in favor of the always-terrible
Andres Nocioni
had some big plays in Game 2. Yes it was a blowout, but looking at what the Sixers accomplished with Turner in to stretch the floor, you have to wonder if Turner doesn't deserve more run. Putting in a point-forward lineup with Turner, Iguodala, and Young to work the inside and outside might be creative enough to counter the Triad for a spell. So far, Doug Collins hasn't used such a lineup much, but when he has, it's been effective. There's no reason not to try it in Game 3 or 4, after all, it's time to throw the kitchen-sink at them.
The Sticking Point:
Miami is better. They are just way better in every matchup, because of the brute strength of the Triad covering up the weaknesses of the others. Usually I'm an advocate that a few key adjustments can turn the series. But Philly threw a lot of their arsenal at the Heat in Game 1, and in Game 2, were totally steamrolled by a Heat team that expected them. It's really hard to see how Philly's going to get out of this hole.