Kevin Durant dropped 41 points in Game 1. Is there anything Denver can do to slow down Durantula?
Posted by Matt Moore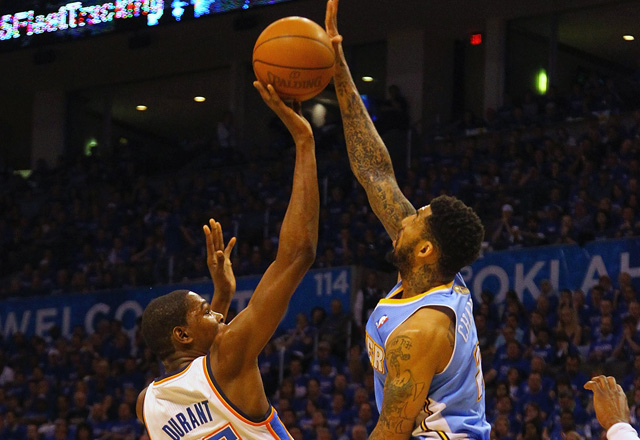 So Kevin Durant had a pretty good Game 1.
41 points on 13-22 shooting, 9 rebounds, and 2 assists
. You know, not bad. It was one of those games where you just have no idea how to guard Durant. Nailing heavily-contested pull-up threes, getting free off a pick and rising up, knocking down shot after shot after shot. It was a stunning performance, and proof that Durant probably should have had higher consideration for the MVP this season. It was assumed that Denver would have no way of guarding him, but few expected it to be
that
bad.
Still, Denver has to come up with something in Game 2. Usually, in these types of situations, a team will opt to let the superstar beat them and focus on shutting down everyone else. Except, in Game 1, Durant and Westbrook combined for close to 70 percent of the
Thunder
's total offensive output, and they still won. So if they're going to try and at least make Durant's success marginally less efficient, they have to come up with a plan. After rewatching some things using Synergy Sports, there are some patterns.
The
Nuggets
tried everything against Durant. Here's a list of players who defended Durant at one point or another, and this doesn't even count switches off the pick-and-roll:
Danilo Gallinari
,
Wilson Chandler
,
Al Harrington
,
Kenyon Martin
, and
Raymond Felton
. Nothing worked, but some things worked less than others. The objective isn't to stop Durant. It's simply to put him in a position to have to make the toughest shot possible, consistently. Here they are in reverse order of effectiveness.
Kenyon Martin:
This was a single possession for a reason. Martin is a big, and has no chance of sticking with Durant. He showed hard, Durant went around. Game over.
Raymond Felton:
The idea's not bad, right? Try and guard Durant on the perimeter with a guard who can apply ball pressure. Durant easily posted him and scored over him. Felton simply doesn't have the size to combat Durant's frame. That one's a non-starter.
Al Harrington:
Similar to Kenyon Martin, but not as much of an issue. Still, Harrington was frozen when Durant blew by him, once off a pick, once in isolation. Harrington, again,
seems
like a good plan. A bigger forward to body KD, with some length and a little bit of quickness to hang on the step back. But this just goes to show you Durant's underrated speed. One pump and Durant blew by him. Harrington's a bad defender, which is obviously an issue, but even physically, he doesn't hang.
Danilo Gallinari:
So close. Gallinari very nearly had Durant a few times. His spacing in ISO was solid, he played him well into help defense, and Gallo's big enough to handle Durant in the post. The issue comes in off-ball movement. Gallinari gets caught looking to find the ball, and in that tiny time frame, Durant would create just enough room to catch-and-shoot. Twice Durant came off the screen so fast Gallo was still catching up to the strong side by the time Durant had peeled into the lane. Gallo might be able to guard Durant in three to four years. But, right now, he doesn't have the awareness to stick with him.
Wilson Chandler:
This is the guy. Chandler gave up points to Durant. You know why? Because he's Kevin Durant. But of Durant's nine misses, four can be attributed to Chandler's defensive effort. Three are thanks to Durant just missing, and two were good help defense. On Chandler's first possession guarding Durant on a shot opportunity, he jumped the passing lane and nearly created a steal. The Thunder recovered the ball on a scramble, but Durant was forced to shoot a last-second heave with Nene closing. Miss. Chandler has the explosion to catch Durant enough on the step back, as he did in the second quarter, forcing a bad, backboard-only miss. And twice, Chandler recovered off the pick-and-roll and blocked Durant's jumper, which is nearly impossible. Chandler keeps his positioning, plays hard to Durant's shooting hand, stays with him off-ball, and in a big, big adjustment, overplays him to drive him to help defense. It makes it hard for the back screen to close right, the front screen remains open for the supporting defense to help. If you're not going to trap, this is what has to happen consistently. Durant shot 15 free throws. Chandler only granted four of those, despite being the primary defender.
This isn't a roadmap to slowing Durant. There isn't one, unless you are able to physically put him under water. But the Nuggets do have things they can do to try and make it as hard as possible for KD. Bringing more aggressive traps is a really dangerous maneuver considering the guards Oklahoma City has, and they have the finishers for the easy dish in Perkins and Ibaka. But that, combined with primarily sticking with Wilson Chandler may be Denver's best bet. At some point, though, you're dealing with what happened to Chandler multiple times. Great spacing, good contest, tight defense, and Kevin Durant just hits the shot.
Because he's incredible.
And that's what incredible does.