The Dallas Mavericks held serve at home, and head to Portland with a commanding 2-0 series lead over the Blazers. Posted by Ben Golliver.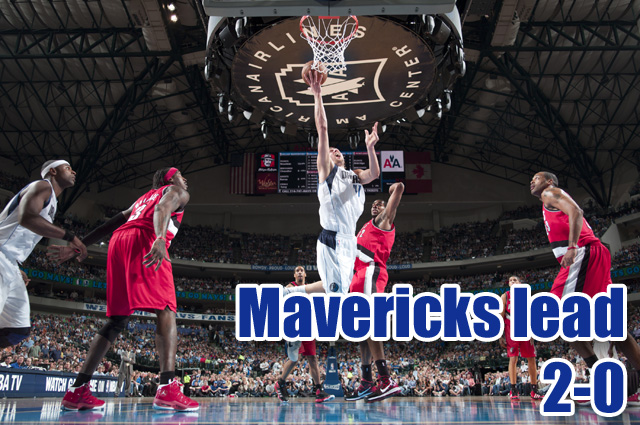 We said it in
the series preview,
and we noted it again in
Tuesday's reset
: the Portland
Trail Blazers
are not the team many thought they were and they're not the team they were as recently as a year or two ago. They're simply not deep. That point was made abundantly clear during Portland's 101-89 Game 2 loss to the Dallas Mavericks on Tuesday night.
Depth in the NBA can vanish in the blink of an eye, and the Blazers represent that truism to the fullest. Over the last 18 months, Portland has: watched
Greg Oden
, Jeff Pendergraph and
Elliot Williams
go down to season-ending knee injuries; traded
Martell Webster
for a draft pick that became unused rookie
Luke Babbitt
; traded
Jerryd Bayless
for a draft pick; traded two rotations players in
Steve Blake
and
Travis Outlaw
in a consolidation trade for
Marcus Camby
; and traded two rotation players in
Dante Cunningham
and
Joel Przybilla
for
Gerald Wallace
.
Add that up: eight players that saw minutes, plus Williams, are out with just two players coming back in return. That's six lost bodies -- players whose roster spots have been filled by unused rookies (Babbitt and
Armon Johnson
), D-Leaguers (
Earl Barron
and
Chris Johnson
) and one free agent signing (
Wesley Matthews
). That qualifies as an overhaul.
Portland's management can still argue that the trades improved Portland's top-end talent. Indeed, Camby and Wallace have been mainstays down the stretch for Portland, while Matthews has been a valued addition. All three are playoff starters. But the series of moves and the injuries -- including dual knee surgeries for
Brandon Roy
-- have decimated Portland's depth, leaving coach Nate McMillan with just one reserve player that he can regularly turn to and expect meaningful contributions from:
Nicolas Batum
.
During Game 2, Portland's lack of depth was so tragic that it was almost comical. Aside from Batum's 10 points in 25 minutes, Brandon Roy,
Rudy Fernandez
and Patty Mills combined to shoot 0-4 in 23 minutes, scoring just one combined point, grabbing four combined rebounds and dishing three combined assists. This on a night when aging Mavericks forward
Peja Stojakovic
outscored Portland's entire bench (including Batum) by himself and added five rebounds to boot. The falloff from starters to second unit for Portland was like a Mt. Hood cliff rather than a Pacific Ocean sand dune.
The lack of bench production -- and, frankly, energy and confidence -- led McMillan to play starters
LaMarcus Aldridge
(44 minutes), Marcus Camby (36 minutes),
Andre Miller
(39 minutes) and Wesley Matthews (36 minutes) more minutes than they played in Game 1, while the only starter who didn't take on extra burn was Gerald Wallace, who still played 38 minutes (down from 39). Before the game we wondered when in this series Portland's rotation would tighten even further than it already had. Immediately was the answer.
While the Blazers didn't look tired down the stretch, they certainly weren't the aggressors and often looked overwhelmed. With the score 90-84 with 3:57 to go in the game, Dallas began an 11-5 run. Scratch that:
Dirk Nowitzki
began an 11-5 run, as he scored Dallas's last 11 points after Stojakovich's outside shooting and J.J. Barea's forays into the paint destroyed Portland's defensive confidence and shape earlier in the final period.
All Portland had to show in response to Nowitzki's barrage, which included a dagger jumper and a boatload of free throws, was a pair of Andre Miller free throws and a desperation Miller three-pointer. Aldridge, who had been beaten up all night by Dallas's interior defenders, scored his last point with 5:53 left in the game, a sure sign that Portland did not do what it needed to do from a late-game execution perspective.
McMillan corrected his one big rotation error from Game 1 -- overplaying Roy, especially in the fourth quarter -- but the result was ultimately the same. His team was badly outplayed in the final six minutes. His starters looked overwhelmed and a half-step late on defense, and alternated between "unsure" and "forcing it" on offense. That's generally what happens when a team with eight or nine quality, productive players faces a team with six or seven.
The eternal optimists in Portland -- and there are many -- can take solace in the fact that Fernandez, Mills and Roy may get a boost from the Rose Garden crowd during Games 3 and 4. Fernandez, in particular, is notorious for playing better and more energetically at home. On the season, he averaged 10 points per game, shot 39.3% from the field and 35.1% from three-point land at home. Meanwhile, he averaged 7.2 points, shot 34.6% from the field and shot 28.9% from deep on the road.
The pessimists, though, will say that Portland's bench simply can't play worse than it did Tuesday.
The realists will conclude that Portland's bench will likely play better -- because it can't play any worse -- but that it must play much, much better if Portland is to stand a chance at making this a true series against a deep, talented, balanced and motivated Mavericks squad.