Rajon Rondo scores a career-high 30 points in Celtics' win over the Knicks. Tough shots? Hardly. Light speed layups all night long.
Posted by Matt Moore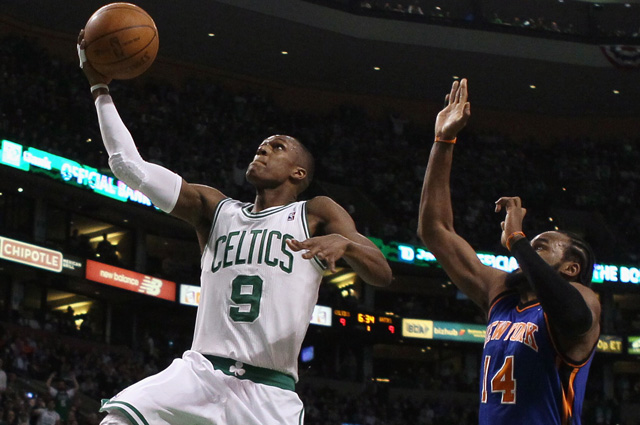 Rajon Rondo's not a scorer, supposedly. He's a distributor and a defender, but not a scorer. He's scored 30 points or more in a game
three times in his career
. He had never scored 30 points in the playoffs until Tuesday night, when he dropped 30 points, 7 assists, and 2 steals in the Celtics'
Melo-overcoming win
.
Usually, when a player drops a 30-point line in the playoffs, it means someone hit a barrage of three-pointers, or had the pull-up mid-range jumper moving. But then, most times in the playoffs, a player isn't facing
Toney Douglas
in Mike D'Antoni's system. Rondo's attack was not a perimeter barrage. Take a look.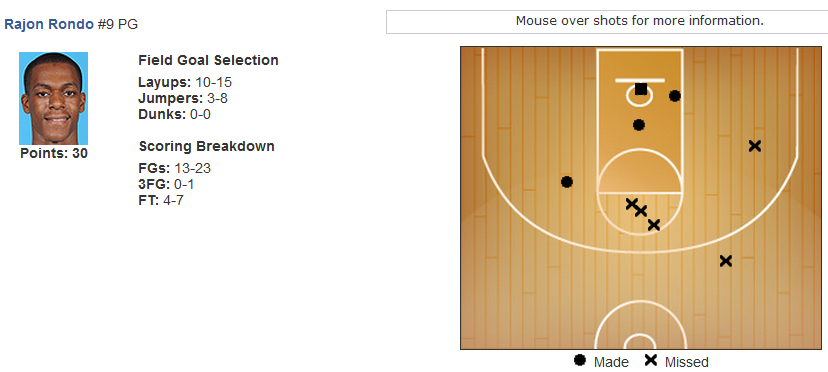 For more on Tuesday night's Knicks-Celtics Game 2,
check out our GameTracker
.
That nice square right in the center of the paint? That represents 20 of his 30 points. Rondo had a parade of layups in the first quarter, with Douglas at one point literally running the opposite direction on a break. Well, maybe parade isn't a fair term. A parade only passes through once, not five times. Rondo did have seven assists as well, putting in close to half the Celtics' total offense by himself either scoring or producing.
Rondo's speed looked back to where it was early in the season, a gear that was mostly missing during the last half of the year. Post-game, Rondo told TNT the rest in between games helps. That could be a huge factor going forward, not just in this round, but in future rounds should the Celtics advance. Considering how close these first two games have been, and how close the Celtics have come to falling to the Knicks in both contests, Rondo's production is crucial.
Just another point guard leading the way for his team in the 2011 playoffs with brilliant play after brilliant play.