Carmlo Anthony does his best LeBron James impression during a loss to the Boston Celtics. Posted by Ben Golliver.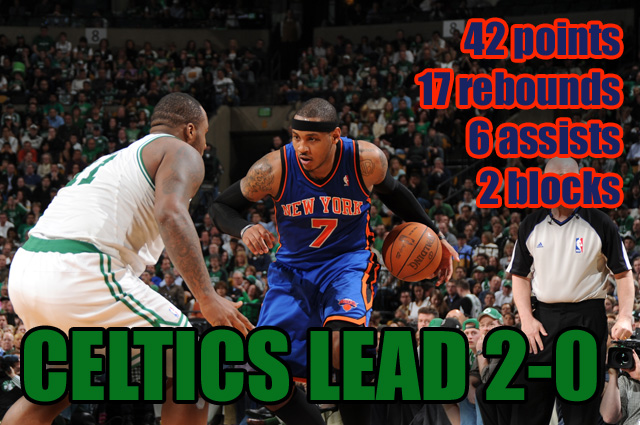 Stop me if this sounds familiar: A do-everything forward carries a cast of castoffs against a more talented opponent, knocking down shots from everywhere, pounding the glass when necessary and reading the defense brilliantly once the defense over-commits to stopping him. For years, that was the LeBron James biography in Cleveland, a series of spectacular and single-handed postseason performances that wound up just short due to the incompetency of his teammates.
With
Amar'e Stoudemire
nursing a sore back and
Chauncey Billups
out with a knee injury, the newest Knick, forward
Carmelo Anthony
, suddenly found himself in James' shoes. Facing the Boston Celtics in a must-win Game 2, Anthony found himself putting the likes of Roger Mason,
Shawne Williams
,
Bill Walker
and
Anthony Carter
on his back, turning in an eye-popping line of 42 points, 17 rebounds and six assists. Those are numbers, according to Basketball-Reference, that
haven't been put up in a playoff game
in more than 25 years. (James is
the only other player
to go 40/10/5 in the last two years in the playoffs.)
Anthony scored in every way that you can score: knocking down threes, knocking down threes with a hand in his face, knocking down threes after being bumped, finishing at the rim, finishing at the rim in traffic, hitting the elbow jumper, hitting the elbow jumper with a hand in his face and, most importantly, he got to the free throw line (where he shot 10-11), something he had failed to do with any regularity in Game 1. Immediately, his shooting performance drew comparisons to
Knicks
legend Bernard King, and for once the reference wasn't a gross overstatement.
The rebounds piled up because someone had to step up in Stoudemire's absence and Anthony wasn't going to wait around to see if any of his teammates were up to the challenge. In the end, the Knicks rebounded exceptionally well, killing Boston on the glass, 53-37, and grabbing 20 offensive rebounds.
It was Anthony's passing, though, that will be the overlooked part of his masterpiece. Much like James has for years, Anthony threw some great, well-timed looks to cutting teammates once Boston started sending hard double teams his way. With just under six minutes, Anthony notched his last assist to
Jared Jeffries
, for a lay-up that put the Knicks up 86-84 and made the upset possibility feel very real.
Unfortunately, just like James, Anthony trusted his teammates just a little too much in the critical game-deciding sequence. Trailing 94-93 with 13 seconds to play, Anthony tried to force another pass to Jeffries after Celtics forwards
Paul Pierce
and
Glen Davis
double-teamed him. Unfortunately, Jared Jeffries is Jared Jeffries, and he bumped the ball underneath the hoop as Celtics forward
Kevin Garnett
converged. The pair hit the deck, Garnett emerged with the ball and Boston called timeout. The Knicks never even got off a potential game-winning attempt.
Here's a look at the sequence.
The Knicks now fall behind the Celtics 2-0 in the series after dropping Game 2, 96-93. Stoudemire's status is uncertain, Billups is heading for an MRI and Anthony's royal effort was wasted. Despite the fact that the first two games both game down to the final seconds, it's difficult to imagine the Celtics failing to advance. James knows that feeling well.