New York Knicks forward Amar'e Stoudemire left Game 2 against the Boston Celtics with back spasms and did not return. Posted by Ben Golliver.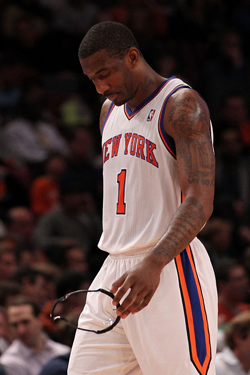 New York Knicks All-Star forward Amar'e Stoudemire leads his team in rebounds, blocks and is its second-leading scorer while also serving as its heart, soul and mouthpiece. Unfortunately, Stoudemire was confined to the bench for the entire second half of Game 2 of a first round playoff series against the Boston Celtics due to back spasms.
Stoudemire, who signed with the Knicks last summer, has been the popular face of the franchise, leading New York to the playoffs for the first time since 2003-2004 and to a winning record for the first time since 2000-2001. At the 3:21 mark of the second quarter, though, Stoudemire called mercy, and Knicks coach Mike D'Antoni motioned for his team to foul to stop the game action so that he could remove Stoudemire from the game. At the time of his injury, the Knicks trailed the Celtics, 38-37.
Stoudemire left the court to receive treatment and he was initially listed as "questionable" to return. During third quarter, that diagnosis changed to "out" for the remainder of the game.
Following the game,
the New York Post reported
that Stoudemire "doesn't know'' whether he will be able to play during Friday's Game 3 but is hopeful." The paper also noted that Stoudemire has "never had back spasms before" and that Stoudemire first starting feeling pain when he was "dunking in warmups."
The loss of Stoudemire comes just hours after Knicks guard
Chauncey Billups
said he will
undergo an MRI
on his left knee after a strain kept him out of Game 2 action. It goes without saying that losing either Stoudemire or Billups -- let alone both -- would be crippling for New York's chances to advance against the favored Celtics, who already lead the series, 1-0. Stoudemire, especially, is irreplaceable, as no one else on New York's roster can approximate his combination of athleticism, strength and overall skill.
It's worth noting that Stoudemire was incredibly durable this season, appearing in 78 games and playing 36.8 minutes per night. He finished the season with averages of 25.3 points and 8.2 rebounds per game.