The Hawks took out the Magic in every phase of the game except guarding Dwight Howard. What trends are we seeing as the series moves forward Tuesday night?
Posted by Matt Moore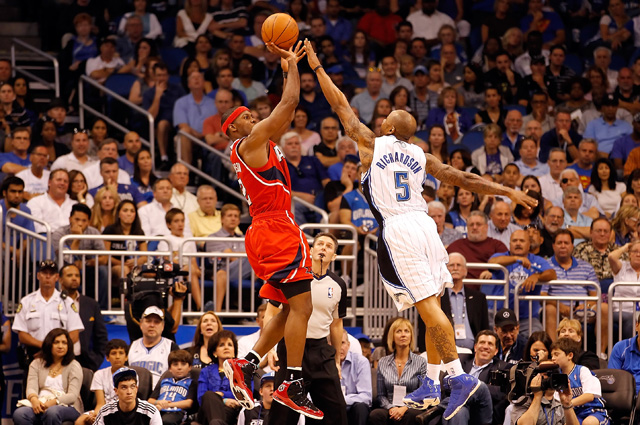 The Narrative:
The Magic likely assumed they would win because they're the better team and because Atlanta has been so mediocre over the past two seasons, especially down the stretch. But somewhere in there, they overlooked the matchup advantages that Atlanta enjoys in this series. Dwight Howard is not a matchup problem, he's a fact of life. The Hawks are going to lose that battle no matter what. He's the best center in the league. Atlanta's matchup advantages come in lesser known areas. Like
Josh Smith
versus whatever slow, perimeter-based forward the Magic want to put on him. Or how well
Kirk Hinrich
matches up with
Jameer Nelson
(despite his 27 points, a good chunk of which were not defended by Hinrich). Orlando has to figure out a way to get the entire offense involved. They didn't in Game 1, and they sunk to the bottom of the sea even as Dwight Howard demolished everything in his path. Unless they get equal contributions from the other players, the Hawks may just resign themselves to getting dunked on while keeping the perimeter in check.
The Hook:
The Atlanta Hawks
took 24 shots at the rim, or within nine feet of the rim
. They took 27 shots from 16-23 feet. They were efficient down low, don't get me wrong, shooting 63 percent in that area, but they took an obscene amount of shots from mid-range. And, while they made 48 percent from that distance, that's simply not something you can count on in any basketball game. I mean, look at
Al Horford
's shot chart for crying out loud.

(Click on the image for more from our
GameTracker, Game 1
.)
That's just not production you can count on. Or is it? Horford
shot 53 percent from the field in the regular season from 16-23 feet
. If the Magic keep letting him hit from space, Horford's going to eventually force them out, which opens up passing lanes. This is a pretty big concern. That's five of their 13 makes from range right there. You have to think the Hawks will try and even out their production at some point, but they may want to take their chances with what worked in Game 1.
The Adjustment:
According to
Synergy Sports
, you know how many pick and roll plays the Magic ran? 31. You know how many wound up in the hands of the roll man? None. Zip, zero, zilch. That makes Dwight Howard's night more impressive, but it also means a few things. One, if you go back and watch, the Hawks are closing two to three defenders on Howard or whoever the roll man is. Two, that adjustment means that the Magic, had they opted to, would have had an open shooter off the second pass on the pick, drive and kick. But instead, they just launched. Nelson comes off the screen, he kicks out, catch and shoot. Except that they were rushing all those shots. They had the opportunity to spin the ball when the Hawks started to try and recover, but instead just let it fly. The result? Brick city.
The Magic are at their best not when they're just launching threes, but when they're actually creating stupendously open shots from their ball rotation. That's how they beat the
Celtics
and
Cavaliers
in 2009, and going away from that strategy in 2010 hurt them, as it's hurting them now. They have experienced, competent passers and shooters on the perimeter. The Magic need to slow down their decision making, not their pace, and work to create the best shot possible. Do that and their perimeter game will finally start to click.
The X-Factor:
Joe Johnson
. Johnson should be the focal point of Orlando's defense, right? After all, he's their All-Star (along with Horford), and as close as it gets to a star player. Johnson went ISO 13 times in Game 1. He was 6 of 10 scoring, drew two fouls and had one turnover. The degree to which Atlanta puts Johnson in ISO tends to be a source of mockery for them, but you need someone to make tough buckets in the playoffs, and Johnson can do that when he's on. Furthermore, the Magic have nobody to guard him.
Jason Richardson
can't stick him, neither can
J.J. Redick
, Turkoglu, or the other wings. He's a nightmare, and when he's on, he can cause severe damage in a series. Just ask the Celtics.
The Sticking Point:
The Magic were knocked back defensively in Game 1. But this is one of the best defenses in the league. They were knocked back offensively. And they're one of the most dangerous offensive units. At home, down 1-0, you would expect things to get back on track. But this series has already shown a series of matchup problems for the Magic. Joe Johnson said after Game 1 that this isn't the same team they faced last year at all. And that much has become apparent, when you look at the player-versus-player breakdown. But, overall team strength has to come into play at some point, and the tug-of-war between those two elements will likely end up decidiing this series.