We reset the Knicks-Celtics series with Game 2 on tap for Tuesday night. Is New York in trouble without Chauncey Billups? Posted by Ben Golliver.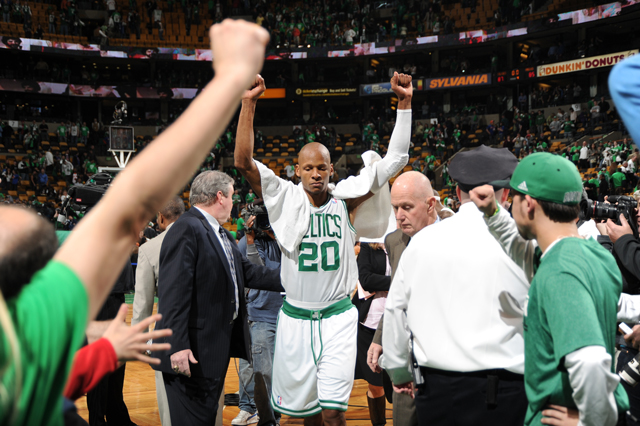 The Narrative:
A breathtaking Game 1 came down to
a pair of potential game-winning threes
:
Celtics
guard
Ray Allen
made his, Knicks forward
Carmelo Anthony
didn't. The result was disappointing for Knicks fans, but the level of effort wasn't.
Amar'e Stoudemire
got his numbers, the bench showed up and a more efficient night from Anthony would have meant a Game 1 win. For Boston, point guard
Rajon Rondo
didn't shoot particularly well but he did put together a near triple-double, which is a good sign for the Celtics, as they are only going as far as Rondo pilots them.
The Hook:
One huge Game 1 sticking point that shakes things up for Game 2: the availability of Knicks point guard Chauncey Billups, who
went down with a knee injury
late and isn't expected to play on Tuesday. Knicks guard
Toney Douglas
, a second-year player out of Florida State, is expected to start in Billups' place, and will have his hands full checking Rondo. The numbers on Douglas do offer some hope.
The Knicks play better
when he's on the court than when he's off, although that's generally come against second-unit players. He's also upped his production during the nine games he started this season (he averaged 13.9 points and 5.7 assists as a starter, compared to 10.6 points and 3.0 assists overall). The issue, as Knicks coach Mike D'Antoni pointed out
to SI.com
, is how many minutes Douglas will be required to play. It could be a lot. The next guy on the depth chart is aging vet
Anthony Carter
, who shot 1-4 in 14 minutes during Game 1. In case you were wondering, Douglas averaged 7.5 points and 3.3 assists against the Celtics during the regular season.
The Adjustment: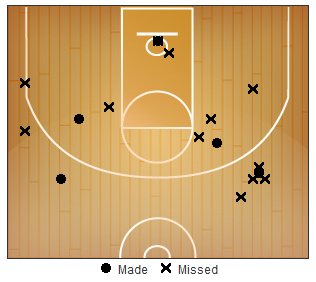 One look at Carmelo Anthony's shot chart to the right tells you everything you need to know about what New York hopes to do differently on Tuesday. The breakdown: 5-18 from the field, 2-8 on three-pointers, 4-15 overall on jumpers, just three shots in the paint and a paltry four free throw attempts.
Anthony, one of the league's premier all-around scorers, simply must do better. Attacking Boston's solid interior defense isn't an easy proposition but there really is no alternative. Unless Anthony is able to get to the free throw line, New York will be hoping and praying that its bench shows up big for the second night in a row, a possibility made more difficult by Douglas's move to the starting lineup.
The X-Factor:
Brilliantly laid out in video form
at Posting and Toasting, Celtics center
Jermaine O'Neal
had a monster Game 1 defensively, blocking four shots and contesting countless others, while looking very agile in Boston's halfcourt defense. On top of all that, he made all six of his shot attempts in 23 minutes. That's the definition of quality minutes from the man tabbed to pick up the slack in
Shaquille O'Neal
's absence. Can he repeat, or at least approximate, that performance in Game 2?
The Sticking Point:
While all five Boston starters scored in double figures during Game 1, the bench was pretty bad.
Delonte West
,
Nenad Krstic
,
Jeff Green
and
Glen Davis
combined to shoot 4-15, scoring just eight points and grabbing eight rebounds in a combined 59 minutes. Boston doesn't need all of those guys to step up; really, they'd probably settle for just one. Asking Jeff Green to be that guy feels like a stretch these days, so let's tab Glen "Big Baby" Davis, who
started some trash talking
prior to Game 1. Davis has to do a better job than his 1-8 night, since he's being asked to give big minutes behind O'Neal. He's too talented to lay an egg like that twice in a row.