Posted by Royce Young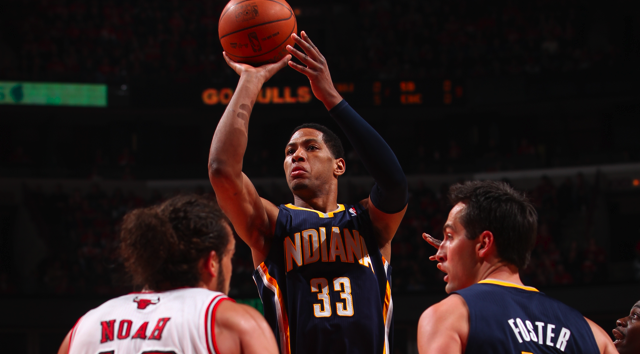 Two games, two leads with five minutes left. In both Games 1 and 2, the
Pacers
had the top-seeded
Bulls
backed up to a wall in crunch time. Ask Frank Vogel honestly if he expected to be leading late in both games and he'd probably say yes. But I think he'd be lying.
There was a pretty clear difference in the Indiana offense in those last five minutes. Yes, the Bulls absolutely cranked up their defense. That must be mentioned. But there's no doubt that the Pacers had no idea where to go with the ball.
The bad part is, they have a go-to guy in
Danny Granger
. The problem there is two-fold, though. One, Granger had
Luol Deng
guarding him, who is absolutely one of the most gifted one-on-one defenders in the league, and two, because Granger himself had no idea how he was supposed to score.
Here's what Granger did those last five minutes on Monday: missed a 17-foot jumper, made two free throws, missed a 26-foot jumper. That's it. That's all the Pacers' best player did in the biggest moments of the game. His fault? Hardly. Granger is the type of player that is a product of the four other players on the floor with him. He doesn't isolate, he doesn't score well off the dribble and he doesn't really create his own shot. He's best coming off a screen or finding the ball on a kick-out. He's a very good scorer, but only within the flow of a game.
In terms of clutch stats for the season (clutch is defined as the last five minutes of a game within five points), Granger shot just 30 percent from the field, took fewer attempts overall, but actually took more from 3. That tells me that Granger was forced to force. As the main offensive weapon, he's looking to score. But, he can't seem to get a normal look, so he had to launch from 25 feet.
The last five minutes of Indiana's 104-99 Game 1 loss in which the Bulls outscored the Pacers 14-1 down the stretch, Granger was just 0-2 with both shots being 3-pointers. This is a big, big issue for the Pacers. Granger averaged 20.5 points a game on the season and very obviously needs the ball. But Monday, the Pacers were actually running through rookie
Paul George
late. The assumption there is simply that George had a weak defender in
Kyle Korver
on him. That's not the best reason to go away from your best player, though. Then again, maybe it was Indiana's best option.
Against a team like Chicago that is truly an elite defensive team, you can't expect to get the same shot you got in the second quarter in the last five minutes. The game gets more physical, defenders crank up their energy and the officials let the game go a bit more. That hurts Granger, and the Pacers. In Game 1, Indiana was outscored 18-8 the last five minutes. Monday, it was 17-12.
That's why any coach would tell you what a gift it is to have a player like
Derrick Rose
,
Kobe Bryant
,
Dwyane Wade
, Chris Pau,
LeBron James
,
Kevin Durant
or
Dirk Nowitzki
. The ball has a place in those last five minutes, and, not only that, it's in reliable hands. We can talk about clutch stats all we want, but the reality is, scoring in those last five minutes is
tough.
Having a guy that can at least get a look is a starter. Having a guy that can
make
it is even better. Indiana's lacking both right now.
The real shame is that the Pacers had a legitimate chance to win both games. They can point at a lot of things -- namely rebounding -- but offensive execution in the clutch is probably what will be the focus.
This is a team that had a solid 7-3 post player, but avoids him late in games (
Roy Hibbert
's field goal attempts drop by nearly two a game the last five minutes of a close contest). This is a team that has one of the better scorers in the league but can't find him a shot outside of a 3-pointer. This is a team that can score well the first 43 minutes of a game, but just can't seem to figure out the last five.
If they can somehow climb over that mountain -- against the Bulls, much less -- the Pacers will threaten to scare Chicago a little more than they already have. But it's going to start with finding shots for Granger. Because he's not going to find them on his own.