Posted by Royce Young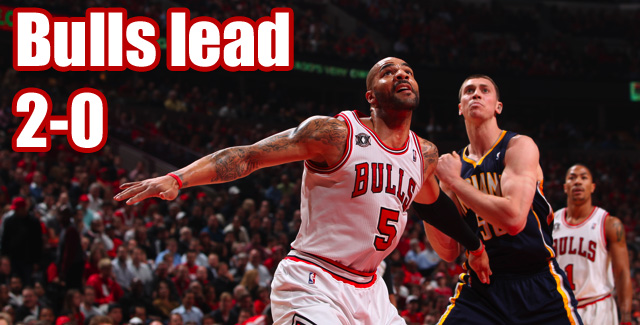 Coming in to Chicago's series with Indiana, the
Bulls
had a couple clear advantages. Defense. Talent. Coaching.
Derrick Rose
. One that most didn't necessarily see coming? Rebounding.
Whoa boy, have the Bulls dominated the boards in these first two games.
The Bulls outrebound Indiana 57-33 in Game 2 which included 20 offensive boards. This comes after Chicago pulled in 21 offensive boards in Game 1 and held a 49-34 edge. Let me do the math here ... that's a 106-67 rebounding edge in favor of the Bulls after two games. I wonder if Pacer coach Frank Vogel feels a little silly telling his team that they're a better rebounding team during a timeout in Game 1?
In both games, the Bulls have gotten quite the push from the eight-seed
Pacers
. And, in both games, the Chicago offense sputtered. Monday, the Bulls shot 38.6 percent and turned the ball over 22 times. Without the work on the glass in both these games, the Bulls are down 0-2. There's no doubt.
Carlos Boozer
had 16 rebounds (five offensive) and
Joakim Noah
pulled in 10 (six offensive). On the other side, the Pacers didn't have anyone grab more than six.
My question is, why is this happening? The Pacers employ a 7-3 center and two high-energy power forwards. Why are they getting crushed on the glass so badly? A lot of it is really just effort. Noah doesn't grab every rebound, but his effort makes a difference every time the ball goes up. The way he battles for the ball every time creates deflections, tips and more opportunities for Chicago to recover a miss.
But there's really no good excuse for
Roy Hibbert
to only grab four rebounds. He played just 21 minutes, but still, you're 7-3. Seven or eight rebounds should almost just fall into your hands when you're that big. The Pacers have played well enough to steal two games in Chicago. When they go back and review what went right and what went wrong in Games 1 and 2, the coaching staff may spend an hour punching the wall because of rebounding. To get beat largely because you couldn't recover a couple extra misses has to be about as frustrating a thing as there is.
It's a credit to the Bulls, though. They don't quit. They haven't played anywhere near to as good as they're capable of in these first two games, and yet, because they did the little things -- like rebound -- they're right where they expected to be. It might have been a little tighter than originally planned, but up 2-0 heading to Indianapolis, I'm sure the Bulls are fine with it.