Chris Paul returns to prominence in an incredible performance against the Lakers in Game 1.
Posted by Matt Moore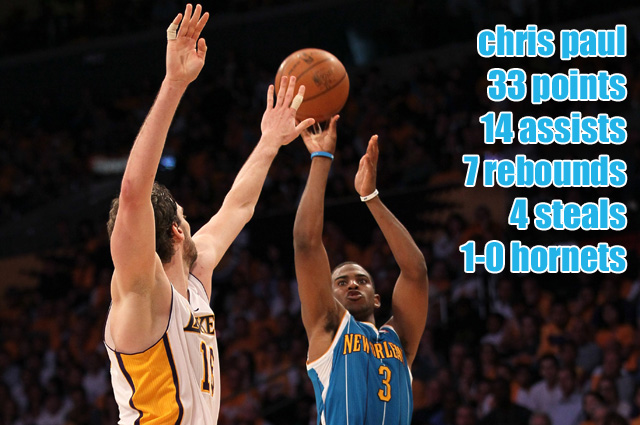 Derrick Rose
.
Rajon Rondo
.
Russell Westbrook
. Great point guards all. But after a season where he looked indecisive at times, inconsistent and passive, Chris Paul stepped onto the biggest stage and showed everyone why he's considered the best "pure" point guard in the game.
(Before we get started, Derrick Rose is the presumptive MVP of the league.
Bulls
fans, let's not start a fight about who's better. They're both great. Let's leave it at that.)
After the
Hornets
' win over the Lakers, here were some of the trending topics on Twitter: "#cp3" was No.1, and "#chrispaul" was No.3. The world took notice. It was easy to see why. Paul blistered the Lakers the entire game, drowning
Derek Fisher
in ISO and pick and roll situations. Late in the game, to show the amount of confusion on the Lakers' side,
Pau Gasol
was put on an island against one of the quickest players in the NBA. Paul calmly crossed him over and nailed a dagger fadeaway jumper.
The praise was unanimous for CP3, and it really put him back on the map. For most of the season, Paul played extremely well at times, and extremely passive at times. He would let others take the lead. But without
David West
, Paul became the intiator, and took the team on his back. That's the Hornets' best option of attack in a series where they are woefully overmatched in size and ability. But as long as the Lakers continue to attempt to guard Paul with Fisher and be lazy on their help, Paul will have opportunities.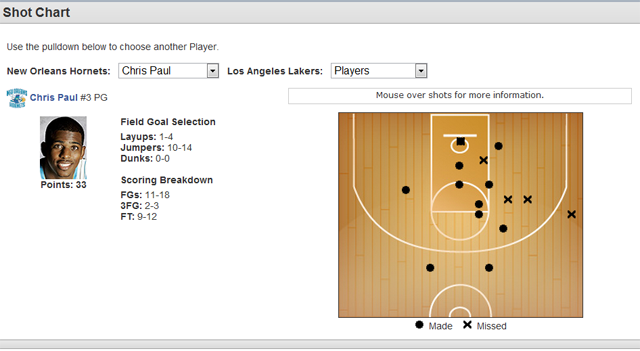 Check out more data from
Hornets-Lakers in our GameTracker
.