The New Orleans Hornets delivered a stunning Game One defeat to the Los Angeles Lakers. How worried should LA be? Posted by Ben Golliver.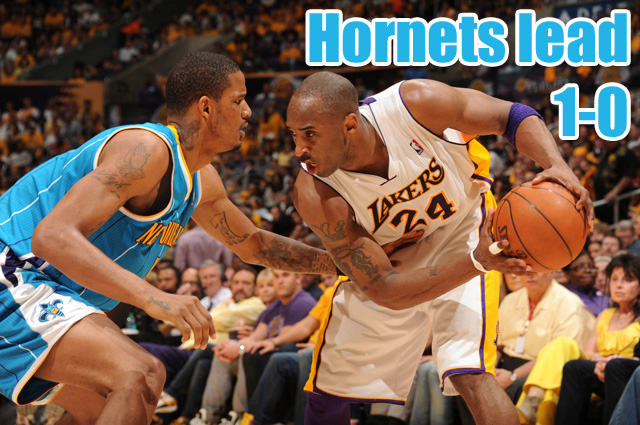 The New Orleans Hornets beat the Los Angeles Lakers, 109-100, in Game One of their first round playoff series, and coach Monty Williams couldn't have drawn it up any better. Everything he could have wanted to go right did go right, and even some things that no one could have expected fell in the Hornets' favor. The "Can lightning strike twice?" question hangs over this result like a thundercloud, but its worth cataloguing New Orleans' many triumphs before turning our attention to Game Two adjustments.
All-Star point guard
Chris Paul
, of course, leads any breakdown of this game. In the fourth quarter he was as unstoppable as he's been at any point in his career, scoring 17 points in the final quarter on a variety of jumpers, drawing fouls seemingly at will. You can't blame Lakers guard
Derek Fisher
too for the explosion, as he generally played textbook defense and made Paul work. The Lakers did switch a few high screen-and-rolls and Paul exploited mismatches with Lakers bigs -- particularly
Pau Gasol
-- to create space for jumpshots. But this was about an All-Star being locked all the way in, finishing with 33 points, 14 assists, seven rebounds, four steals and just two turnovers in 41 minutes, commanding New Orleans' offense with intelligence and using his quick hands and excellent instincts to full effect on defense. Los Angeles has made a habit of getting behind early and digging itself out late: Paul's two-way play made sure there would be no comeback.
It would be a mistake to call this a one-man show, though, as New Orleans' role players came up huge. Who could have expected the Hornets bench -- one of the weaker groups in the playoffs -- to combine for 39 points on an amazing 72% shooting from the field, led by a perfect 5-5 from reserve center
Aaron Gray
and 5-6 from guard
Jarrett Jack
. Every man on the Hornets bench finished with a positive +/- for the game, with Gray posting a whopping +25 in his 20 minutes. Will they play as well as a group again in this series? Probably not.
As big as those contributions was New Orleans' overall defensive effort, which can only be described as excellent.
Trevor Ariza
frustrated
Kobe Bryant
down the stretch, New Orleans' undersized bigs did an excellent job of managing Los Angeles' long frontline and the Hornets scored 17 points off of 13 Lakers turnovers, a critical difference-maker given that the Hornets turned the ball over just three times (!) the entire game. By comparison, New Orleans' season-low for turnovers in the regular season was five.
Again, everything went right for the Hornets. They dominated the possession game. Their bench badly outplayed LA's. Chris Paul won the match-up of superstars against Kobe Bryant (35 points, four rebounds, five assists, five turnovers). Improbably, both
Carl Landry
(17 points, five boards) and Aaron Gray (12 points) scored more than Pau Gasol (eight points, six boards).
That last sentence, more than any other reason, is why it's difficult to believe New Orleans' Game One stunner will be sustainable. The Hornets lost Gray in the game's final minute
to a nasty ankle injury
, and getting more from Gasol will be at the top of the list of Lakers adjustments. Gasol's face was cut and bloodied early in the game and he was an absolute non-factor down the stretch, attempting just two shots in the fourth quarter (one was a lay-up with the game out of reach). Without Gray, who looked like New Orleans' most capable one-on-one post defender aside from
Emeka Okafor
, the Hornets' frontline will be stretched to an even greater degree, with Carl Landry,
D.J. Mbenga
and
Jason Smith
called into greater service. If that trio winds up getting the best of Gasol over a seven-game series, he might need to consider entering the Witness Protection Program.
The Lakers can also get more from center
Andrew Bynum
, who scored easily around the basket, playing over the top of New Orleans after Okafor got into some early foul trouble. Bynum finished with a respectable 13 points and nine rebounds and the Lakers would do well to pound it into him more than they did on Sunday. Mbenga resorted to desperation hard fouls on Bynum multiple times and there's no reason the Lakers shouldn't be parading to the free throw line throughout the rest of this series.
Given how many breaks went New Orleans' way, it's not panic time yet for the Lakers. They'll need to re-think their defense on Paul, paying him extra attention and perhaps using Kobe Bryant to defend him more often. They'll certainly need to turn to Gasol more often and he'll need to show up. More than anything, Los Angeles simply needs to realize they likely took New Orleans' best punch. The same match-up advantages that made them prohibitive favorites entering the series are still there. And, pending Gray's availability, could be even more pronounced.
Internal motivation remains the biggest issue for the Lakers, who played flat through stretches, particularly in the first half, on Sunday. New Orleans delivered a wake-up call to a team that's lacked focus for a few weeks now. LA needs to respond in Game Two. And, given their talent advantages and enhanced motivation following the loss, it would be shocking if they didn't.