Memphis wins first playoff game in franchise history as unlikely heroes come full circle. Oh, yeah, and there's a whole series in front of them.
Posted by Matt Moore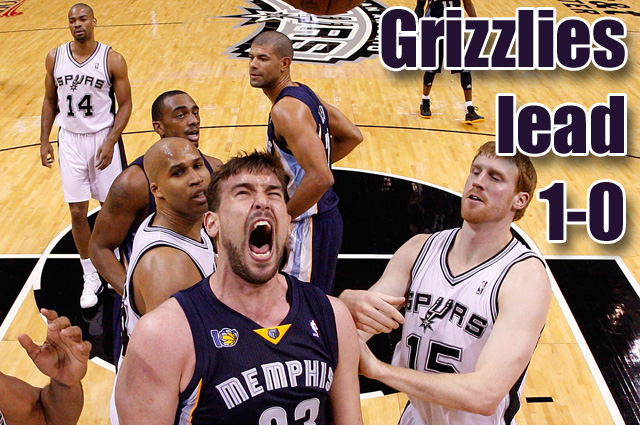 Joy comes in the morning
. The Memphis
Grizzlies
entered the postseason 0-12 in postseason play. They walked out of the AT&T Center in San Antonio with a 1-0 series lead and their first ever franchise playoff win.
It would be really easy to put this win in terms of the culmination of questionable moves the franchise has made, the history of failure and how far the team has come in getting one measly win in a playoff series. A win in series in which they are a considerable underdog to the very model of a small-market franchise that has won four NBA championships in the past ten years.
I will do so now.
The Grizzlies won behind two huge efforts from their frontcourt.
Zach Randolph
led the way with 25 points. Randolph was acquired ina trade from the
Clippers
for
Quentin Richardson
. At the time, it was considered terrible, since Randolph was known as a locker room cancer who never won anything. Instead, he became the Grizzlies' first All-Star since
Pau Gasol
, and, on Sunday, did what he does: create shots underneath the basket where there's seemingly no room to create one. Without a legit player with length underneath, Randolph was able to create slight tip-ins. Throw in some poor defense by
DeJuan Blair
, and you've got a big day for Randolph.
In one of the most lopsided trades in NBA history, the Grizzlies traded their All-Star Pau Gasol for the expiring contract of
Kwame Brown
, Javaris Crittenton, and the rights to Gasol's brother Marc who was playing in Spain. Randolph gets all the attention, and rightfully so. But
Marc Gasol
is as big a part of what the Grizzlies do as any player. He's a tremendous defender, both down low and on pick and rolls. He shows hard on screens and recovers, runs off mid-range Js (as he did Sunday), and has a wide offensive repertoire. While
Tim Duncan
was taking him one on one in the post in the first half, Gasol was getting his own, and wound up outscoring Duncan 24-16. Anyone have that figured to start the day?
Memphis made a series of terrible decisions in trading a first-round pick for
Ronnie Brewer
last season, then renouncing his right as a restricted free agent. They then used that money to acquire
Tony Allen
, another player with questionable skills and reputation, who wound up with a huge fourth quarter. Allen was plagued by foul trouble, but still managed to have an impact on the game with a series of gritty late-game defensive plays and some key buckets.
The Grizzlies nearly traded
O.J. Mayo
at the deadline before the deal fell through and they got the trade request in too late. Mayo had 13 points off the bench.
Memphis signed
Mike Conley
to a 5-year, $40 million contract, and were blasted for it.
Mostly by me
. (
I made amends later
after Conley continued to show his improvement, though the decision at the time was still irresponsible). Conley had 15 points and 10 assists and actually held his own offensively against
Tony Parker
(defensively, it was a different matter).
The list goes on and on.
Then there's this. The Grizzlies drafted
Hasheem Thabeet
, one of the biggest busts of the decade with the No.2 overall pick in 2009. They had to send Thabeet along with a pick just to get rid of him. Houston took him on, in exchange for an expendable veteran defender who can hit the occasional 3-pointer. The Grizzlies got
Shane Battier
.
Seems like a lot to make out of a Game 1 win when Memphis is just as likely to get blasted in the next four games, especially considering
Manu Ginobili
's absence. But, for a franchise trying to establish some level of legitimacy and momentum, it's a big deal. They won that first playoff game, and now have stolen homecourt advantage from the No.1 overall seed. This series looks long, it looks physical, and it looks exciting. And for the first time in franchise history, Memphis fans have to feel like they actually have a shot.
You want some perspective on this? How about Manu Ginobili's absence? The
Spurs
' best element today was drawing fouls against a perimeter Grizzlies' defense that couldn't stop a drunken toddler from getting into the lane and resorted to just beating them up. The Spurs shot 15 more free throws than the Grizzlies, and hit 15 more. When Ginobili returns in Game 2, as he probably will, that number may actually increase. Ginobili and Parker are two of the best at drawing fouls (and some would say flopping). There may actually be dents in the AT&T center hardwood if the pattern from Game 1 keeps up.
The Grizzlies won despite only forcing 10 turnovers and losing the turnover battle. The Spurs were deliberate with their attack, and while the Grizzlies did succeed in forcing the Spurs off the 3-point line, outside of a handful of
Richard Jefferson
threes and two
Matt Bonner
bombs late to make everyone forget how terribly, terribly awful he was in guarding Marc Gasol. The Grizzlies outshot the Spurs by 12 percent, holding the Spurs to 40 percent from the field... and only won by three. That's a bad sign.
If the Grizzlies don't figure out how to keep the Spurs out of the paint on the drive, or not foul them every single time they do enter, they're going to go down in flames. They gave up 29 free throws to
George Hill
and Tony Parker. That may seem like an outlier that won't hold. Given Memphis' style, it's likely not an outlier.
But at the end of the day, Memphis did what they've done all season. Find a way to beat a better team by grinding it out, making big shots, and playing remarkable defense. For a day, it was good for a win, the biggest in franchise history.