Boston Celtics forward Glen Davis calls out New York Knicks forward Amar'e Stoudemire. Posted by Ben Golliver.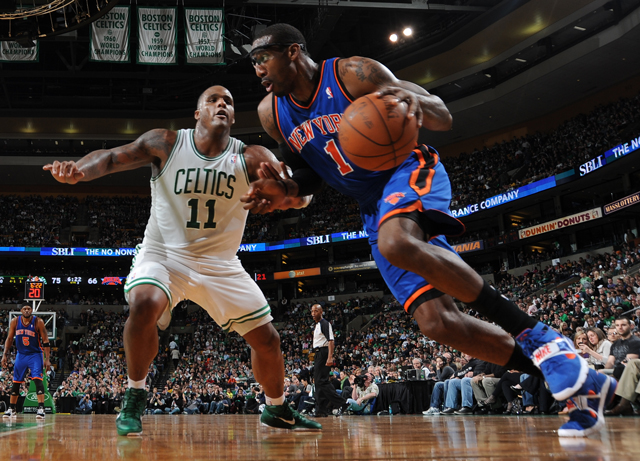 No one has ever accused Boston Celtics forward Glen "Big Baby" Davis of biting his tongue. Davis, as brash off the court as he is goofy on the court, has lobbed the first public volley in the big market battle between the Celtics and the New York Knicks.
In advance of Game 1 of the first round series between the two teams, Davis called out Knicks All-Star forward Amar'e Stoudemire, stating bluntly that he gives Stoudemire too much credit and that it's not all that difficult to defend him. Here's Davis' take as relayed by
the New York Post
.
"It's really not that hard," Davis said. "I don't know why. I've been tripping. I give him too much credit. I just have to make him react to me, not me react to him because it's too late. If he gets one step on you, he's too strong and too quick. You just have to make him play your game."
Stoudemire, meanwhile, provided a quick retort to
the New York Daily News
.
"That's all right," Stoudemire said after shootaround on Sunday. "Me and Glen Davis (are) on two different platforms right now. He's a solid player, does a great job for his ball club. But we are on two different platforms."
On the season, Stoudemire averaged 25.3 points and 8.2 rebounds per game. Against Boston, he put up 24.0 points and 8.3 rebounds, virtually identical to his yearly numbers.
In other words, Davis and his teammates have not yet had any meaningful impact defending Stoudemire. Whether these comments will meaningfully motivate Stoudemire for the series, however, is a key storyline to watch as they open play on Sunday.