The Dallas Mavericks defeated the Portland Trail Blazers in Game 1 of their first round NBA Playoffs series. Posted by Ben Golliver.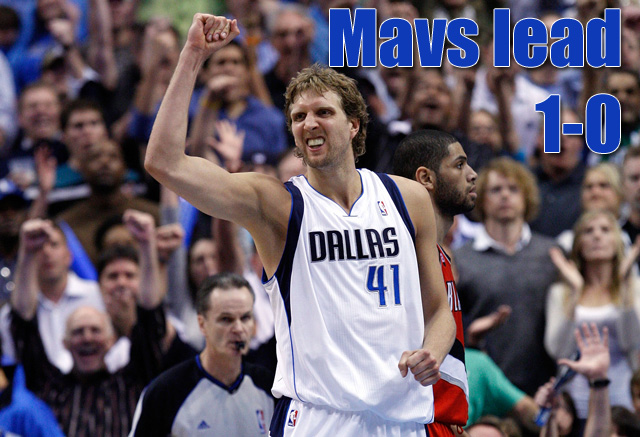 Stop me if you've heard this one before: Dallas Mavericks All-Star forward
Dirk Nowitzki
won a home playoff game by parading to the free throw line in the fourth quarter. Nowitzki's 13-13 performance at the stripe in the final quarter -- 12 minutes of perfection that sealed Dallas' 89-81 Game 1 victory over the Portland Trail Blazers -- was a familiar ending, but there were plenty of surprises that preceded it.
By virtue of being one of the most evenly matched series, Blazers-Mavericks was also one of the most scrutized. Here's three game-changing factors that nobody saw coming.
1. Jason Kidd explodes from deep
Everyone assumed that Mavericks point guard Jason Kidd would step up his production above the numbers he put up during the season series against the Blazers. Twice in four games, Kidd failed to make a shot and he averaged less than five points a game over the four meetings between the two teams.
On Saturday, the Blazers simply lost track of him time and time again and he bombed away eagerly. Whether he was open in semi-transition, open because of slow rotation, open because Blazers guards went under high picks, one thing was for sure: Kidd was open. When the dust settled, he finished with 24 points on 6-10 from downtown. That's the most points Kidd has scored in a game in more than a year -- since April 3, 2010 -- and tied for the most three-pointers he's made this season. Talk about the perfect time to show up.
It's unlikely Kidd will have another explosion like this, but he probably won't need to. In Dallas' balanced scoring attack there are plenty of other offensive options who can put up bigger numbers than they did in Game 1.
Jason Terry
, in particular, is due for a game in which he gets more than five shots and 10 points (half of those coming on fourth quarter free throws) as he's also struggled against Portland this season. JJ Barea (1-7),
Peja Stojakovic
(2-7) and
DeShawn Stevenson
(2-4) are all also capable of more. Kidd, in a sense, called his own number tonight because it was required, especially with Nowitzki struggling with his efficency early in the game. Look for order and scoring balance to be restored as this series continues.
2. Brandon Roy plays down the stretch
The most head-scratching coaching decision of this game -- and arguably of Portland's season -- came when Nate McMillan opted to play guard Brandon Roy the entire fourth quarter instead of starting guard
Wesley Matthews
, fellow reserve
Rudy Fernandez
or center
Marcus Camby
.
Just once in the last month has Roy played more than 26 minutes -- a recent home win over the
Lakers
-- and nothing about his recent play suggests he should be playing the crunch time minutes in this series. Roy shot just 33% from the field in April and has looked tentative with the ball in his hands and reluctant to shoot. To be blunt, he's a half-step slow and regularly over-thinking; reactive rather than proactive. The role he's filled has been that of a drive-and-kick facilitator, yet his speed and quickness with the ball in his hands has not recovered from his most recent knee surgeries and he doesn't draw the off-ball attention he once did. The result on Saturday was a bogged down late-game offense that failed to generate free throws or clean looks and allowed Dallas to make a major run late in the final quarter.
What's even more confusing, though, is that McMillan has almost always turned to Matthews late in games when the Blazers have held the lead. Portland led 72-66 with less than six minutes to go, the perfect situation to swap Roy for Matthews and slam the door shut. Not only is Matthews a superior defender, he's also a superior outside shooter (Matthews has shot 40.7% from deep this season while Roy has shot 33.3%). As a team, Portland shot 2-16 from deep on the night , including 1-7 in the final quarter. While Matthews struggled early with turnovers, he certainly has shown this season that he deserves more than 19 minutes and three shots. If Matthews wasn't such a nice guy and team player, he should be seething.
Even if McMillan decided Matthews simply didn't have it going in the pressure-packed situation that is Game 1, he had other options. Rudy Fernandez, although not a true impact player on Saturday, had six points, two rebounds and one assist in 18 minutes. If not Fernandez, then going back to a larger lineup -- with Marcus Camby in the middle -- would have been another option. While that would likely have led to easier double teams and more congestion for
LaMarcus Aldridge
-- who was excellent on the evening, finishing with 27 points and six boards -- Camby, who 18 rebounds in 29 minutes, would have been a difference-maker on the boards late, as Dallas center
Tyson Chandler
's four fourth-quarter rebounds were huge in extending Dallas possessions and ending Portland possessions.
Really, the late-game strategy should have been simple: Anybody But Roy. He finished 1-7 on the evening for two points and played exactly how recent history suggested he would play: flat, late and not in tune with a flowing offensive team concept. What's more, McMillan's decision was a departure from his usual rotation, necessitating an adjustment from all of Roy's teammates. Why did he do it? And, more importantly, why now?
3. Gerald Wallace is virtually invisble
Publication after publication touted Blazers forward Gerald Wallace as the X-factor in this series for plenty of good reasons: his defensive versatility, his array of offensive skills, his veteran leadership and his combination of experience and toughness. Wallace has told reporters in recent weeks that he's settled into his surroundings after some initial nervousness following a midseason trade that sent him from the Charlotte
Bobcats
to the Blazers. Tonight, we didn't see that.
Wallace was as invisible as he has been in a month, shooting a jittery 4-13 from the field, committing three turnovers and scoring just eight points and five rebounds in 38 minutes. To find a performance from Wallace that was that lacking, you have to go all the way back to March 15 which, incidentally, was a game against the Dallas Mavericks. That's an immediate red flag for Portland's upset hopes.
Wallace is McMillan's jack-of-all-trades, a player who is surely capable of defending multiple positions. But, on the offensive end, he struggled to find space against Dallas' veteran defense, a group that played a motivated and intelligent game all-around from start to finish. Dallas focused most of its team energy on Aldridge, and Wallace couldn't quite find the correct spacing and timing to get the points Portland needs from him. His ineffectiveness was arguably systematic, as this was a low-scoring, fairly ugly game in which Portland never found a solid offensive rhythm (except for Aldridge). Wallace surely has better nights in him, just as Portland's offense does. A few more made three-pointers from deep and everything else will open up. Wallace should be a key beneficiary.