Posted by Royce Young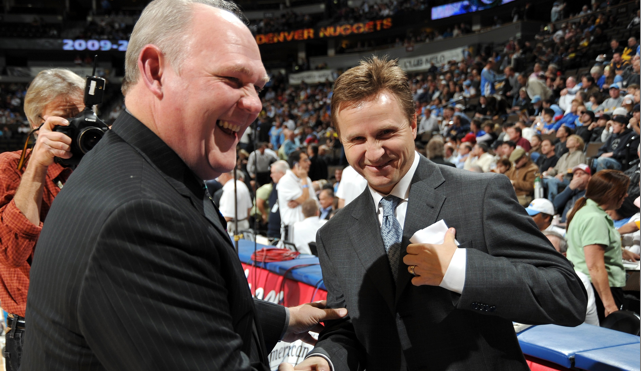 George Karl has been talking a bit of smack about the
Thunder
talking smack. Him, and the
Nuggets
, have accused their first round opponent of being "cocky" and talking a larger-than-usual amount of junk.
Karl said this recently: "There's no question there's a cockiness to Oklahoma City ... We know what they were saying after the game here. We know what they were saying. We know. I'm not going to bring it to the public, but we know."
But Karl took it even farther, calling his former assistant and current Oklahoma City head coach Scott Brooks, "cocky." "He's confident and his team is confident," Karl told reporters in Denver recently. "At times when you get beat by him, you think they might be too cocky." Brooks, who is decidedly uncocky
responded in a very Scott Brooks way.
"I've been called a lot worse. Trust me," Brooks said Saturday. "My mom calls me a lot worse after we lose.
"You guys know me," Brooks continued. "I worry about what we do with our team and focus on what we do. My job is to get our guys ready to play. We've done a pretty good job with that. … I care about what I do. I care about what our players do, and that's where it ends. Denver, they can do the things they do. That's on them. That's on George, that's on their staff. I focus on our team, our guys and I believe in what we do."
I have a pretty good feel for Brooks -- and the Thunder -- because I live in OKC and cover the team up close. And I have never seen anything out of them that I'd call cocky. I do think there's a new confidence to them and maybe a bit of swagger since the
Kendrick Perkins
trade, but I wouldn't call it cockiness. Especially when it comes to Brooks. "Scott Brooks" might as well be the antonym for "cocky." He is easily one of the most humble coaches in the league.
So of course it makes me wonder: What is Karl trying to achieve here by going on the offensive? It almost seems like he's trying to manufacture bulletin board material for his team. Almost like he's trying to bait the Thunder into giving him some. Could he really be that desperate for motivation? Possibly. Especially when you consider that Karl went on record saying he wanted to avoid Oklahoma City, and with the Thunder beating the Nuggets rather solidly twice in the past two weeks.
So far -- if that is indeed Karl's intention -- it's failed.
Kevin Durant
wouldn't bite when Jim Rome asked him about it. "We just play basketball. We don't do any talking other than letting people know how good a team they are and how tough the series is going to be." Durant made it a point to say a number of times how tough he thought the series would be and how good he thinks the Nuggets are. If Karl's trying to bait the Thunder, he's going to have to take it up a notch.
A big reason for OKC avoiding it? They fall in step behind their soft spoken leader. Brooks has set a very humble, respect-your-opponent, turn-the-other-cheek tone with his group. When asked if he had a response for Karl's claims, Brooks once again took the high road.
"I don't think we need to warn our guys," he said. "Our guys are basketball players. We play basketball. We're into our team. We're into what we do on the court. That stuff off the court…why worry about that? That has no bearing on this series at all. Our guys love to play, they're gym rats, they care about the game, they respect the game. They care about what they do. They represent themselves, the organization and the city well. That's all I care about.
"I don't get into going back and forth and I don't tell our guys, because that's not who they are. We don't have to address an issue that's not there. … I've been with George for a few years and he does his thing his way, and he's very successful. I have a lot of respect for him."
Karl no doubt has never been shy about speaking his mind and being candid with reporters, but this just feels forced to me. He's been around the block and has won a lot of games so I'm sure it's calculated. If he's pulling out all the stops to motivate his guys, that's his prerogative. He might be trying to get in the heads of the young Thunder squad. He might be trying to make them play with the wrong kind of emotion.
Whatever Karl is up to, I think he's got his reasons. Doesn't stop me from thinking it's probably a bad move, though. In trying to make some bulletin board material from scratch, I think he just gave some to the Thunder.