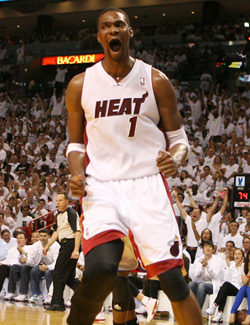 Chris Bosh takes advantage of what should always have been his role with the Heat: cleaning up after the attention on Wade and James.
Posted by Matt Moore
Chris Bosh does not have the same fanfare and attention that his two superstar teammates -- LeBron James and Dwyane Wade -- possess.

And while James, a two-time league MVP, and Wade, a former NBA Finals MVP, will have a bright spotlight cast upon them throughout their first playoff experience together as teammates, they both know that Bosh, a six-time All-Star, will need to play at a high level if the Heat are going to be holding the championship trophy come June.

"C.B. is the most important player on our team," said James following the Heat's 97-89 win over the 76ers in Game 1. "When C.B. plays aggressive, when C.B. shoots the ball well, and when he rebounds, we are a very, very, very good team."
via
Bosh's play could be determining factor in Heat's playoff run - NBA - CBSSports.com Basketball
.
More on 76ers at Heat
Related links
Chris Bosh was key in the Heat's victory over the Sixers, and while he's caught the most criticism as a member of the Triad this season, he also holds huge potential to turn them into an entirely different team. Perhaps most interesting about his 25-point, 12-rebound performance against the Sixers Saturday was that his production came so much as an auxilliary player. In essence, it was more what the Heat had planned when they got together this summer.
The idea was that with three of the top ten (at the time, five, but, let's be honest, not so much in retrospect) players in the league, the Heat would always have someone open. But their inability to create space or work in tandem effectively meant instead it was three great players going ISO a lot. Against the Sixers, Philadelphia keyed on James and Wade. The result was Bosh getting lots of looks off-ball.
Bosh scored six points on seven possessions in the post, but four of those came on drawn fouls. He put back two offensive rebounds, created both times by attention caused by James and Wade. He scored seven points on seven possessions in the pick and roll, and this was his bread and butter. Twice he benefited from a pick-and-pop situation involving someone other than himself as the screener. When James or Wade came off the pick, the defense hedged hard on them, opening up the screen man, and driving the defense to rotate to that man. Bosh would then leak out. Twice he got open looks on account of this set.
Sounds stunning, right? Hey, let's use the third best player on the team who is a top power-forward in this league and use him to get easy buckets considering he can score from anywhere!
Magic
! But this is the kind of play that eluded the Heat all season. Getting it going against the Sixers is a step towards getting themselves in a position to compete in the second round against (presumably) Boston. While the Heat offense was far from its best against a feisty Sixers team, it was good enough to show what it's capable of.
Bosh drew fouls, worked off-ball, hit the glass (which cannot be emphasized enough), and helped the Heat walk away with a win. If the defense is forced to account for Bosh, that's going to create more opportunities for Wade and James. As long as the reserve players can provide anything, literally anything, the Heat are on track for where they want to go offensively in the playoffs.