Dwight Howard scores 31 points in the first half against Hawks in Game 1.
Posted by Matt Moore
Dwight Howard finished the first half against the Hawks on Saturday night with 31 points. Thirty-one. Thirty, and then one more. The rest of the
Magic
had 17 points. Howard had nearly twice the total of his entire team. Which is partially why the Magic trail at the half to Atlanta. It was pretty good.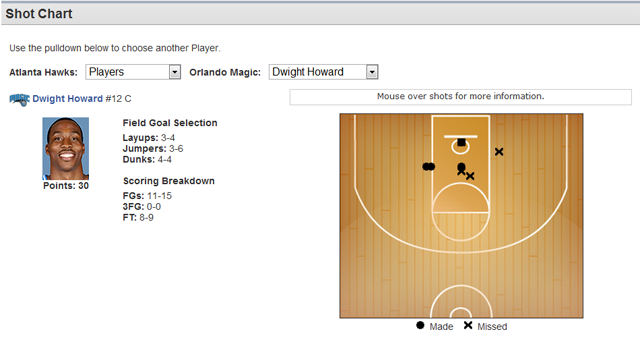 The Magic fed Howard, and he delivered. But defensively,
Kirk Hinrich
is finishing off
Jameer Nelson
with an array of step back jumpers. The Hawks have played
Jason Collins
,
Zaza Pachulia
, and
Josh Powell
on Howard, but haven't stuck
Al Horford
on him. Which is odd, because Horford actually surprisingly does play Howard well and manages not to foul. The Hawks have a lead at the half, but if Howard keeps up this kind of production, is there any way the Hawks can win?
They keep shooting 55% and yeah, they've got a good chance.
Follow along with Magic-Hawks here
.
Some thoughts from our Twitter followers on what the Hawks should do in the second half to slow down Howard:
"
Use a taser
."
"
Do nothing, ur winning, let Dwight take every shot and not allow the other guys to get going
"
"PRAY!"
"
Bill Russell
."
"
Mix in some zone to keep multiple bodies around Howard and protect Horford from getting in foul trouble.
"