Posted by Matt Moore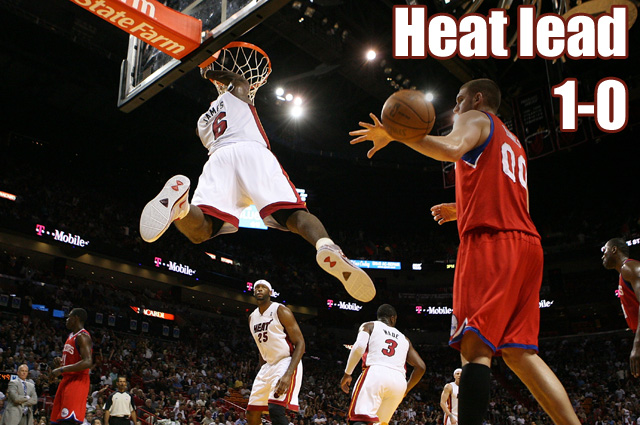 And again, the underdog nearly pulls it off,
but comes up short
. The Sixers started hot against the
Heat
. Then, the Heat slowly chipped away, chipped away, and took over. It looked like an easy win for the Heat when they were up 11 with 5:57 to play. By the 2:26 mark, it was a one-point game. The Sixers made a late run, keyed by
Thaddeus Young
and
Jrue Holiday
, working inside and out, but couldn't close. Then, Wade
did this fun thing
.
More on 76ers at Heat
Related links
If we're trying to find a real theme in this game, it comes from this. The Heat turned this game into a slugfest. Slowed it down to a snail's pace and ground it out. The Sixers shot 42 percent from the field, but had an effective field goal percentage (factoring 3-point attempts) of 45.8 percent. That's bad, but still better than the Heat. And that was a big part of how they hung around. The reality is that, for a team that relies so much on transition, buckets and speed, the Heat turned into a slow-it-down, brutalize-it club. And that was their biggest success against Philadelphia. When the Sixers got in transition and sped the game up, they had considerably more success. Factor in
Chris Bosh
's 25 points and 12 rebounds and that's the model for a Heat win.
Defensively for the Sixers, there has to be more help and it has to come before the point of attack. The Sixers gave up 39 free throws (as opposed to the fifteen they managed). Philadelphia gave up fouls on nearly 19% of all possessions for Miami. Some of that's star calls, sure. But that doesn't change it from being something Philly has to respond to. There needs to be more communication defensively to help out on possessions, especially when James is leading.
The Heat were not efficient in this game, outside of creating free throws (which is, in itself, efficient, but bear with me). Their three leading scorers (the Triad) shot 41 percent from the field. On the one hand, you have to say the Sixers won't be lucky enough to run into that bad of a shooting performance across the board. On the other, the Heat have to convert more opportunities. This was a solid win that the Heat had control of for 3.25 quarters. But it was also a game in which they left the door open.
That said, if the Heat's defense maintains its intensity for the entire game, Philadelphia's options become more and more limited.
Notes:
Somewhere in the back of their minds, the Heat coaching staff has to be concerned about the work of Jrue Holiday (19 points, 5 rebounds, 5 assists). Point guard is a soft spot for the Heat defensively, and Holiday has a higher ceiling than he showed Saturday.
On the flip side, Philadelphia has to be terrified about Spencer Hawes. The Heat do not have strong center play and Hawes was totally overwhelmed in a limited 13 minutes. He shot selectively and efficiently but was unable to work well on the glass.
Andres Nocioni should not play. He's too much of a liability in this series.
Jodie Meeks did a great job in the first half against Dwyane Wade. Later, when switched against LeBron James, he was overmatched. Which isn't surprisingly. It's confusing that Collins would go that route.
Late in the game, LeBron James largely played a "spy linebacker" position; waiting low to block whoever came to the paint. It was frightening to see him in that kind of lurking role.