Posted by Royce Young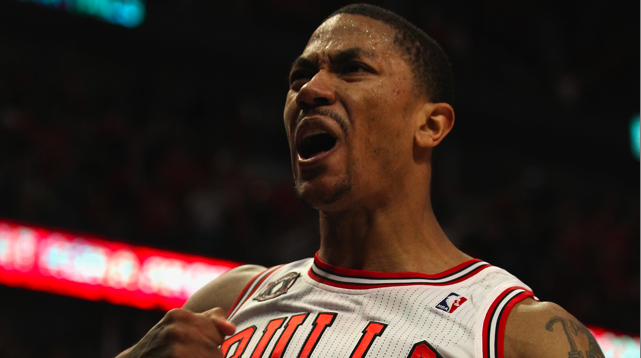 It took 47 minutes and 12 seconds for the
Bulls
-- the top seed in the
entire
NBA playoffs -- to take a lead over the 37-win Indiana
Pacers
. For those first 47 minutes and 11 seconds, it looked like we had the seeds mixed up. The Pacers looked sharp, confident and crisp while the Bulls looked nervous and tight. And, after a three-point play from
Tyler Hansbrough
that put Indiana up 10 with three minutes left, worried.
But the Bulls have the luxury of possessing a special, special player that wears No. 1 on his back.
Derrick Rose
was every bit the MVP in this one, keying a 14-1 run for Chicago and leading the Bulls to a hard fought 104-99 victory over the scrappy Pacers. Rose had 39 points and basically carried his team, but it was a smart decision late in the fourth that put the Bulls over the top.
With the game tied at 99-99, Rose had the option to attack in transition. Instead, he deferred to
Kyle Korver
, who was open on the 3-point line. Korver dropped in a massive shot that pretty much ended the dream day for the Pacers. A brilliant play, and one that showed Rose is entirely willing to trust teammates in big moments, which is a big key for Chicago moving forward.
The story will likely be about how Chicago nearly dropped a dud in the first game, but don't overlook what these young Pacers did. They know they're overwhelming underdogs. They know most aren't giving them a chance to even win a game in this series. Yet with 3:28 left in this game, they led by 10 and really had the Bulls up against a wall.
Every punch the Bulls threw, Indiana came back with two.
Danny Granger
had a huge second half with 18 points (24 overall), Hansbrough basically took over in stretches and, most importantly, the Pacers played smart. They had this game. They really did. But in those last three minutes, they couldn't figure out where to go for points. It was almost like they looked at the scoreboard for the first time and said, "Holy crap, we're up 10!" and then tightened up and tried to just take a couple knees and run out the clock.
For 97 percent of the game, the Pacers played without fear, without hesitation and without any idea that they were supposed to lose. It was impressive.
More on Pacers-Bulls
Analysis
---

Matt Moore
Tyler Hansbrough was huge, the Pacers shot lights-out ... and Indy still lost. Backbreaker? Read >>
Related links
Video
Here's the thing though: This was good for the Bulls. They're a heavy favorite not just to win this series, but the entire Eastern Conference. But they're young and inexperienced. They haven't played this favorite role yet. This is new. And they just got a little message in the mail from Frank Vogel and the Pacers that this is the postseason and you can't just expect to show up and advance.
Maybe it was just me, but I sensed an air of arrogance from the Bulls for the first three quarters. Kind of like they just
expected
to handle the Pacers. Like they thought the Pacers were just a cricket they needed to squash before leaving the house. Obviously, not the case.
The Bulls didn't play very well, especially in terms of their standards. Their defense was sketchy (allowed 55 points in the first half and 50 percent shooting the first three quarters). The offensive execution was inconsistent with most of Chicago's offense being called "Derrick Rose." All of that compromised Chicago's overall performance and really, the Bulls were lucky to escape with a win.
Look at the shot selection just by Rose. He was 10-23 overall, but 0-9 from 3. He did a terrific job getting to the line (19-21; by contrast Indiana as a team was 14-17), but the Bulls played with the kind of frustration you see in a team that's confused about why they're not up by 15. They kept trying to score six points at a time instead of just taking the game possession by possession.
It's not unexpected though. We've all placed grand expectations on this Bulls team, but really, they're not too different from Indiana. They're young, inexperienced and unproven. Only difference is the Bulls have the target on their back and have to play with the weight of expectation. The Pacers got to play with house money.
Where Chicago won the game was on the glass with 21 offensive rebounds and a 49-34 edge overall. The biggest was the last one by veteran
Kurt Thomas
with 18 seconds left that forced the Pacers to foul. If Indiana grabs two or three more defensive boards, we're all writing much different stories that probably have headlines like, "Panic time in Chicago?"
But that run in the last three minutes was a title team style effort. It's what you see the great squads do. Lull for 45 minutes, turn it on for three. And win. That last part is the most important.
It's probably better in the end for Chicago to understand that nothing comes easy in the postseason. Playing with fire is dangerous and Tom Thibodeau definitely isn't psyched about how his team played, but he definitely has something to talk about with his group now. The Bulls need to sort some things out. Rose is amazing, but they aren't advancing past Miami if Rose has to score 40 every night in a seven-game series. Other players have to step up. They knew that already, but they got a pretty good reminder of it today against a lesser team.
More than likely, Indiana blew its best chance to steal a game from the Bulls. Now, Chicago has that first one out of the way and it survived. They can refocus, loosen up a bit and just go play their game. The Pacers have the Bulls attention now. That's for sure. And that's probably a good thing for the Bulls going forward.