Boston Celtics center Shaquille O'Neal will not play in Game 1 against the New York Knicks due to injury. Posted by Ben Golliver.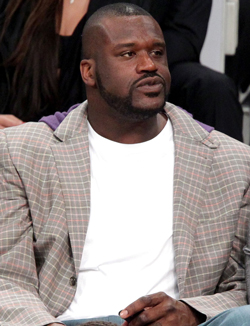 Boston Celtics president Danny Ainge told the media on Saturday that center Shaquille O'Neal will not be available for Game 1 against the New York Knicks on Sunday as expected. "He's not ready. We don't know when he's going to be ready," Ainge said,
according to Celtics.com
. The team's doctor, Dr. McKeon, said: "He's been working his tail off."
NBA.com reported on Twitter
that O'Neal "tried to run this am, couldn't go. No timetable."
O'Neal missed a significant amount of time during the latter half of the regular season due to a variety of ailments, including an Achilles injury. He attempted to make a comeback on April 3 but was shut down after just six minutes of action. Those six minutes were the only court time he's seen since February 1.
The Celtics could certainly use O'Neal as their vaunted interior depth took a hit with the midseason trade of
Kendrick Perkins
to the Oklahoma City
Thunder
. Without O'Neal, the Celtics will have to make due with
Nenad Krstic
and
Jermaine O'Neal
and can also shift to some small ball lineups. Against the Knicks, Shaq's absence isn't critical -- as New York could not care less about defense and rebounding -- but his availability for a potential second round series against the Miami
Heat
or a potential Eastern Conference Finals with the Boston Celtics could be a major factor.
On the season, O'Neal is averaging 9.2 points and 4.8 rebounds in 20.3 minutes. He appeared in just 37 games for the Celtics.