The NBA playoffs are here. We've previewed the Western Conference. Now here are our picks along with the rest of the CBS NBA staff for you to mock or praise. Be gentle.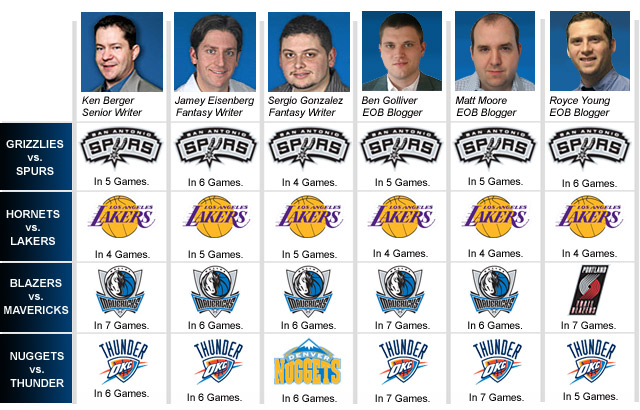 Here are the EOB picks for the Western Conference, with a little 'splainin. Leave your picks below.
8 Grizzlies vs. 1 Spurs
Ben Golliver
: The
Manu Ginobili
elbow sprain is a real drag and Memphis will surely give San Antonio all it can handle in the paint, but the Spurs are near untouchable at home and this isn't their first rodeo. The Grizzlies deserve all the credit in the world for how they played the second half of their season – especially given the absence of
Rudy Gay
– but disciplined, experienced veterans with a clear system almost always beat out the enthusiastic, aggressive upstarts during the post-season. Look for
Tony Parker
to introduce
Mike Conley
to a crisis of confidence.
Prediction: Spurs in five
.
Royce Young:
The Grizzlies wanted the Spurs, well now they're going to get them. It's silly to wish for things, but man, I can't help but think what the Grizzlies would look like with Rudy Gay. Alas, it's not meant to be. The Spurs are proven winners and the Grizzlies are the young, talented kids. It's not going to be easy for San Antonio, but Memphis just isn't ready to move on.
Prediction: Spurs in six

.
Matt Moore:
It wouldn't surprise many to see Memphis take two games in this series. It also wouldn't surprise many to see a sweep by the Spurs. I'll aim for the middle. A five-game gentleman's sweep, which means Memphis wins a playoff game, and that's a step forward for the franchise.
Prediction: Spurs in five.
Ken Berger
: There are two big health questions for the Spurs: Manu Ginobili and
Tim Duncan
. The Grizz have a lockdown defender,
Tony Allen
, capable of minimizing Manu's impact. The Grizzlies are a dangerous offensive-rebounding team, and they're second in the league in turnover differential. But the Spurs have the experience and presence to win on the road, they have enough big bodies to contend with
Marc Gasol
and
Zach Randolph
, and Tony Parker will be the best player on the floor in this series.
Prediction: Spurs in five.
7 Hornets vs. 2 Lakers
Ken Berger:
This could get ugly for the Hornets, who I fear will be seeing the Lakers team that won 17 of 18 after the All-Star break, not the team that got bored and lost six straight at the end to nearly squander the second seed. New Orleans is among the grittiest defensive teams in the league, but not against the Lakers;
Pau Gasol
and
Andrew Bynum
combined to shoot 67 percent in the four-game season series, swept by the L.A. Even if Bynum isn't 100 percent, the defending champs should cruise.
Prediction: Lakers in four.
Royce Young:
With
David West
being out, I think the Lakers are privately saying it's sweep or bust. Everyone is expected a sweep and it's hard to argue it, but with the semi-uncertainty of Andrew Bynum's knee and the fact
Chris Paul
is very, very good, the Hornets might be able to sneak up and steal a game. That would be the goal for New Orleans because they are climbing a mountain here and they're barefoot.
Lakers in four.
Ben Golliver:
Los Angeles got its dream match-up – finally – when it put away the Sacramento
Kings
in overtime on the last day of the regular season. The Hornets enter the series without their All-Star forward, David West, and with question marks surrounding Chris Paul, who recently had his knee drained of fluid and was held scoreless for the first time in his career. The Hornets don't have much of a bench and certainly can't compete with LA's monstrous, versatile frontline trio of Andrew Bynum, Pau Gasol and
Lamar Odom
. Forget about it.
Prediction: Lakers in four.
Matt Moore:
HORNETS SEASON = OVER; OVERMATCHED = VERY YES.
Prediction: Lakers in four.
6 Blazers vs. 3 Mavericks
Matt Moore:
When was the last time a three seed was slept on this much? All of a sudden the Blazers, with
Wesley Matthews
as a key weapon (fine player that he is) are going to knock off a team with playoff experience who shored up their biggest weakness with
Tyson Chandler
? The Mavs miss Caron Bulter. They're not going to miss him that much.
Prediction: Mavericks in six.
Ben Golliver:
Mavericks/Blazers has become the hot upset special pick, but I see Dallas eventually pulling it out because Portland has struggled to win on the road, has dealt with inconsistent outside shooting all season and isn't nearly as deep as everyone thinks they are. The Mavericks have the cohesiveness factor on their side and Portland doesn't have a good option for defending
Jason Terry
. The
Andre Miller
/
Jason Kidd
and
Marcus Camby
/ Tyson Chandler match-ups are very much toss-ups, and the Mavericks will need to pay extra attention to
Gerald Wallace
, but it's difficult to see
Dirk Nowitzki
and company not taking care of homecourt.
Prediction: Mavericks in seven.
Ken Berger:
What does it mean that this is the only first-round series I'm picking to go seven games? It means that I'm too much of a wimp to pick an upset. There is ample evidence to support the theory that Portland could dump the playoff-fragile Mavs, not the least of which are the Blazers' advantages in turnover differential (No. 1 in the league) and offensive rebounding rate (third). This could come down to a really fun Dirk Nowitzki vs.
LaMarcus Aldridge
show. But even after the trade for Gerald Wallace, the Blazers haven't won on the road consistently enough to suggest they could pull off a Game 7 upset in Dallas. Prediction:
Mavericks in seven.
Royce Young:
I like the Blazers. It's almost irrational, but I can't help but like them. I see them as a team ready to challenge almost anyone. But the Blazers have almost become too much of a chic pick to be entirely comfortable with it. The Mavs are good. They won 55 games. They have Dirk. But it just seems like Portland is the better team.
Blazers in seven.
5 Nuggets vs. 4 Thunder
Royce Young:
Why is everyone acting like this will be a high scoring, up and down series? The two games these teams played in the last couple weeks were won by the Thunder by an average score of 102.5 to 91.5. Oklahoma City plays some serious defense now. They match up well with the Nuggets and Denver doesn't have anyone to defend Durant. But getting a healthy
Arron Afflalo
is a wildcard and as we know, don't doubt the Nuggets. They're dangerous.
Thunder in five.
Matt Moore:
We have yet to see the Thunder in a series where
Kevin Durant
just takes over (because they've only been in one series). Durant could choose to end this series if he hits that level. But until he does, you have to believe George Karl will have some tricks up his sleeve, that the Nuggets will continue to play hard, and that the Thunder will have some trouble with dispatching the Nuggets.
Prediction: Thunder in seven.
Ben Golliver:
Thunder/Nuggets has epic potential given how well each team has played since making massive moves at the trade deadline and how selfless each team's overall approach to the game is. In a nailbiter, I give the Thunder the edge because both of their stars score efficiently, can get to the line and because newcomer
Kendrick Perkins
fits in with the rest of the starting unit perfectly. Denver's depth is second to none but Oklahoma City's bench is no slouch, either, and when it comes to crunchtime I have a feeling Kevin Durant will add to his legend in a big time way.
Prediction: Thunder in seven.
Ken Berger:
Along with Blazers-Mavs and
Knicks
-Celtics, this will be among the most entertaining and competitive first-around series. The Knuggets like to push the pace, shoot threes, and exploit mismatches in the pick-and-roll game by getting opposing bigs on the move and forcing them to make decisions. The Thunder are almost as efficient offensively, though at a slightly slower pace. Both teams are better defensively after their major deadline trades, though the Thunder are more consistent in that area. It could come down to which team has a superstar to make big shots and carry the load down the stretch. The Knuggets traded theirs,
Carmelo Anthony
; the Thunder acquired a diabolical screen-setter, Kendrick Perkins, to make things easier for Kevin Durant.
Prediction: Thunder in six.