A preview of the first round playoff series between the Dallas Mavericks and Portland Trail Blazers. Posted by Ben Golliver.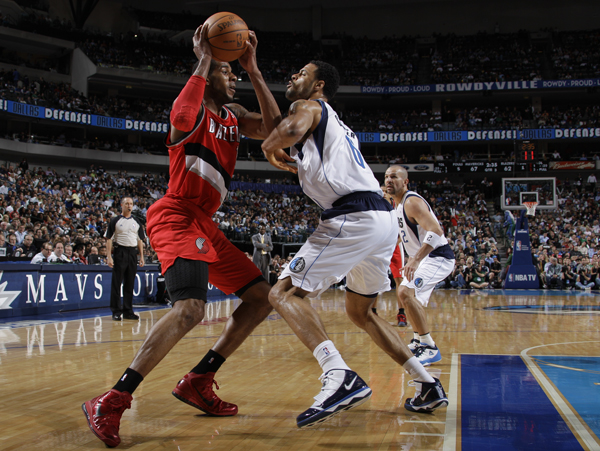 I. Intro: No. 6 seed Portland Trail Blazers (48-34) vs. No. 3 seed Dallas Mavericks (57-25)
The city of Portland rejoiced when the Los Angeles Lakers finally finished off the Sacramento Kings on Wednesday night to claim the Western Conference's No. 2 seed, setting up Portland, who had already clinched the No. 6 spot, for a date with the Dallas Mavericks. The consensus started building as early as March that the Blazers would prefer to play the Mavericks over any of the West's top four. That desire is motivated in part because the Blazers lost center Greg Oden for the season -- and thus have trouble dealing with LA's length and size inside -- but also because the team has fared well against the Mavericks in the regular season and the match-ups are pretty close up and down these rosters.
With that said, the Blazers have a very good chance at pulling off an upset here, but don't rush to anoint them. Indeed, the talk from Dallas that the Mavericks are the "underdogs" is nonsense. Dallas is better on both sides of the ball, has more playoff experience, possesses homecourt advantage and its core has played together much longer than Portland's, which didn't come together until this year's trade deadline move for forward Gerald Wallace.
Blazers-Mavericks should go down to the wire and compete with the Denver Nuggets vs. Oklahoma City Thunder for best first round playoff series.
II. What Happened: A look at the season series
The Blazers-Mavericks season series between the two teams is about as even as it gets. The teams split 2-2, with the home team winning all four games. The numbers in those games are comically close. The Blazers averaged 96.8 points while the Mavericks averaged 96.0, making for an almost invisible point differential. The Blazers averaged 37.3 rebounds while the Mavericks averaged 37 rebounds. The teams even both averaged 17 fouls per game. Really?
There were a few differences, though. The Mavericks shot better from the field – by almost three percent – and from distance – by five percent. The Blazers closed that gap by getting to the free throw line slightly more and by grabbing more offensive rebounds. For Portland to pull the upset, that will need to continue. Dallas possesses a better overall offense (No. 8 in the league), has a higher overall rebound rate and, thanks to Jason Kidd, has the league's highest assist rate. They're a top-five shooting team overall and shoot better from deep than the inconsistent Blazers.
While both teams held serve at home during the regular season, it's worth noting that the Mavericks have the league's best road record at 28-13. The Blazers, meanwhile, were 18-23 on the road, which doesn't bode well for a potential game seven.
III. The Easy Stuff: LaMarcus Aldridge has been huge against Dallas
Blazers forward LaMarcus Aldridge has made a ton of noise this season as he's become the team's No. 1 scoring option in the wake of Brandon Roy's knee issues. Aldridge was the last guy cut off the Western Conference All-Star team, earned Player of the Month honors, has been floated as a Most Improved Player candidate as well as a top 10 MVP candidate and has a decent shot of making the All-NBA Third Team. He achieved cult status in Portland when he went on a ridiculous midseason tear.
Aldridge has regularly referenced a December game in Dallas as the moment a switch flipped for him, the time that he realized he needed to do more – much more – offensively if the Blazers were to make hte playoffs. Against the Mavericks this season, Aldridge has averaged 28.6 points and nine rebounds per game and he's gotten to the line more than eight times per game. He's succeeded, in part, because Tyson Chandler is the only Dallas big who can stick with him defensively.
Dallas will surely pay tons of attention to Aldridge, doubling him, pressuring him on the ball and forcing Portland's shooters – streaky guys like Wesley Matthews, Nicolas Batum and Rudy Fernandez – to make them pay for collapsing on Aldridge. Given the quality of Dallas's offense, Portland simply won't be able to keep pace offensively unless Aldridge posts big numbers. There's pressure on him, without a doubt, and he will need to respond.
IV. Secret of the Series: Jason Terry is the X-factor for Dallas
While no team in the NBA can feel totally confident in its ability to defend Dirk Nowitzki – a player who once again didn't get enough run as an MVP candidate – the Blazers have multiple guys to throw at him: Aldridge, Wallace and even Batum. Mavericks guard Jason Terry, though, is a different story, as his quickness, pull-up shooting and big shot-making abilities leaves Portland looking for answers. Surprisingly, during the regular season series Terry was a virtual non-factor, averaging just 12.3 points and 1 assist against the Blazers; Only San Antonio, Chicago and Milwaukee held him to a lower point average than Portland.
Matthews and Fernandez will probably get the call on Terry and the Blazers will switch a ton late in games to keep a hand in his face. There should be a comfort factor for Dallas in knowing they split this season with their No. 2 option being off his game. If Terry shows up – or if he goes off like he's fully capable of doing – it will be something the Blazers haven't dealt with this season.
V. The Dinosaur Narrative: "Portland is so deep they can overwhelm you"
In previous years, NBA executives and media members around the league would marvel at the vast collection of young talent that Portland had assembled. Injuries and consolidation trades have taken a major toll, however, and the Blazers are not nearly as deep as they might look on paper. Blazers coach Nate McMillan didn't settle on a starting lineup until late in the season – he tried Wallace at the power forward spot before sliding him in at small forward – but once he did he rode his starters hard. McMillan has really leaned on Aldridge and Wallace down the stretch – often playing them both over 40 minutes a night – and you can expect him to play veteran starting point guard Andre Miller heavy minutes as well.
Portland's bench really only goes three deep: Batum, Fernandez and Brandon Roy. Batum has done a nice job of settling into a reserve role after ceding his starting spot to Wallace, but he can't always be counted on to make an immediate offensive impact. Fernandez has struggled with his shot all season long but – like Batum – can change a game with his energy and defensive instincts.
Roy is the biggest question mark and could be a major player in this series. His size makes him a tough cover for Dallas's reserve guards and he should get a fair number of minutes because he can hide on defense – where he's a major liability due to a lack of lateral quickness – against Jason Kidd, DeShawn Stevenson or Peja Stojakovich. The problem is that he appears to no longer trust his shot, shooting just 33% in April and looking to facilitate Portland's second-team offense rather than get his own scoring. If Roy steps up and provides a legitimate scoring punch off the bench, it will relieve pressure not only on his fellow reserves but on Portland's starting unit as well. The bad news: he's scored in double figures just twice in the last month. The good news: his best game of 2011 came against Dallas, when he dropped in 21.
VI. The Line-Item Veto: Who wins each match-up?
PG: Neither Andre Miller nor Jason Kidd played great in the regular season series: Miller averaged nine points and four assists while Kidd averaged five points and eight assists. But watching two of the game's smartest, craftiest point guards in the postseason should make for an excellent chess match. Call this a push.
SG: Reports out of Dallas are that DeShawn Stevenson will start at the two and, while he brings a bigger body than Rodrigue Beaubois, he's the definition of unpredictable. On the opposite side, Wesley Matthews took a nice leap forward in his second season, drawing MIP consideration and upping his scoring average in a big way. He plays hard and enjoys playing defense late in games, something he will be asked to do. Slight advantage: Blazers.
SF: Gerald Wallace is being highlighted and circled everywhere as a potential X-factor for the Blazers, and rightfully so. He's been a phenomenon since arriving in Portland at the trade deadline and has given the Blazers great defensive versatility, an added measure of toughness and a veteran savvy that were lacking. Shawn Marion is probably getting looked over in all of this, as he averaged 13.3 points and six rebounds against the Blazers this season. Wallace's overall activity level gives him the nod, but not by as much as you would think. Advantage: Blazers.
PF: Dirk Nowitzki vs. LaMarcus Aldridge should be about as fascinating as any first-round match-up in the Western Conference. Nowitzki has averaged 21.7 points and seven boards this season against the Blazers and put some nails in the coffin down the stretch of an early season game with some huge fourth quarter baskets. Nowitzki has a big edge in playoff experience, he has the homecourt advantage and he should have plenty of help defending Aldridge. Advantage: Mavericks.
C: Much like Miller/Kidd, the center match-up of Tyson Chandler and Marcus Camby pits fairly similar players: long, rebounding-first defensive specialists. But Chandler brings more on the offensive end and is younger and Camby has struggled a bit since his return from arthroscopic knee surgery in early 2011. Advantage: Mavericks.
Bench: Terry is the major standout while JJ Barea's speed has given Portland problems in the past. Thanks to Brendan Haywood, the Mavericks also have more depth up front, which could be a big factor in helping keep Dallas's starters out of foul trouble. Unless Roy shows up, Portland's bench lacks pop. Advantage: Mavericks.
Coach: The pressure is on Rick Carlisle to deliver in the postseason, as the Mavericks have been bounced in the first round three of the last four years. McMillan has applied expectations of his own, stating recently that it was time for both the Blazers and himself to take the next step and win a playoff series, something they were unable to do against the Rockets in 2009 and the Suns in 2010. Both teams rely heavily on advanced scouting and tendency analysis and both teams incorporate zone defense looks. Should be a fun one. Call it a push.
VII. Conclusion
Mavericks/Blazers has become the hot upset special pick, but Dallas should eventually pull it out because Portland has struggled to win on the road, has dealt with inconsistent outside shooting all season and isn't nearly as deep as everyone thinks they are. The Mavericks have the cohesiveness factor on their side and Portland doesn't have a great option for defending Jason Terry. The Andre Miller / Jason Kidd and Marcus Camby / Tyson Chandler match-ups are very much toss-ups, and the Mavericks will need to pay extra attention to Gerald Wallace, but it's difficult to see Dirk Nowitzki and company not taking care of homecourt. Prediction: Mavericks in 7.
VIII. CBSSports.com Video Preview
Tyson Chandler and the Dallas Mavericks will take on LaMarcus Aldridge and the Portland Trail Blazers in round 1 of the NBA Playoffs. Who will come out on top? Ian Eagle and Ken Berger breakdown this playoff matchup.