Our first-round series previews continue with this look at Memphis vs. San Antonio. Are the Spurs the grizzled defensive team of old? Can Tony Allen do anything to disrupt Manu?
Posted by Matt Moore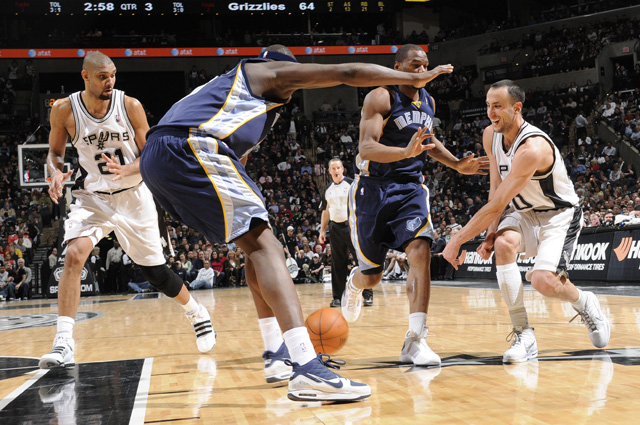 I. Intro
If the playoffs were one giant game show,
Grizzlies
-Spurs is the box with the gigantic question mark on it. Are the Spurs as good as their record indicates? Because if they are, this thing's going to be over in about forty-five seconds. Are the Grizzlies able to translate that toughness to the playoffs and is San Antonio in a weak spot with an injured
Manu Ginobili
and some defensive questions? Because if that's the case, this thing could go the distance. We just don't know. The Spurs have so much experience. The Grizzlies are playing with so much emotion. The Spurs are an elite offensive team. The Grizzlies are a great defensive team.
Tim Duncan
.
Zach Randolph
. Manu Ginobili. Tony Allen's abject insanity. Good benches, good coaches. This one has all the makings of a great series. It's a 1 seed vs. the 8 seed. Which means it could be terrible.
We don't know anything. We're waiting for both of these teams to define themselves. We're pretty sure San Antonio's going to win, because they're better with better players. But Memphis has been on such a roll, has such good chemistry, has size and good wing play and attack the rim. Trying to decipher this series is maddening, but that also means it could be fun, even if it's a sweep.
II. What Happened: A Look at the Season Series
The Spurs only lost 21 games. Two of them were to Memphis. One was a tank game at the end of the season, though. Memphis averaged 103 points against San Antonio, who only scored 101. Both teams won their home games. The Spurs took the first two meetings, the Grizzlies the last two. Three of the meetings were after the trade deadline acquisition of Battier for Memphis.
You want a weird one? Both of Memphis' wins over the Spurs came after
Rudy Gay
was lost for the season.
Other than that? It's a bizarre amalgam of information from those games. The Spurs won when
Tony Parker
scored 37. They won when Parker scored 2. Memphis won a slow paced game, lost a slow paced game, won a fast paced game, lost a fast paced game. The Spurs won when they shot over 50 percent, and lost when they shot over 50 percent (the tank game). Memphis won when they controlled the rebounding battle, and lost when they controlled the rebounding battle. There is literally no discernible pattern other than individual matchup advantages that were at times expressed and at times not expressed.
The consistent theme is that Zach Randolph's going to get his. He plugged in 24, 24, 23, and 21. That's predictable, considering Randolph's consistency in the 20-10 game. But the fact that Randolph's production isn't tied to Memphis winning has to be a concern for the Grizzlies.
III. The Easy Stuff: Manu vs. the Yin-Yang
Manu Ginobili is one of the toughest covers in the NBA. Tony Allen and
Shane Battier
are two of the best defenders in the league. Manu has the Euro-step. Battier and Allen are obsessed with tape review to figure out tendencies. This is a huge matchup to watch. Ginobili will need to be in full flop mode. If he can frustrate Allen by drawing fouls via flop, Allen will start to gamble more. Given his penchant for falling for the pump-fake, it may not be too difficult for Ginobili to do that quickly. Against Battier, Manu has more speed advantage, and the Grizzlies' frontcourt help defense is not good.
For Memphis, the key here needs to be to deny the ball. Ball pressure has to be a key part of their attack on Ginobili. They can't bring help at the elbow, due to the Spurs' plethora of shooters. So they have to focus on keeping the ball out of his hand, which is nearly impossible when they set the offense with Manu as ball-handler in the deep backcourt. The Grizzlies focus on turnovers, and Ginobili's turnover rate is the lowest of his career (that factors how many possessions he uses). If Hollins doesn't figure out a way to attack Ginobili at the elbow on the drive before he slips low (where he is nearly impossible to defend), he's going to hurt Memphis in a big, big way.
IV. Secret of the Series: Underground seating
Memphis does not have a good bench. But they may have advantages against the Spurs.
Matt Bonner
is a terrific 3-point shooter, but who is he going to defend? Zach Randolph will bury him.
Darrell Arthur
is both faster and stronger.
Antonio McDyess
is a capable defender, and he could have a huge impact in this series.
George Hill
has had a great season, but with Battier and Mayo coming off the Bench, there are answers. Darrell Arthur is a big secret for Memphis. He's not only strong and quick, but he has a reliable mid-range from 18. Stretch bigs give the Spurs fits, and if Conley and Arthur start to operate in space, and that jumper falls for Arthur, that's some damage that could be done.
It'll be interesting to see if the Spurs start McDyess to cover Randolph, giving Duncan the less offensive-focused
Marc Gasol
. In that situation,
DeJuan Blair
would come off the bench. Blair's defensive issues are problematic, but he could neutralize the boards advantage for Memphis. Do that and the Grizzlies lose some of their umph. Lineups and rotations will go a long way in deciding this series.
V. The Dinosaur Narrative: "THE SPURS ARE TOUGH, GRITTY, VETERAN DEFENSIVE TEAM."
Anyone, and I mean anyone, who spins this yarn at you, needs to go. I've talked about the Spurs' defensive slide on this site quite a bit, and there's been no dramatic shift in the other direction. The Spurs simply don't have the personnel they used to. Gone are the veteran wing defenders like
Michael Finley
and Bruce Bowen. Instead George Hill, who has great speed and is a terrific offensive player, is asked to play in a reserve two-guard role often.
Richard Jefferson
has solid length, but isn't an elite defender. DeJuan Blair doesn't have the length or explosion to defend bigger players in the post, and is still young as to not have the savvy experience necessary to overcome those limitations. He'll get there, but he's not there yet.
Every year prior, if you asked who had a better defensive efficiency, the Spurs or their first-round opponent, you'd automatically answer "San Antonio." But this year? The Grizzlies are
8th in defensive efficiency
. The Spurs? 11th. This doesn't mean the Spurs won't win, or that they won't find that extra defensive playoff gear. It just means that going into this series, the Spurs are not that old, veteran tough team they're always known to be.
VI.
The Line-Item Veto: Who wins each matchup?
PG:
Tony Parker has terrific speed on the perimeter.
Mike Conley
has made huge strides this season, but he routinely gets blown by faster guards. Conley will probably get his fair share of points and assists, but Parker's ability to dominate this matchup is unquestionable. Advantage: Parker.
SG:
We discussed above, but it should be put this way. Manu Ginobili is a championship caliber wing with savvy, speed and great scoring ability. This is a no-brainer. Advantage: Manu.
SF:
The Grizzlies run
Sam Young
and Tony Allen in tandem at the 2/3 spots. Young has added bulk and been taken under TA's wing this season. But Jefferson has about a million more moves. Young will be more aggressive, but that will also lead to leaving Jefferson open in the corner, where he's become deadly (highest 3-point percentage of his career). Jefferson get the nod here.
PF:
Tim Duncan is the greatest power forward of all time. Zach Randolph is a top five power forward in the league right now. And neither will guard each other much in this series. We're going to give the nod to Duncan, only, and we stress only, for his defensive impact. Randolph is a poor defender, Duncan is still strongest. Advantage: Duncan.
C:
Marc Gasol is constantly the most underrated center in the league. McDyess is a solid veteran defender. DeJuan Blair is a nice rebounder and put-back machine. Neither is seven-feet tall with the ability to run the pinch post, nail the open 16-footer consistently, pass well out of the post and attack the offensive glass as easily as Gasol. Plus his beard is mighty. Advantage: Gasol.
Bench:
We just got through telling you the Grizzlies have some matchup advantages on the Spurs on the bench. But the Grizzlies bring off Ish Smith and
Hamed Haddadi
. Advantage: Spurs.
Coach:
We'd comment more thoroughly on this, but we're afraid Popovich will make fun of us. Advantage: Popovich.
VII. Conclusion
When you have a matchup that becomes as complicated and confusing when you get in the details as this one, you have to take a step back and look at the simple picture. The Spurs have had one of their best seasons ever. They have championship players. They have Hall of Famers. They have a Hall of Fame coach. They are an elite offensive team that understands what they have to do defensively to win. They have experience, where the Grizzlies have almost none. The Spurs are the top seed in the West versus the 8th seed.
It wouldn't surprise many to see Memphis take two games in this series. It also wouldn't surprise many to see a sweep by the Spurs. I'll aim for the middle. A five-game gentleman's sweep, which means Memphis wins a playoff game, and that's a step forward for the franchise. Prediction: Spurs in 5.