Posted by Royce Young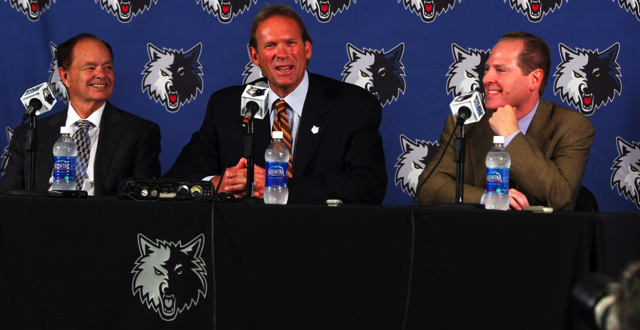 David Kahn held a press conference Wednesday. During that, he had a fun quote.
We're ahead of where we thought we'd be with the roster.
I can definitely see his point. The Wolves went an NBA worst 17-65 this season, still don't have
Ricky Rubio
, just signed
Darko Milicic
to a $20 million deal, don't have a roster with any cohesiveness and really don't appear to have an end game in this rebuilding project.
Yep, right where they want to be.
Kahn has found his way on to the hot seat so he's doing what any self-preserving person would do -- pass the buck.
As Ken Berger wrote yesterday,
Kahn refused to give coach Kurt Rambis any sort of vote of confidence and basically just stopped short of saying he was gone. Berger said, according to connected sources, that Rambis is pretty much a guarantee to be fired.
It's natural to blame Rambis, who hasn't been able to employ his run-and-gun version of the triangle offense in Minnesota. Under him, the Wolves are 32-132. That's a 2009-10 season of 15-67 and this season of 17-65. You can call it whatever you want -- rebuilding, restructing, whatever -- but the reality is, that's just
terrible.
Those two years have also come with Kahn running the show after replacing GM Kevin McHale. Kahn inherited a 24-58 team and turned them into a 15-win disaster. Before that 15-win season, he drafted Ricky Rubio and then took another point guard another pick later. Rubio still has yet to play for the Wolves and might not ever. His other point guard,
Jonny Flynn
, has largely been a disappointment.
Kahn basically tried to dump the roster and unload his cruddy players with a mind to acquire talent and cap space, a la the Presti Plan that the
Thunder
used to build a winner. Two problems with that plan: 1) The Wolves didn't draft
Kevin Durant
and 2) David Kahn is not Sam Presti.
I don't think anyone could even dare to sum up the Kahn era better
than the good people at Canis Hoopus did.
One particular point they addressed was Kahn's statement that the roster was nearly complete. To quote Hoopus, "
This is a horrifying thing to think about, let alone take seriously." Nothing quite says Kahn is out of touch with his own rebuilding project better than that. To see a roster that's chasing its tail, running the hamster wheel or whatever "stuck in place" analogy you want, and say it's right you want to be and even better than that, it's almost done, is borderline crazy talk.

There's good news though. I wrote about it a month ago. The Wolves DO have talent. They DO have some players to build around. Kevin Love is very good, Anthony Randolph is talented and Michael Beasley seems like a potential star scorer that's just a bit lost. Then there's the dream Ricky the Savior. But it doesn't feel like Kahn has any idea what to do with those players. It's kind of like someone dangles a talented but troubled player in front of him and he can't help but bite.

And how is he supposed to convince Love to hang around when it's going like this? Love's not stupid. He's not going to hear, "We're almost there!" and buy it. Kahn's press conference was the "Mission Accomplished" moment of his tenure in Minnesota. He's officially jumped his own shark.

Did you know: The Wolves last two seasons are the fourth-worst in NBA history. History! And somehow it's all right on track?

If this is the near finished product, I'm not sure that's really all that inspiring. Remember the whole "We're transparent!" thing the Wolves tried to pull back in October? They published a full-page ad saying honesty was the best policy. One part read, "
We now have more shooting, athleticism and depth at every position, which will make us a better team this season. So will we challenge for the NBA championship this year? Not likely. Ouch. This honesty thing is a bit painful. But the reality is, we still need that one dominant player." Come on down, Anthony Randolph!
I guess the Wolves were right. They had a little more at every position. As a result, they won two more games. From 15 to 17. Progress! One more snippet for fun:
"There's been a lot of talk this off-season. The naysayers certainly have been vocal. And while we can understand a certain amount of skepticism, we know we've turned the corner. And we're anxious to get after that first tipped ball so we can start to prove it. Enough talk. It's time to play."
Gotta wonder if they're regretting trying to pull that whole honesty thing. When you stink, you stink. Kahn trying to tell fans and media in Minnesota that things are right on track sounds more like a pathetic attempt at positively spinning a disastrous season than being transparent and honest. Transparent and honest would've sounded more like, "Man, we've got a long way to go. I really thought we'd be better by now."
Kahn senses the bell tolling for him, so he's pulling out the stops and pointing at Rambis. I think Rambis is a good coach. Maybe the roster hasn't responded to him, but it's not his fault here. Reality is, this roster isn't ready to win even if John Wooden were coaching it.
But don't worry you guys, it's all part of the plan.