Posted by Royce Young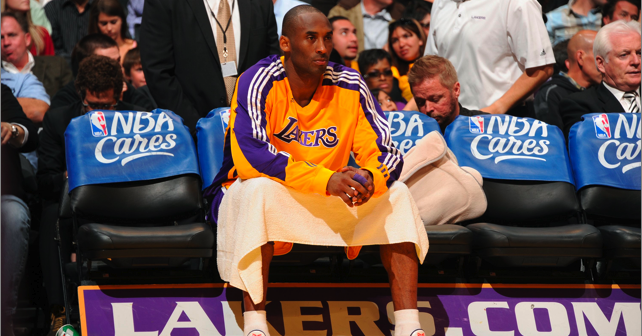 Kobe Bryant
went on
ESPN Radio Los Angeles this morning
and of course the topic of discussion was what slipped out his mouth Tuesday night.
Kobe was fined $100,000
for the use of a gay slur directed at referee Bennie Adams and Kobe said he's appealing the fine because, "that's just typical protocal and what we do."
I liked what Kobe said after that though: "But as an individual you have to be responsible for your own actions. The comment that I made, even though it was not meant as it is perceived to be, is nonetheless wrong. So it's important to own that."
Kobe explained what happened Tuesday:
"Just frustration. Pure frustration. When you're in an emotional game and in the Heat of the moment, you have outbursts and you say things. That doesn't mean you mean what you say. But you know, you have emotional outbursts throughout the courses of games."

Bryant issued a statement yesterday
after it saying the comment wasn't intended to be taken literally. He explained:
"Obviously nothing to that effect, which is why I wanted to talk about it. I mean, obviously I issued a statement and things of that nature, but the concern that I have is for those that follow what I say, or inspired by how I play or look to me as a role model or whatever it is, to not take what was said as something as a message of hate, or a license to degrade, or embarrass or tease. Because that's something I don't want to have happen. It's important for me to talk about that issue because it's important to be who you are, and I don't want this issue to be a part of, or magnify, something that shouldn't be."

Kobe was asked what he'd say to Adams:
"What would I say to Bennie? That wasn't a damn foul. [Laughing] No, obviously we talked after that during the game when both of us were a lot calmer. Officials understand that, they understand that you have emotional outbursts throughout the course of the game. It doesn't mean that you actually mean what you say. I don't know Bennie; I don't know him from a can of paint aside from the games he refs. So, I think they understand that. We as players understand that when you have outbursts you get penalized for that by getting technical fouls, which I did. So then you just move on."

Sounds to me like Kobe is handling this very well. That's something nobody does quite as well as Kobe -- damage control. A lot of guys might've denied it or said it was unfair to be punished because so many others do the same. But Kobe recognized his profile and understands he's not just every other player. I respect Kobe Bryant for a lot of reasons and though what he said Tuesday night was a horrible thing, the way, as he says, "owning" it, is admirable.
Via Sports Radio Interviews