Posted by Royce Young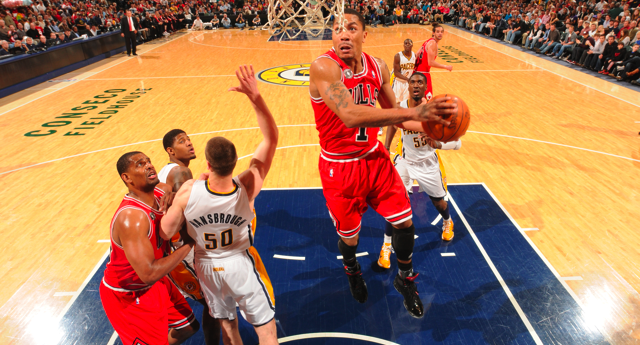 I. Intro
I don't know why
Danny Granger
decided to open his mouth. For some reason, he decided to blurt out that he thinks the
Bulls
would be easier to beat in a seven-game series than the
Celtics
. I have no idea either.
Because maybe the best shot this young Indiana team had coming in against Chicago was the surprise attack. Maybe the
Pacers
sneak up on the Bulls, steal Game 1 and then at least make things interesting. Now there's none of that. The Bulls heard you Danny, and they'll be ready.
I don't think this series will be all that glamorous. It's a 62-win team versus a 37-win one. That's a large, large difference. This is a great team versus an average one. It is the postseason and sometimes fun things happen, but this is kind of a what-you-see-is-what-you-get situation. It's hard to picture any scenario other than the inevitable unless
Derrick Rose
,
Carlos Boozer
and
Luol Deng
get kidnapped by Larry Bird.
II. What Happened: A look at the season series
The Bulls took the season series 3-1, by an average margin of 11.5 points per game. Indiana's three losses through were under the Jim O'Brien regime. The one win was behind interim Frank Vogel, which came in overtime. Other than that Indiana win, the season series was entirely lopsided. Chicago won by 19, 13 and 21 with those three games never even really being as close as even that number indicates.
Here's the bad news for Indiana: In those four games, they shot just 38 percent from the floor. The Pacers struggled scoring the ball from everywhere. The paint was sealed, the 3-point line was covered and Indiana's go-to guys never got clean looks. In their win, it was all about a surprising big night from
Tyler Hansbrough
. Not encouaging.
III. The Easy Stuff: Derrick Rose is good
Do I really need to sit here and tell you that Derrick Rose is good, that he's the best and most important player in this series and that if he plays even close to what he's capable of, the Bulls will cruise? Yeah, I probably do.
Derrick Rose is good, he's the best and most important player in this series and if he plays even close to what he's capable of, the Bulls will cruise.
It's easy to label Rose something like an "X-factor" but that's almost disrespectful. He is The Factor. He changes everything. Indiana has absolutely no one qualified to guard him and can't match him in crunch time. If these games stay close, the Bulls have a clear go-to scorer. Indiana has some decent players, but nothing the caliber of Rose.
IV. Secret of the Series: Can Indiana score?
Under Vogel, the Pacers have tried to become more of an up-tempo, high volume shooting team. They want to get up around 90 attempts a game. Under O'Brien, they tried to grind it out defensively and while they had some early success, couldn't sustain. Now, they want to run you.
That's of course interesting because they're going up against the premier defensive team in the NBA. The Bulls rank first in basically every defensive category, most important of which is defensive efficiency where they allow just 100.3 points per 100 possessions. (That's
awesome.
)
The Pacers are technically a better defensive team than offensive one (rank 12th in defensive efficiency, 23rd in offensive), but that's not the point. They want to try to score more than 100. Under Vogel, they consistently topped the century mark. In games they did that, the Pacers won a lot more. In wins, Indiana averaged 107.8 points per game. In losses, 93.2. That's a major difference.
Indiana is looking to outscore the Bulls, which of course isn't the best strategy, but it's probably the only one. I mean, what else are you going to do, beat the Bulls at their own game?
V. The Dinosaur Narrative : "Chicago can't win now because they haven't won before"
I keep hearing people ask this question.
The Rose led Bulls haven't ever won a playoff series; how can they win the whole thing?
I kind of think that's a dumb question. Mainly because, Chicago will get their series win pretty easily over Indiana. So that'll be out of the way and the Bulls can get their hand stamped and move on.
But this inexperience card is one people love to play. Obviously the Pacers are far more untested in terms of playoff basketball, but the issue is whether or not these young Bulls will feel the pressure of being top dog coming in. I don't think so. Rose has already proven he elevates his game in the postseason, Tom Thibodeau has a championship ring and there are a number of quality veterans on the Bulls roster.
It's stressful having expectations on you, no doubt. The Bulls haven't gone deep into the postseason yet. But they're going to get part of it out of the way to start with and the Pacers are just going to be a small bump in the road.
VI. The Line-Item Veto: Who wins each match-up?
PG:
Darren Collison
has become a pretty solid point guard in the mold of
Chris Paul
. He creates, slashes and scores on his own. The Bulls have Derrick Rose. This isn't even close.
SG: The ugliest, least important matchup is definitely found in the 2-guard hold.
Keith Bogans
, a defensive specialist, versus
Paul George
, an athletic but extremely raw rookie. Not exactly marquee, this one.
SF: I think Danny Granger versus Luol Deng is one of the more underrated head-to-heads in the entire opening round. Obviously Indiana's success hinges largely on Granger and Deng is a terrific defender. Plus, Deng can score the ball. In the previous four meetings, Deng has gotten the best of Granger so I see no reason why not to go with him here.
PF: Tyler Hansbrough has been pretty good the last two months. He's high energy, high effort and has a decent little mid-range game. Clearly Carlos Boozer is better, but I think this matchup is a bit closer than it appears.
C: If the good
Roy Hibbert
shows up, he's a tough matchup for Joakim Noah. The good Hibbert can score, rebound, block shots and control a game from the post. But if it's the bad Hibbert, Noah will eat him alive. That's what Noah tends to do with people. He's a terrific post defender. But Hibbert has a lot of size on him and Indiana needs one edge in these matchups, so I'll give it to Hibbert.
Bench: Neither is overwhelmingly good, but I like Chicago's because of players like
Kurt Thomas
,
Kyle Korver
,
Taj Gibson
,
Ronnie Brewer
and
Omer Asik
. All make nightly impacts for Chicago. Indiana has some guys that can
Heat
up off the pine like
Brandon Rush
,
Mike Dunleavy
and James Posey, plus
Josh McRoberts
who has been a surprise, but the Bulls have depth in their depth.
Coach: Both are rookies, but one is more of a rookie than the other. Thibodeau will likely be this season's Coach of the Year and has transformed the Bulls into one of the elite defensive teams in the league. Vogel has done an admirable job with the Pacers, but not even his organization sees him as head coaching material moving forward. A clear edge for Chicago.
VII. Conclusion
The Pacers are a pretty good "We're just happy to be here!" team. With only 37 wins, they shouldn't even be in the final 16, but here they are. They know they're up against a favorite and know deep down the goal would be to win two games. This postseason would be an overwhelming success if they were able to pull that off.

But I have a hard time seeing it. Almost every matchup favors the Bulls as well as style of play. Indiana will play them hard and probably play them pretty close, but this has sweep written all over it. The Pacers won't do any sneaking up because of Granger's bulletin board material, so their best shot at stealing a game is gone. However, I'd like to think the Pacers will be excited enough to pull one off at home, just to treat the Indy fans. Prediction: Bulls in five.
VIII. CBSSports.com Video Preview
The Chicago Bulls will take on the Indiana Pacers in this Central Division playoff matchup. Will Derrick Rose help lead the Bulls to a championship? Ian Eagle and Ken Berger preview this playoff matchup.