Posted by Royce Young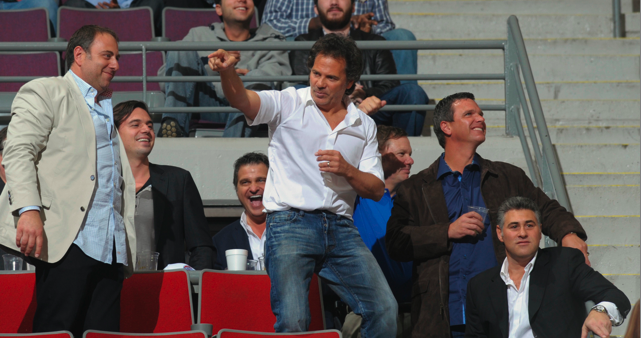 It was the NBA ownership story that wouldn't die. For months, the Detroit
Pistons
sale dragged on with finally a resolution coming last week. Local rich guy Tom Gores was assuming control of the franchise.
Gores reportedly had signed an agreement
to purchase the Detroit Pistons and the team's building for $420 million, pending league approval, of course.
Except there's an interesting snag to this whole thing. Gores isn't actually going to own the team.
Forbes has the goods:
That's right: The Detroit Pistons are about to become the first major professional sports franchise in North America to be owned by a private equity fund. Not by flesh-and-blood individuals who made their fortunes in private equity (like the Boston Celtics or Golden State Warriors), but by a $2.75 billion financial vehicle. What that means is that this the Pistons are about to become an investment, not a labor of love. Something bought for the purpose of later being sold, not to keep in the Michigan-loving family for generations.

The NBA is obviously aware of this reality — my understanding is that Platinum has fully explained to league officials how PE funds operate — and apparently is okay with it.

Yes, it's true that Gores will invest personal money into the deal. But it's also true that Gores invests personal money alongside all Platinum Equity deals, by virtue of its partnership agreement. Don't recall any "hometown hero" stories when Platinum acquired fastening systems manufacturer Acument Global Technologies, which happens to be headquartered in Sterling Heights, Michigan.
Hey, it's better than the NBA buying you, right? Right?
So it's not as it seems with Gores purchase. It's not Local Guy Saves Franchise as we thought. Gores just bought the team to essentially flip it. It's a real shame if this is the case because it seemed to be a big hurdle that Gores won the bid to buy the team. It appeared back in early December that local owner of the Red Wings and Tigers Mike Ilitch was in line to buy the team. Then of course that fell through. That left Karen Davidson looking for a new prospective owner and we all thought Gores was a great fit.
I suppose this doesn't necessarily mean bad things are coming to the Pistons franchise. But it's definitely not as it seemed. Gores isn't an owner invested in the team out of love of admiration of it. He's in it strictly for the money. That's probably the case for a good amount of the owners (hence the looming lockout) but no one has ever actually said it. With Gores, it's become obvious.
Via BDL