Derrick Rose is likely to win the 2011 NBA MVP. But considering all the evidence, Matt Moore has an out-of-the-box solution to the Rose-Howard debate. Plus, a reminder to the NBA and NBPA of what's most valuable.
Posted by Matt Moore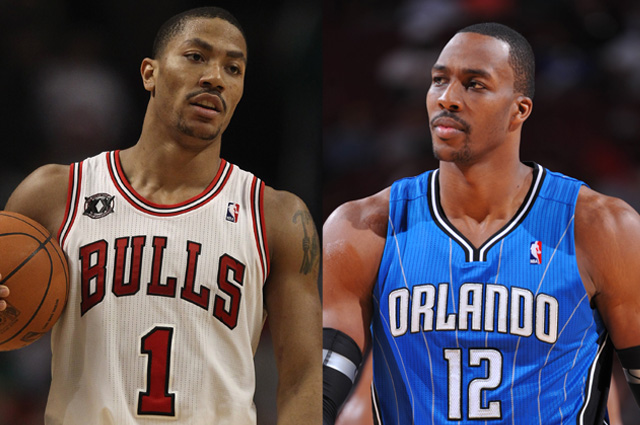 Derrick Rose
deserves the MVP
.
That statement is not the result of a complex re-examination or twisting of the
considerable statistical evidence
that suggests there are more worthy candidates. It does not dismiss the validity of empirical consideration in regards to player evaluation, and it does not seek to suggest that the dramatic elements that surround Rose this season are irrelevant in the discussion. It's just an opinion, an estimation, a conclusion reached after watching a great deal of basketball in 2010-2011, and weighing all the evidence, be it plays watched, columns read, data examined, or context inherent in the seasons of Rose and his contemporaries.
Why is Rose worthy of the Most Valuable Player award? Because in a single season he's taken the remnants of a first-round also-ran
Bulls
team, integrated new components which don't make a complete, dominant squad, and led them to the best record in the East. Tom Thibodeau's defense was the biggest reason for the Bulls' climb to contention, but Chicago still would have been nothing more than a tough first-round out without Rose. Rose is the offense for the Bulls. And while that offense is nowhere near the top of the league in efficiency, it's been more than enough to get the Bulls where they want to go.
An MVP is a great player that addresses his weaknesses to the degree it's difficult to establish any way to stop him. The first half of the year, there were
questions about Rose's ability to create and finish after contact
. His free throws made and attempted improved as he began initiating and then finishing off in traffic. Speaking of finishing, Rose has a downright supernatural ability to close the deal once at the point of attack. He's able to adjust to any angle, counter any defensive presence, explode past any defensive set. Defenses will bring three players primed to Rose on the pick and roll, and still be helpless to stop Rose hitting the extra gear to get to the rack. He improved his three-point shooting, giving him range to punish teams that played off him.
Even after we outlined how Rose's shooting had dipped
as the year had gone on, Rose recovered in March and especially in April, closing the season strongly from the perimeter. Rose is a willing defender, a fierce leader, and does all of these things with an incredible array of excitement around him.
One of the most often used metrics to attack Rose's candidacy (one of the few to look poorly on him; the majority simply don't reflect as highly upon him as other candidates) is his on/off court numbers. In short, the Bulls give up more points with Rose on the floor than off. But to focus in on this pattern is to ignore first the amount of time Rose spends on the floor, who he spends it with, and the makeup of the Bulls' reserve unit. Tom Thibodeau favors sending in entire lineups, like in hockey, and as a result, Rose primarily plays with the starting unit, which features
Carlos Boozer
. Boozer is a fine offensive weapon, but defensively, he's kind of a mess. That he's a part of the best defense in the league is a testament to the technique and awareness of the Bulls' help defenders. The Bulls' second unit, by contrast, is made up of defensive players like
Ronnie Brewer
,
Omer Asik
, and
Taj Gibson
, playing against other teams' second unit. Again, once context is given, some, though not all, of the numbers that question Rose's candidacy aren't as lethal.
But the biggest reason to push Rose over the top is this. Rose has taken games over the way no other player has this season.
Kobe Bryant
has found age taking the slightest bit of venom off his stinger.
LeBron James
has looked apoplectic in Miami next to Wade and Bosh late.
Dwight Howard
is a liability offensively due to his free-throw shooting and the traditional role of the big man in late-game situations (though it's fair to argue that shouldn't be held against him). But Rose? It's not just on the offensive end. If the Bulls need that key steal, Rose creates it. If the Bulls need to close the gap in a flurry, Rose takes off like a rocket, concerned with speed, not making sure he takes a Jordan-like approach. Rose's gap in efficiency (which has shrunk over the final month of the season) is mitigated by his lethality.
Yes, Rose is a popular story. But why is that a problem? Shouldn't the MVP reflect what the fans want? Isn't it, at the end of the day, nothing more than an award to celebrate the season and anoint a player as a hero in basketball? Derrick Rose has been the most exciting player in 2010-2011, and he's got the wins to go along with it.
Derrick Rose is worthy of the MVP.
---
Dwight Howard is worthy of the MVP.
That statement is not the result of simply reading numbers in a table and ignoring everything that happened on the floor. It does not reflect a bias towards centers in a league weak in big men. It is the result of watching a lot of games, looking at all the information, Howard's impressive work at both ends of the floor, the relative weaknesses of his team and the marginal success they've had, and yes, the great numbers he puts up in advanced metrics. But to simply say "Dwight Howard is MVP because his numbers are better" isn't just a weak argument, it's a cruel case of shorting Howard's impact in all phases of the game.
Derrick Rose is a fine story, but what about Howard? The
Magic
could have melted down, Howard could have demanded a trade, he could have given up on the team and stopped caring when things didn't go right. Instead Howard posted his best season yet. Howard helped keep a Magic team in transition grounded, leading them to homecourt in the playoffs, despite Gilbert freaking Arenas being a key bench player for them. Howard has pushed his team all season, and while some of his in-press badgering seems heavy handed, he's just as committed to winning as Derrick Rose is, despite the differential in demeanor between them.
Howard's MVP case starts of course at the defensive end. Watching defense isn't just unpopular, it's difficult. To really get a sense of what Howard does, you have to not watch the ball move. You have to focus on Howard, how he keeps his spacing, reacts to not just the ball's movement, but how the offense shifts to try and create opportunities with the extra pass. How many times has an offense drawn help against the Magic, rotated the ball the corner where the offensive player attempts a pump-and-go baseline drive, only to find Howard have rotated from the far side over and completely cut off the lane? To put Howard into the simple context of just blocks is to ignore the real work of a defender, dissuading field goal attempts, disrupting passing lanes, and suffocating possessions. No one does it better than Howard.
So the question is offense. And it's there we may react too much to "feel." Howard scored 23 points on 14 shots this season, shooting 59 percent from the field. That's how he winds up with such great efficiency. Howard's drop-hook is not a thing of beauty. It's the same rolling, awkward bird flap it's always been. But the fact remains; Howard is a force on offense. He sets brutal screens, works well off the roll, has added a short-range jumper, and, oh, yeah, can dunk hard enough to rend the heavens asunder.
And have we mentioned he's
one of the best rebounders in the league
, topped only by
Kevin Love
? That Howard controls a ridiculous amount of caroms from both his guys and the opponent? That means control of possessions for the Magic. Which again, leads to efficient scoring. That's how the Magic have dragged their way to the fourth seed.
There will inevitably be questions about the technicals. How could the MVP be that boneheaded? But if Howard's pursuit is to gain an advantage in officiating, something all players, and especially the great ones try to do, isn't that worth the fines and suspensions? This is a regular season award, but the point of winning is to angle for a championship. And losing a game in the regular season means almost nothing when weighted against the incredible impact he has in all the others he plays in. The free throw shooting? What, you haven't seen some of
Wilt's free throw shooting numbers
, let alone Shaq?
Stats aren't everything. But they are something. They provide neutral, indisputable elements to give texture and context to what we see, and what we don't. Our eyes aren't going to give us the total view of Howard's defensive impact. Our eyes won't credit Howard with his newfound offensive versatility. It will accentuate Howard's weaknesses while glossing over Rose's. But even if we throw out the stats, the fact remains.
Dwight Howard is worthy of the MVP.
---
So what's the answer, then? Rose is the better story, and that's a valid reason to vote for him. Howard is empirically the best player, and he shouldn't be punished because of some ignorant resistance to the evolution of statistics in basketball. You can't watch Rose and not believe that he's worthy of the title "Most Valuable." But it's not like watching Dwight Howard play shows some sort of context that proves he's not as good as the numbers say he is. The past few weeks have seen a fairly brutal series of arguments arise on the web between the two. Both sides have taken polarizing positions. If you rely on statistical data to augment or define your position, you're either a "stathead," or a "nerd." If you choose to let the game speak for itself, trust your eyes, and rely on anecdotal information as the traditional evaluation of the award has been, you're accused of being closed-minded or simple. It's been a tragic case of the new fan-media conglomeration eating itself. To argue one player or the other is worthy is a fine and noble pursuit. To try and concretely determine that either player is lacking in credentials for Most Valuable Players is a misguided approach. And that's where we reach the end of the examination and reach a simple conclusion.
There should be two Co-MVPs this season. Derrick Rose and Dwight Howard should split the MVP.
Both represent the balance of this season. The flashy guard in the big market making thrilling plays and winning games. The big man down low, dominating in measurable ways and trying to hold together a small-market team desperately needing to stay relevant. The steal, the block, the three, the dunk. Each is as worthy of the award as the other, and neither have set themselves apart to the degree we can say definitively they are ahead. How to vote this way? I'm not sure. It will surprise exactly no one that I don't receive a vote. But the most accurate representation of the Most Valuable Player for 2010-2011 is to split the award between Dwight Howard and Derrick Rose.
***********************************
*********************
This season more than any other shows why if the league wanted to really provide the best recognition for these players, they should split the award into three categories. Offensive Player of the Year, raise Defensive Player of the Year's standing to equal level, and Most Outstanding Player. Creating a "triple-crown" of sorts would allow voters to accurately differentiate between MVPs like
Steve Nash
, who represented an outstanding player and the best offensive threat but who suffered defensively, and players like Michael Jordan, who likely would have won all three. It would provide yet another level of debate, as fans and media made the case for why or why not a player should get a third, two-thirds, or all three of the triple-awards share. It would more accurately designate the factors that go into determining the award. Some consider offense to be more important, others feel defense is criminally underrated in consideration of the award, and most simply go off of "feeling." Most Outstanding Player would allow voters to designate a player who wasn't toppermost of the poppermost in either category, but when considered in context, still had the most outstanding season. It allows for empirical consideration and disregarding, focusing on personality and story or sheer highlight impact. Creating offensive player would help to bring defensive player to where it needs to be, as an equal counterpoint, rather than an award given to a player as a consolation prize for not having as nice of a highlight reel or mid-range jumper. And again, the triple-crown winner? That's a player that you could certify as a legend.
But on the other hand, why would the league want to disrupt the voting process? Lost in all the consternation about the vagueness of the award is this: it does what it's supposed to for the league, it keeps you involved. People argue on barstools over who's better, they buy jerseys to support their guy, they make websites, call into talk shows, comment on blogs (man, do they comment on blogs), launch Twitter campaigns with little or no actual argument other than "My guy is the MVP, period!" All of this does little to advance the debate about what valuable is or who the best player is, but it sells. It brings more attention, passion, and dollar bills to the National Basketball Association, and that's why it's there.
Still, it's been a groundbreaking season for ratings, star potential, national attention, and innovation. It's only fitting that the Most Valuable Player award reflect that by branching out of the norm and voting for Co-MVPs. It would do us right to spread the wealth. You know, before the summer when there's no wealth to be spread for however long the nuclear winter lasts.
---
One more comment.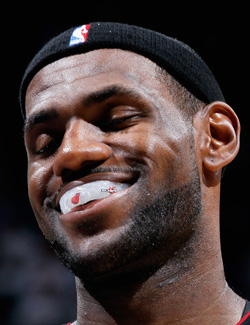 LeBron James is worthy of the MVP.
He is the merger of the two sides. He's as lightning-strike-like as Derrick Rose, while being as fundamentally sound as Dwight Howard. He carries an equal load as Derrick Rose, despite his All-Star teammates, and does so as efficiently as Dwight Howard. He makes the highlight plays that make you jump out of your seat, and has become one of the most overwhelming defenders in the league. He is strong, he is fast, he is productive, and he is talented. He has had a stellar season producing in so many areas while not sacrificing defensively. He's led the
Heat
to the best efficiency differential in the NBA. He is, pound for pound, the best player in the NBA.
He can't win the award. That's obvious. There's a million reasons why. His popularity, for one. You can't have an MVP half the fanbase of the league hates, even if he is selling jerseys. There's got to be a practical implication here. Second, he hasn't closed well down the stretch. If we only base our discussion around the last five minutes of the game, James just hasn't been there this season. It's not that you want the ball in his hands late. It's just that you're not struck with the same fear as you have with Derrick Rose (or Kobe Bryant for that matter; had Bryant not had a few too many games where he thought he was still 27, he'd be right here with LeBron for being worthy). The numbers
say he's better than Rose in the clutch
. But the games we remember most, like against Chicago, or Boston, it hasn't been there. It's not fair, but that's the perception, and it's based on a reality of sorts. His All-Star teammates do demand that he exceed expectations, or at least reach the lofty goals set for him by the media in preseason. He called his shot alongside the Triad this summer and he missed. If you think that shouldn't play into voters' consideration of his season, you're an idealist. Let's be reasonable. You can't talk that talk, and then walk sort of, but not quite that walk. James can't win, but that doesn't mean he's not worthy.
LeBron James can't win the MVP because everyone hates him. That's not a bitter statement, it's an exaggeration of the fact that most people, most fans don't like him. Those are the consequences for his decisions, and they are fair. The story says no. But if we're evaluating whether or not James deserved to be right there for the conversation, his play, night in and night out, says yes.
---
In closing, it's been a tremendous season. We will
have what will likely be a new MVP
, one of the youngest ever. The big markets are all back to relevance (even if small-markets are being strangled to death in the process). The MVP debate this season reflects the incredible number of stars we are able to enjoy every night. Kevin Durant led the
Thunder
to the fourth seed in the West (probably) and led the league in scoring, and he'll only get a handful of second and third place votes.
Dirk Nowitzki
at age 30 put in one of the best seasons of his career and had the
Mavericks
in play for the top spot in the West for much of the year. Kobe Bryant was Kobe Bryant. Again. If wins were irrelevant in the conversation, Kevin Love would have had a say in the debate.
Amar'e Stoudemire
helped put the
Knicks
back into relevance when his starting center was
Ronny Turiaf
for most of the year. The list goes on and on. It's been an incredible season, one of the best ever, and an equally exciting playoff season is around the corner.
So consider this a logic-driven plea. To the representatives of the NBPA and NBA owners' group, consider how much potential the sport has right now, how much has gone right for it. There are points to each side's position in the labor talks, and business will always come first. But to lose out on the unbelievable potential the sport has right now is to squander one of the best opportunities the league will ever have to reach heights it has never seen. A prolonged lockout would squash all that momentum. Each side has reasons for their positions. And that's understandable. But get in a room. Talk. And keep talking until a resolution is reached to save the season. You've got so much going right for yourselves. But the best thing you have is a fanbase that's truly excited to follow and be involved in your sport.
And that's what's most valuable.