The Magic's window seems closed. What do they have to do to pry it back open?
Posted by Matt Moore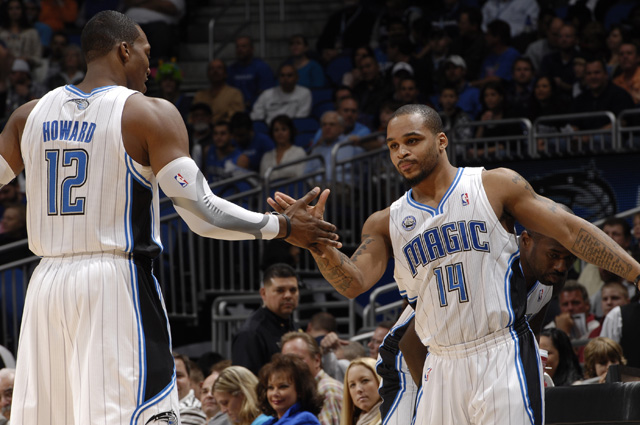 It's been a season of dramatics in the NBA. The
Lakers
aspiring for a second three-peat under Phil Jackson to send him off in style. The
Celtics
trying to make one more run to the championship to get the elusive multiple titles while dealing with a reformation of the core after a trade of
Kendrick Perkins
. The
Heat
. Just, the Heat. The
Bulls
' rise behind
Derrick Rose
and Tom Thibodeau. The
Spurs
making one last great charge with their core.
But lost in all this is Orlando.
Set with a backdrop of fantasy (it's Disney World for crying out loud - how much more symbolic do you want to get?), this season has become a crushing work of disillusionment illustrating the crash of reality on a franchise that was a Courtney-Lee-blown alley-oop from really putting the boots back to the Lakers in the Finals two years ago. The Magic aren't just a team that thought it had the championship window firmly propped open for years. They are an illustration of the have-not nature in the NBA, despite their making what can only be considered the best effort possible.
Orlando poneyed up for the new arena critics of small-markets allege the non-top cities never approve. Ownership elected to go above and beyond the cap, deep into the luxury tax. They were smart enough to draft, and develop, a franchise player, acquire a competitive and arguably brilliant head coach, surround the team with competent role players. When the 2009 team failed to get past the last challenge, management did not get complacent, and instead opted for the home-run move you're supposed to make, according to many.
Vince Carter
, for all his Vince-Carter-ness, was still a legit star in the summer of 2009. They went for the big move. When that didn't work out, they once again swung for the fences. You can't say Otis Smith didn't try.
But here they are. Entering the playoffs as the worst seed they've been since 2008, with little to no momentum, and considered nothing more than after-thought in the playoffs. They are a speedbump in the road to the Finals for teams from Miami, Chicago, Boston. They gambled. They lost. And the worst part of all is this season may turn out to be the one that gives
Dwight Howard
an excuse to leave Orlando; it may be the one reflected on as what turns Howard away; it may be the year Orlando lost their franchise center, again.
And then, very dimly, way in the back there, behind the headlines about "DWIGHT TO NY 2012" and "HOWARD THINKS L.A. WEATHER IS AWESOME, COULD HEAD THERE IN 2012?" is this simple formula. The Magic have an elite defense, an array of shooter who have yet to really show how good they can be if they do start clicking, a solid-to-good point guard, and have we mentioned their defense is pretty awesome? In 2009, I talked myself into picking Orlando against both Boston and Cleveland based on their ability to trample any team if they get hot. Offense never wins a championship, but great shooting and elite defense does. And Orlando still has that, at its systemic level.
" target="_blank">Miami Heat The problem is when you get beyond the system. The idea isn't wrong. Stan Van Gundy's structure of building shooters with a driver mixed in to swarm around Howard, create specing, force the double, kick, kick, and find the open shot is a sound one. Play great defense around the best defensive player, create and knock down open threes around the biggest, baddest center in the land. Win. That works. What doesn't work are the elements wrapped around Howard specifically.
Hedo Turkoglu
, who had a nice start to his time in Orlando but in reality doesn't have the first-step necessary to get the edge on penetration.
Brandon Bass
, who doesn't have the sheer muscle to fill Howard's role when the big guy sits or gets in foul trouble.
Gilbert Arenas
.
Oh, Gilbert.
Arenas is the big missing piece. As in, where he stands, there's an empty shell of a guard that can't shoot, drive, or create. The Magic wasted a huge contract in
Rashard Lewis
to get Arenas. Lewis wasn't of considerable usefulness at this point, but he was more useful than Arenas has been.
But then, is there anyone in the league more unpreditable than Gilbert Arenas?
A first-round series against the
Hawks
shouldn't be too much trouble, but there are pitfalls hidden there. The Magic don't have a forward to match
Josh Smith
's explosiveness.
Al Horford
does surprisgingly well against centers bigger than him. He'll lose to Howard, but if he can even hold his own, the onus shifts elsewhere.
Kirk Hinrich
is a stellar perimeter defender, if a bit overrated at this point, but Nelson has shown to step up in the playoffs against less athletic point guards (prior to being detonated against
Rajon Rondo
, of course).
Jason Richardson
should have a huge impact.
That's where it gets tough. The Bulls are a hard team for anyone to beat, and while the Magic pushing the Bulls to the wire without Howard last weekend has to give them a measure of confidence, trying to stop Rose is going to be a challenge that Dwight Howard can only do so much against.
Joakim Noah
,
Kurt Thomas
,
Omer Asik
,
Taj Gibson
, the Bulls have fouls upon fouls to throw at Howard. That's what makes Howard such a big x-factor. He's reliable for 20-12. If he could get to that next level? If he could hit his free throws, land a few and-ones on a fadeaway, take over games on both ends like he does on defense? The Magic become an entirely different creature. But that's the issue. Howard hasn't shown that ability on any consistent basis. He'll have one, maybe two games that are out of this world. The question is if they'll come at a time when it makes a difference.
Dwight Howard won't win the MVP because everyone questions his ability to take over a game, even though no one has an equal impact on the floor consistently minute-per-minute on both ends of the floor. And voters are probably correct in that assessment. Maybe that's the most bizarre twist in all this. The failures of the Magic may provide an out for Howard to leave in pursuit of a championship, and he's capable of being the very thing that pushes Orlando to a championship.
The Magic aren't out of this. If they get hot from the perimeter, they're incredibly difficult to stop. Jason Richardson steps up in huge ways in the playoffs. They have weapons, they have defense, they have strategy.
But the narrative still holds. The confidence is gone. It wouldn't take a miracle for the Magic to reach the Finals.
But it would definitely seem like it.