Posted by Royce Young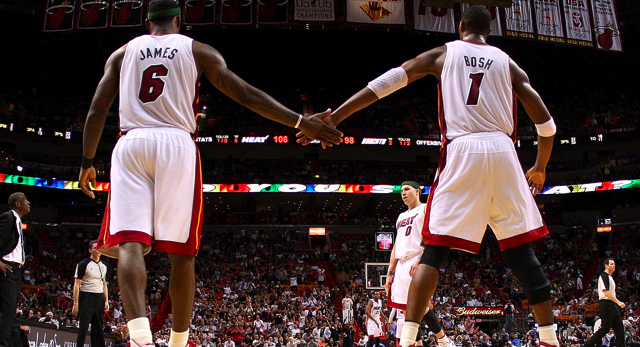 After
LeBron James
spoke those now famous seven words in July, most felt like the Miami
Heat
's road to the NBA Finals would be a cruise. The road to the finals would be a red carpet lined with a few
minor
obstacles like the
Celtics
,
Bulls
and
Magic
.
There was a rap song
crowning them champs. Everyone was picking them, some even wondering about the 72-win barrier.
Even the organization was celebrating in July.
It was almost as if we didn't even need to play the NBA season.
Then the Heat started 9-8.
It was panic at the beach. What was wrong? Why aren't these guys great? Already they have eight losses just 17 games in -- how are they going to just lose two more and win 72?
There were obvious issues from the opening tip of the season for the Heat. LeBron and
Dwyane Wade
had a lot of trouble figuring out how to co-exist on the floor together as dominant ball-handlers. Early on, each did their best work when they other went to the bench. Figuring out how to actually play together was a major challenge.
Then the Heat had to figure out how to work in
Chris Bosh
. He settled in as mainly a pick-and-pop option, available for a kickout jumper if Wade or LeBron's drive was shut down.
Still though, there were problems.
Udonis Haslem
and
Mike Miller
were hurt and the rest of Miami's role players were adding very little. It was almost turning into a bit of a mess. Erik Spoelstra had his work cut out for him.
After the eighth loss, a pretty good whipping in Dallas, the team held a players only meeting that last almost an hour. It was a good sign -- they were committed to figuring this out. They weren't going to just assume that their overwhelming talent alone would win games. They knew they had to work.
A good thing happened next. The Heat's schedule got easy. And they won 21 of 22. They shut people up for a little while. Of course that is, until a stretch in late February and early March where they lost five straight, cried in the locker room and prompted about 200,000 columns about them.
They couldn't close. They couldn't play in crunch time. They couldn't execute. On and on and on.
It was an interesting two weeks though. The Heat had struggled a lot against teams with winning records and especially against top level teams. And here they were playing 11 straight playoff teams. When they started 0-5, most saw it as a sign that they weren't ready. But there were still six games left, meaning they had six chances to turn things around.
It started with a big win over the Lakers. Then they blew out the Spurs. The Thunder took the Heat down, but Miami then beat the
Hawks
and
Nuggets
. They ended up 5-6 in that stretch with a couple very close losses and came out smelling relatively clean. They survived and managed to shut some of us up in the meantime.
After the loss to the Thunder, Miami is 11-2 with a horrible loss in Cleveland that LeBron will never live down and a weird loss in Milwaukee. Since the five-game losing streak where everyone wanted to preemptively write off the Heat entirely in early March, Miami is 14-3 with five wins over playoff teams, including a beatdown of the Celtics last week.
Are the Heat really, truly contenders this season? Absolutely. Here's the thing: They have LeBron Freaking James and Dwyane Freaking Wade on their team (note: Freaking may not actually be their middle names). Those guys are
good.
We're all curious to see how they handle a seven-game series. How will they handle games against ONLY good teams? No more
Wizards
or
Pistons
to beat up on anymore.
It's been a weird season because we've all gone through about 70 stages with the Heat. First, they were crowned. Then in November, they were written off. Then they were crowned against after winning 21 of 22. Then we wrote them off following CryGate. Now people are coming back around.
Miami has what it takes to win. The Heat defend. They are fifth in defensive efficiency and are actually third in offensive efficiency. They are tied with the Bulls for the largest point differential this season (7.3). All signs point to them as a dominant team.
So what are they? Are they actually good? Can they win the title? I say yes, but with some caution. As the two-seed in the East, they get the
76ers
to open, a team they match up well against. After that, it's most likely the Celtics, a team they've struggled with but that was the pre-Perk trade Celtics. Boston doesn't look quite so invincible to them anymore, especially after last week's confidence boost.
What's a little scary is that you know someone will have to step up in the postseason if the Heat are going to push toward The Finals. Someone like
James Jones
will have to hit a big 3. Someone like
Mario Chalmers
will have to handle the ball in big spots. Someone like
Erick Dampier
will have to shut down his man late. Can they rely on those guys to get it done? Spoelstra always talks about trust. Well, they're going to really have to trust some guys that aren't exactly trustworthy.
The Heat would have to put all their chemistry issues behind them in order to even advance past Boston, but if they were to beat Chicago in the Eastern Finals, they'd have to play pretty much perfect. But they're capable of that because, you know, they have LeBron and Wade. No matter what, the Heat are dangerous. They can win now. It's going to have to come in a role they didn't expect back in July though -- underdog.