Los Angeles Lakers All-Star guard Kobe Bryant says this year's Lakers are in a better spot than last year's version. Posted by Ben Golliver.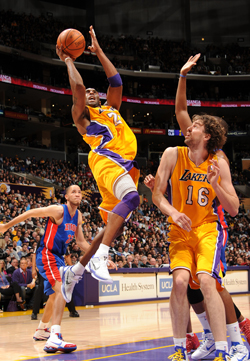 On Monday, we argued
that the Los Angeles Lakers are still the favorites to come out of the Western Conference -- despite their five-game losing streak -- because they possess the most talented and tested group among the West's elite. For the Lakers, though, it appears to be less about how they stack up to their competition this season rather than how they compare to last year's title-winning group.
Indeed, Lakers All-Star guard Kobe Bryant
tells the LA Times
that he's not worried about the team's recent struggles because this year's team is in a better spot than last year's.
"Everybody wants to put the nail in the coffin," Kobe Bryant said. "We've all been there before."
"Last year we didn't know what the hell was going on," Bryant said. "We had a lot of injuries. My knee needed to be operated on. A lot of question marks.
"Here we really don't have any question marks. These are executional things, these are correctable things. From that standpoint, we all feel comfortable about it. You don't even see anybody here feeling like it's doom and gloom because these are problems that can be corrected and will be corrected."
A few of last year's question marks, in addition to Bryant's knee, included center
Andrew Bynum
's health, the integration of
Ron Artest
into the Lakers' system and how
Derek Fisher
would fare against the West's elite point guards.
Is Bryant right to say that this year's group has less question marks? Without a doubt. A fully healthy Bryant, even if he's a year older, outweighs all other concerns, especially because the rest of the Lakers' core --
Pau Gasol
,
Lamar Odom
, Bynum, Artest -- remains intact. There are still questions about Artest's role but he clearly proved his worth during the post-season last year and Bynum has been playing some of the best ball of his career over the last few months.
The biggest question for this year's team was a concern last year too: motivation. The Lakers closed last season 4-7 in their last 11 games and have lost five straight this year. But, just like last season, they enjoyed a dominant stretch in March that should ease those concerns. Last year, the Lakers won seven straight in March; this year, LA ran off 12 victories in 13 games in March. LA has already clinched the Pacific Division title and should they win out -- against the San Antonio
Spurs
and Sacramento
Kings
-- they'll finish with an identical record to last season: 57-25. We know how that turned out: the Lakers went 16-7 on their way to a second consecutive title.
In other words, don't bury the Lakers yet.