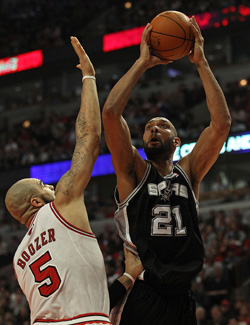 Chicago and San Antonio could wind up needing a random drawing to determine home court advantage should they meet in the Finals.
Posted by Matt Moore
Going into Tuesday night's games, the San Antonio
Spurs
have a one-game lead on the Chicago
Bulls
for homecourt advantage throughout the playoffs. They split the season series between the two 1-1. The Spurs have two games remaining, both versus Western Conference opponents. The Bulls have two games remaining, both versus Eastern opponents. The Spurs are 23-7 against Eastern opponents, while the Bulls are 23-7 against Western opponents.
Why is this information relevant?
Because the NBA Finals could be determined by a random drawing.
Should the Spurs and Bulls finish tied in overall record (Bulls go 1-1, Spurs 0-2; Bulls 2-0, Spurs 1-1) and meet in the Finals, the two will pass the first two tiebreakers. There are only three tiebreakers for homecourt advantage in the Finals. The third is a random drawing.
The official NBA tiebreakers
have a complex and thorough system
which would actually lead to a Bulls advantage were they put into play. However, as
ESPN pointed out
, and a league release confirmed, the Finals operate on a different structure. First tiebreaker is, of course, head-to-head record, the second record against opposing conference, and the third a random drawing. So should Popovich's Spurs elect not to rest starters Tuesday, but do so Wednesday against the
Suns
, and the Bulls to stretch their 7-game winning streak to nine, and the Spurs and Bulls win their respective conference finals, we'll be seeing a random drawing to determine where the majority of games are played.
Another sign of how close this season is between the greats in both conferences, and how much a role luck could conceivably play in determining the 2011 NBA Champion.