Sacramento Kings owners Joe and Gavin Maloof are reportedly expected to make their relocation pitch to the NBA Board of Governors later this week.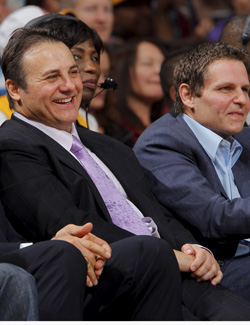 Posted by Ben Golliver.
On Wednesday night, the Sacramento Kings close out their regular season against the Los Angeles
Lakers
. Less than 24 hours after the final buzzer,
USA Today reports
, the team's owners, Joe and Gavin Maloof, are expected to be in New York City, pitching their plans to relocate the franchise to Anaheim to the NBA's Board of Governors, which much approve any such effort.
The Heat surrounding a potential move of the Sacramento Kings to Anaheim, Calif., has ratcheted up going into the NBA Board of Governors meetings Thursday and Friday in New York City.
Club owners Joe and Gavin Maloof are expected to make a presentation about relocating the franchise after 26 years in Sacramento. Last month, the board approved the Kings' request to extend the March 1 deadline for filing a relocation application to April 18. That gives the Maloofs "the opportunity to discuss its options," the NBA said in a statement.
Generally speaking, the relocation approval process is mostly a rubber-stamping, although pushback from Southern California's two current residents -- the Los Angeles Lakers and Los Angeles
Clippers
-- could require the Kings to pay a relocation fee or make other concessions.
On Monday night, Kings fans staged a "Here We Stay" event during the team's game against the Oklahoma City
Thunder
,
creating and distributing group chants
aimed at convincing the Maloof brothers to keep the team in Sacramento.
While details of the Kings' relocation effort have been kept relatively quiet, it is believed the team will change its name to the Anaheim Royals and play next season in the Honda Center.