Kemba Walker is in, Perry Jones is out of the 2011 Draft.
Posted by Matt Moore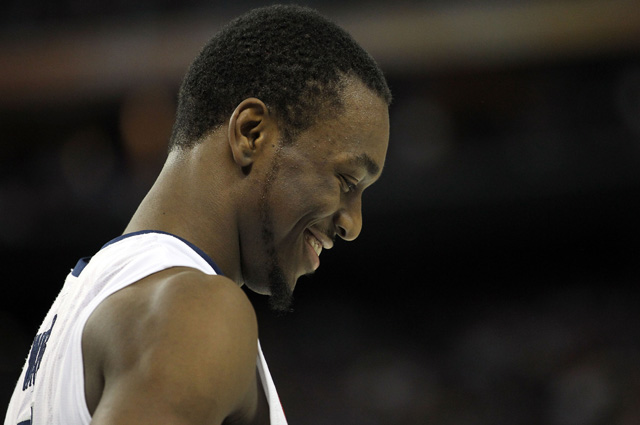 Some interesting draft news today. One star from the NCAA tournament is in, one star that was assumed to go top-five is out as the 2011 class gets weaker by the day.
First up, CBSSports.com's
Gary Parrish reports
that Kemba Walker will announce his decision to enter the draft on Tuesday. Walker is coming off a stellar college season and a magnficent tournament run that had him vault up the draft boards thanks to the most popular of all assessments: "He just knows how to score." With so many top picks dropping out of this class, Walker is a lock between 5 and 10, and may go higher if some GM gets to feeling like gambling on a reach.
The problem is that Walker is badly in need of the combine's measurements. Some scouts have pegged him as short as 5-11. Walker's not a point guard, he's a shooting guard, but he'll have to play point guard in order not to get swallowed alive. It isn't that he doesn't have the quickness or scoring ability to make teams pay in the NBA, just that his size is going to be a huge concern. You can't pair him with a point guard under 6-3 unless you're fine with getting rolled in the post. Still, Walker does score, and teams fall in love with scorers with speed. His stock will never be higher than it is right now.
Then there's the bizarre decision of Perry Jones. Our
Eye on College Basketball's Jeff Borzello b
rings word that Jones will return for his sophomore season. Jones was a top-five lock. There is no question. Even if Jared Sullinger hadn't elected to return to Ohio State, he was going to go top-five. Jones' question marks were on bulk and defensive effort, along with rebounding. But he's a big man with a hook shot and nice touch around the basket, and those guys are a premium. By returning to school, it's hard to see him improving his stock. Especially considering he's serving a five-game suspension for improper benefits. You'd think that alone would push him to the draft. But Jones is out, meaning the best bigs in this draft are pretty much Derrick Williams and a bunch of guys whose names you can't spell.