The Boston Celtics got blown out by the Miami Heat on Sunday. What's the problem? Posted by Ben Golliver.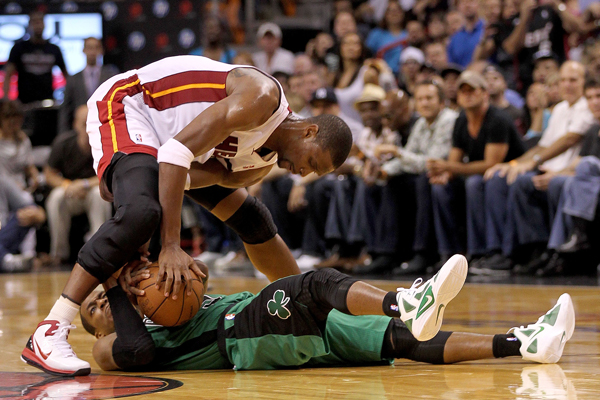 By virtue of their 100-77 stomping of the Celtics on Sunday, the Miami Heat put a game between themselves and the Celtics in the Eastern Conference playoff standings, settling in to the No. 2 seed. The Heat now control their own destiny: should they win out -- against the Atlanta Hawks on Monday and the Toronto Raptors on Wednesday – they will possess home court advantage in a potential second round series against the Celtics.
In addition to the prospect of needing to pull out a Game 7 on the road in American Airlines Arena, the Celtics, who are just 9-9 in their last 18 games, have all sorts of other problems to sort out. Here's a look at three of the biggest.
Point differential
Almost all of the talk about Boston's recent struggles have centered around the trade that sent center Kendrick Perkins to Oklahoma City for Jeff Green. While it's a vast over-simplification to separate Boston's season into with/without Perkins because there have been tons of injuries to cloud the picture -- including crucial ones to Shaquille O'Neal, Jermaine O'Neal and Marquis Daniels -- the numbers argue that Boston has been a different team since the deadline.
On Sunday, Boston lost to Miami by 23 points on Sunday, by far their biggest margin of defeat on the year. That stat underscores a massive shift in point differential since the Perkins trade.
Prior to the deadline, the Celtics put up 97.7 points per game while allowing 91.1 points per game, a differential of +6.6. That's excellent. After the deadline, Boston is scoring 93.0 points per game while allowing 90.5 points per game, a differential of +2.5.
It may be surprising that Boston's defensive numbers are much more similar than their offensive numbers, given Perkins' reputation as a defensive stopper, but his absence for much of the season due to rehabilitation from knee surgery mostly explains that.
The issue since the deadline, then, is offense, just as it was during an ugly night against the Heat. Boston's bench combined for just 12 points on Sunday, and one player who will be needed in the playoffs is Green himself. He's actually upped his per-minute scoring in Boston but was 0-1 from the field in 19 minutes on Sunday, scornig just four points and posting a whopping -16 in the +/- category.
Ultimately any discussion of Boston's offensive problems begins and ends with point guard Rajon Rondo. It's no secret that he's been struggling, as his March and April numbers -- especially shooting the ball -- aren't pretty. On Sunday, he was 3-8 for seven points and just five assists. While his assist numbers have rebounded a bit in April (at 10.4 per game instead of a season montly low of 8.9 per game in March), the Celtics as a whole are still moving the ball less effectively as a team since the Perkins trade.
Prior to the trade, Boston averaged 24.3 assists per game; after the trade, the number has slipped to 21.6. Some of that drop is explained by Boston playing more grinding games recently and some nagging injury issues for Rondo. Nevertheless, getting back to their elite level of ball movement is clearly the key to righting Boston's offensive ship. Rondo has always been enigmatic. Is it as simple as him deciding to flip a switch to get things back to normal in the playoffs?
Season-low rebounds
A glaring problem on Sunday was Boston's inability to hit the glass. The final boxscore reveals just 26 total team rebounds, a season-low. To make matters worse, Boston had just three offensive rebounds as a team, despite missing 35 shots. That speaks to a lack of energy and focus from both the first and second units as well as some excellent attention to detail on the defensive boards from the Heat. It's difficult to imagine Boston repeating that type of performance once it's win-or-go-home time. This team has lost in the playoffs before but they've generally gone down kicking and screaming.
As difficult as it might be to do following such a massive loss to a major rival, it's probably best for Celtics fans to let this one go. Miami played – by all accounts – its most intense, focused game of the season. Boston really failed to show up in numerous ways.
The Paul Pierce / Ray Allen / Kevin Garnett trio has done more than enough to earn the benefit of the doubt. But, then again, they're not really the heart of the issue. It's everybody else, and the relationship between everyone else and the Big 3.
So if you, Celtics fan, are feeling a bit nervous after this one, no one would blame you.