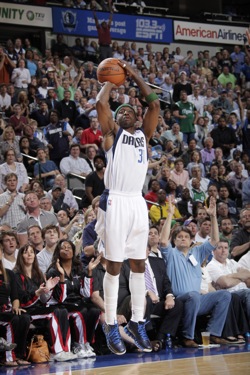 Posted by Royce Young
It's that stressful time of year. The playoffs are coming, taxes are due and players are anxious about finishing up the season strong.
Example?
Jason Terry
freaked out on the
Mavericks
bench Friday night against the
Clippers
.
During a huddle in the second quarter, Terry yelled at J.J. Barea and then turned on coach Rick Carlisle. Eventually Carlisle was very demonstrative with Terry, pointing emphatically at him while speaking loudly. Terry was then banished from the huddle. Eventually Terry made his way to the end of the bench, still barking at assistants. Owner Mark Cuban actually came over to try and cool Terry's jets (get it? You get it).
At the time this happened, Dallas was trailing by 14 to the Clippers in the first half. The Mavs had lost four straight coming in to the game. Evidently what sparked the incident was after Terry turned the ball over which led to an easy Clipper layup. Terry rolled the ball to Barea on the inbounds pass, which Barea sort of looked at him funny for. Timeout was called and that's when the you know what hit the fan.
When asked postgame about it, Carlisle pulled out the "handle it internally" thing.
"It's an internal matter. It's going to remain an internal matter,"
Carlisle told reporters.
"This is an emotional game and it's a very compelling game because in our league guys don't wear baseball hats and fans aren't seated 30 yards from the field and guys aren't wearing facemasks with glass barriers like hockey. Emotions run high and sometimes things happen, and I'm going to leave it at that. Jet's a very important guy on our team. I was considering giving him a night off going forward, but I think tonight will be his night off."
Terry wasn't available after the game. Barea, his victim, didn't think it was a huge issue. "I don't really know what happened," Barea said. "I know what happened with me, but I don't know what happened with [Terry]. It's part of the game. It's happened to me before;
Heat
of the moment, nothing big."
Interesting that Carlisle basically said Terry would be benched for the Mavs game tonight. Obvious not as "punishment" but it might sort of be as punishment.
But maybe Terry's tirade woke up the Mavs. They went on to handle the Clippers and get a much needed win as the
Thunder
breathe down their necks. Terry's not a shy player as he sparked a little scuffle with the
Lakers
a week ago as well. Maybe it was an intentional spark, or maybe it was just frustration spilling over. Whatever the case, it woke the Mavs up last night and maybe got the ship righted for the rest of the season.