New Jersey Nets co-owner Jay-Z has reportedly been fined 50,000 for contact with the University of Kentucky. Posted by Ben Golliver.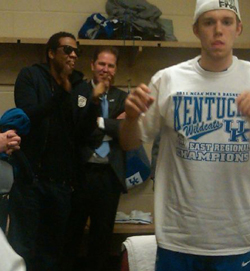 Back on March 27, we noted
that rapper and New Jersey Nets co-owner Jay-Z was celebrating with the University of Kentucky basketball team in their locker room after the team advanced to the Final Four. Kentucky has two likely lottery picks -- in guard Brandon Knight and forward Terrence Jones -- and we wondered at the time whether Jay-Z had violated NBA rules by intentionally fraternizing with college players.
On March 29,
Ken Berger of CBSSports.com reported
that the league would indeed launch an investigation into the incident.
ESPN.com reported
on Friday that the Nets have been fined $50,000 for Jay-Z's Kentucky locker room visit.
The New Jersey Nets have been fined $50,000 for Nets minority owner Jay-Z's presence in the Kentucky locker room after the Wildcats clinched a Final Four berth, according to sources with knowledge of the penalty.
Word circulated around the league Friday that an unnamed team -- which sources confirmed to ESPN.com is the Nets -- was fined for violating league rules that prohibit contact with players that still have remaining intercollegiate basketball eligibility.
The NBA's investigation, first reported by CBSSports.com, was triggered by a video showing Jay-Z visiting with various Kentucky players in their locker room at the Prudential Center in Newark, N.J., after the Wildcats' quarterfinal victory over North Carolina.
That fine is in line with a previously noted precedent: Boston
Celtics
president Danny Ainge was fined $30,000 by the NBA for "excessive contact with the family" after sitting with
Kevin Durant
's mother during the 2007 Big 12 tournament.
While the fine is a miniscule amount for a mogul such as Jay-Z, the NBA deserves praise for not allowing this to be swept under the rug. Tampering and illegal contact rules only work if they are strictly and regularly enforced. Any slippery slope -- or even the perception of a slippery slope -- compromises the league's fair play and, by extension, the NBA's integrity.
Is this fine enough to prevent this from happening again? Probably not. But it does send a message that the league is watching, something we were all left wondering about after the New York
Knicks
were
let off the hook so easily
in their scouting scandal during the fall.