Are the New York Knicks interested in University of Kentucky coach John Calipari? Posted by Ben Golliver.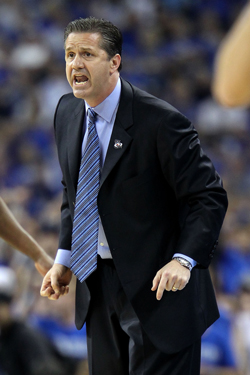 Another day, another rumor surrounding the New York Knicks front office. All the hot air stems from the fact that Knicks owner James Dolan, to this point, has not picked up the contract option for team president Donnie Walsh, leading to speculation that this will be Walsh's final season in the big apple.
Friday's rumor,
courtesy of the New York Post
, has Dolan considering college basketball's top recruiter and former New Jersey
Nets
coach John Calipari.
According to a team executive, who knows a thing or two about a thing or two regarding goings-on behind the screens, believes Dolan may have eyes for John Calipari….to run the front office and coach. Do I have confirmation on this? No. I unsuccessfully reached out to Calipari and left a message why I was calling. Does it make sense? Yes, especially in view of Dolan's disinclination to do right by Walsh.
We're talking about a marquee (there's that word again) college coach fresh from another Final Four, who owns pro experience (some of it good with the Nets), is an outstanding recruiter (though NBA's salary cap may limit impact) and relates remarkably well with young black players.
Shortly after that rumor hit,
SI.com acknowledged
that it was a possibility but also raised some questions.
There are also reasons to question whether the Knicks would consummate the relationship. Calipari's credentials as a bench coach will be questioned: Even though he has experience as a head coach for the Nets, he has failed to win an NCAA championship with Memphis or Kentucky. Coaching in the NBA is far more difficult than in college, and anyone who wants to shoot down the speculation can make the case that Calipari would represent a bench downgrade from Mike D'Antoni.
Will the next collective bargaining agreement maintain free-agency in its current form? How important will recruiting be in future? This story is going to generate a lot of discussion, but it's hard to imagine the Knicks taking such a risk unless they're absolutely convinced Calipari's presence will deliver a third star to New York.
Dolan is way out there as an NBA owner, but this is too much for him. If you're going to hire a big name recruiter, why bother saddling him with coaching responsibilties? If you already have a relatively proven coach in D'Antoni, why replace him for someone that bombed out of the NBA and has proven to be much more effective in college?
It's clear Calipari wields significant influence in basketball circles. His former players -- even guys like Blazers center
Marcus Camby
who played for him ages ago -- always sing his praises. But he loves the limelight and he's got all the limelight he can handle in Kentucky, where he's revered as a local idol and just made this year's Final Four.
Prying him away could eventually happen but not when he's at the top of his game.