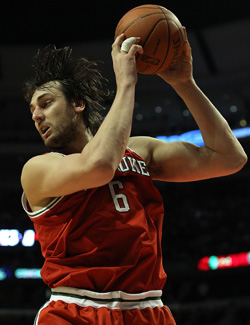 Posted by Royce Young
When teams start realizing there's nothing left to play for, you start seeing players shut down. And the latest is
Andrew Bogut
.
Via the Milwaukee Journal-Sentinel,
Bogut is done for the rest of the season as he'll have athroscopic surgery on his right elbow. Of course you'll remember that's the elbow that Bogut injured horrifically last season on a hard fall.
I guess "rest of the season" makes things sound like a big deal, but it's just four games. But it could be key in making sure he's healthy for training camp. Just an extra week ahead is big in recovery. That is of course, if there is a next season.
It had already been decided that
Bogut would have surgery following the season
but with the
Bucks
eliminated from the postseason, they're getting a head start.
Bogut played through discomfort and pain this entire season and had to deal with lingering affects from it. With him last season, Bogut was a near All-Star big man and helped lead the postseason. But after his injury, the team wasn't the same. And since he wasn't the same this year, therefore the team disappointed.
It's not like he had a horrible year though. Bogut played in 65 games averaging 12.8 points, 11.1 rebounds and 2.6 blocks per game. In rebounds and blocks, those are actually career highs. But he was clearly uncomfortable and had to compensate for not being able to fully extend his right arm.
Bogut's year is more a tribute of what a tough player he is than anything else. That injury was just horrible and his recovery hasn't gone that well. Yet he played in three-fourths of his team's games and put up really solid numbers. Tip of the cap, Mr. Bogut.
Hopefully this helps him because Bogut truly is one of the best centers in the game. He plays terrific defense, can score with his back to the basket, uses both hands (when they work), and rebounds well. With him healthy, the Bucks are a much, much better team.