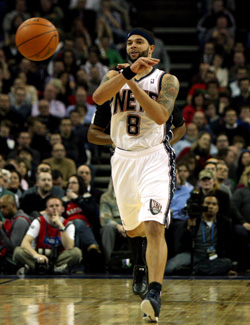 Williams to have wrist surgery, out for the rest of the regular season.
Posted by Matt Moore
Deron Williams
has had one of the more rollercoaster seasons you can have. Started off on a hot Utah
Jazz
team, kept coming up with comebacks, toppled the
Heat
, started to fade, hit a long losing stretch, battled with his coach, his coach who had been with the team for 28 years resigns, he's traded to the
Nets
, who assume he's going to re-sign, his wife delivers a baby girl, he's on a lottery squad, they start to make a move for the playoffs, that falls off, he gets injured.
And now, surgery.
Chris Mannix of Sports Illustrated reports
Williams will undergo surgery on his wrist to remove bone fragments Friday. He will miss the rest of the regular season (which isn't as scary now as it used to be, since the season's only got another five days on it). It's unfortunate he'll be dealing with the injury when he should be getting acquainted with teammates, working out, trying to fit into New Jersey and getting his mind right after a tumultuous year. Then again, considering the lockout, he could be on the shelf for quite a while to heal and still have time to do all those things.
Williams won't have international competition to worry about, won't have the grind of the playoffs, the wear and tear on the body. He should be in good condition to recuperate from surgery, then get his mind and body right for his contract season. He's going to have to come up with a strategy to shut down questions about where he's going in 2012, something no one, from LeBron to
Dwight Howard
, has been able to figure out. Meanwhile the Nets will have to continue to woo the man they already traded for, which they likely did not anticipate. It's been an up and down year for Deron Williams.
And it's going to continue on that path for the foreseeable future.