Posted by Royce Young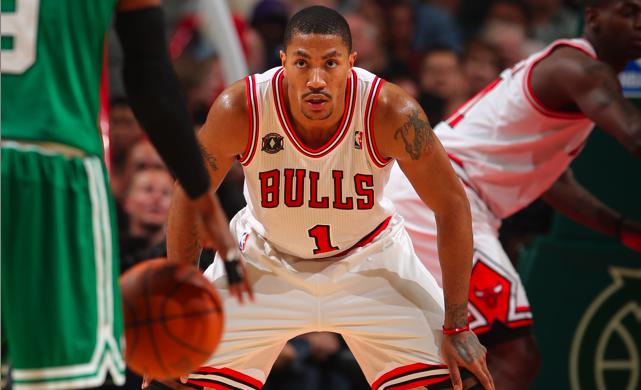 If there was really any doubt, I'm pretty sure it was eliminated Thursday. And no, I'm not talking about the
Celtics
chance at the No. 1 seed.
Derrick Rose
is your MVP. It's happening. If you love advanced stats, if you love
Dwight Howard
, I'm just warning you now -- deal with it.
After his electric performance Thursday destroying the Celtics (30 points on 9-16 shooting, seven assists) in front of a national TNT audience while announcers, fans and media fawning over him for 48 minutes, there's just no doubt about it.
Whether Rose should win it, that's for another column. In fact,
read Ken Berger's stellar piece on exactly that.
But it was clear Thursday against Boston that Rose is very, very deserving.
This was a big game. You could feel it. The
Bulls
not only had a chance to essentially wrap up the top seed, but send a substantial message to the Celtics, and the rest of the Eastern Conference. If there are "Heisman Moments" in college football, you could lock down this game as Rose's. He showcased every ability he has, led his team masterfully and basically destroyed the defending East champs.
It was a complete takedown.
I'm not necessarily someone on the Rose for MVP wagon, but I can tell you that nights like this make it hard not to give it to him. Reality is, not everyone has embraced advanced plus/minus or win shares. Most still watch games for what they are and Rose gives those the thrill of a lifetime. He
looks
like an MVP. It's hard to deny that feeling you get while watching him orchestrate the Bulls.
(However, let's not get too excited about Rose's effort on
Rajon Rondo
though. Defense has been the main issue most have with Rose's MVP candidacy and while Rondo didn't play well -- just seven points and six assists -- but it wasn't so much Rose as it was the terrific help defense. And the fact that Rondo seemed to make himself disappear in the second half on his own.)
It's not like he needed this showcase to cement the award, but this is precisely the sort of thing that makes it essentially impossible to deny him. To watch a game like that and then try and make a case against him is difficult. To most, you'll just appear like some moron that wants to be different. I guess I'm still one of those morons because something tells me Dwight Howard has fit what little description of the award we have. Howard has been most
valuable.
Rose has been most awesome.
It was
Steve Nash
's
tweet
come to life Thursday. Rose is a 48-minute highlight. He torched Boston in every way. Every button he pushed opened the right door. Like me, you can still try and say someone else deserves the MVP, but after this one, it's time to face reality. This is Derrick Rose's award whether you like it or not.