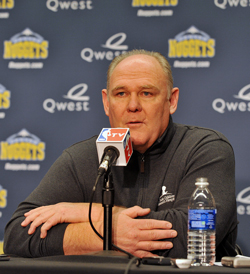 Posted by Royce Young
The
Nuggets
have a pretty big game Friday night versus the
Thunder
. And not because Denver has a shot to catch Oklahoma City, because the Thunder already clinched the Northwest.
Nope, it's because if George Karl had it his way, he might prefer his Nuggets actually
lose.
Via ESPN Dallas:
"If we had to pick and choose on it, we would probably say 55 percent Dallas, 45 percent Oklahoma City, only because Oklahoma City is athletic like we are and they have two great players," Denver coach George Karl told ESPN 103.3's Galloway and Company, referring to Thunder forward Kevin Durant and point guard Russell Westbrook. "They have two All-Stars who are really in their prime and have never won on the playoff stage. I just think right now our speed might have more effect against Dallas than it will against Oklahoma City."

OK, so maybe he doesn't really want to lose to the Thunder Friday, but it would definitely go a long way in pushing OKC to the three-seed. Right now, the Thunder are just a game back of Dallas with four to play. And OKC sort of has the upper hand. The Thunder actually own the tiebreaker over the Mavs despite losing the season series 2-1 because division winners get precedent.
But it's certainly interesting that Karl would be so candid about such a thing. Most when asked just play the "We're not thinking about them, just about us" card. Karl was honest. He doesn't like the matchup with OKC. He saw it first hand Tuesday night as the Thunder beat the Nuggets 101-94. With
Kendrick Perkins
inside on Nene and no one to guard Kevin Durant, Karl sees a very tough series ahead.
He's right though; Denver does match up much better. Karl has Wednesday night's 104-96 win in Dallas fresh on the brain and saw how his team really outquicked the Mavs to death. Dallas just doesn't have the horses to keep up with Denver's athletes.
Will it happen? We'll certainly have a better sense after Friday night, that's for sure.