Posted by Royce Young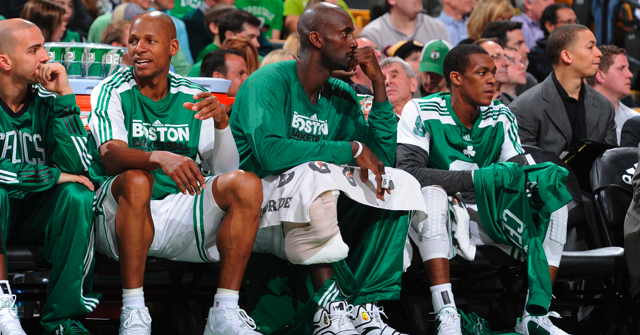 If I were writing this piece a month and half ago, things might be a bit more optimistic. If I were writing this piece a month and a half ago, I think I'd likely be skipping all talk about the first and second rounds and going straight to possible Eastern and even NBA Finals opponents.
But a lot happened over the past 45 days or so. A lot happened that drastically changed the outlook of the 2010-11 season for the Boston
Celtics
.
You know the story. Danny Ainge decided to trade ubuntu cornerstone and family member
Kendrick Perkins
away for
Jeff Green
and a balding 27-year-old. The team was now relying on
Shaquille O'Neal
's 39-year-old body to heal up and be ready for the grind of the playoffs. The team was banking on Green -- a notoriously inconsistent player -- to consistently provide a scoring punch off the bench and stabilize things on the wing. The team was trying to keep an eye toward the future while still focusing on the now.
Except the now might've been badly damaged.
Since the Perkins trade, the Celtics are 13-9. They're giving up more points per possession, scoring less and losing to teams they almost always handle. Now my personality is anti-panic, so I'm definitely not doing anything of the sort for Boston. But let's face the music here: The team is much different without Perkins. Differently in personality, different in personnel, different in ability. Boston is really missing not just that one-on-one post defender they had in Perk, but what his attitude and intensity brought as well.
I really agree with Bill Simmons, who knows that team better than anyone. They really believed in their
group.
They believed in the fact nobody had ever beat them when they were at full strength. They walked with a serious swagger, they believed in each other. I'm not exactly sure what message was sent to the team when Ainge traded Perkins, but I don't think it was a positive one. You can spin that deal any way you want -- it was for the future, the Celtics needed a wing, it helps the bench -- the players didn't respond well to it. And the actual
team
is the most important factor in all of this.
As it stands going into tonight's matchup with the Bulls, Boston sits second in the East, tied with the Heat and three back of the Bulls. Gone is the possibility of the top seed and it'll be a tussle to place second too. The Celtics are headed for an opening round series with either Philadelphia or New York. Fifty days ago, Boston looks superior in every way against both those teams. Now, things look a bit more iffy.
But here's where we pump the brakes.
The Celtics are, in fact, still 54-23. (Know what they were last year when they stormed to The Finals? 50-32 and fourth in the East.) They Celtics are, in fact, still
good.
They still have
Ray Allen
. They still have
Kevin Garnett
, They still have
Paul Pierce
. They still have
Rajon Rondo
. Maybe they're missing a big, mean-looking piece in the middle, but it
can
be overcome.
They defend. They score in crunch time. They're playoff tested. These guys know how to win. They know what it takes. Nobody has quite the same motivation as the Celtics, because nobody else suffered a painful Game 7 defeat in The Finals last June. Doc Rivers talked about how the team has that same excitement for the game and each other that it had in training camp in 2007 when they went on to win it all. This team is still very, very good.
Keep in mind, Perkins had only played in 11 games with Boston this season. The Celtics have experienced most of their success this season without him. But again, that's just without him
on the floor.
People tend to underestimate things like chemistry. Though Perk might not have been playing, the rest of the team knew he was coming soon, and really just in time for when they really needed him.
Is this Boston group a true Finals contender? Of course. Absolutely they are. The Celtics could trade Ray Allen and Paul Pierce and they'd still have Miami's number just because they're in the Heat's head completely. But no longer can this group take things for granted. They aren't going to cruise past the
76ers
or
Knicks
. And despite having the Heat by the tail, they aren't going to just skip past them either.
Then it's about the Bulls. Doc Rivers and Ainge can tell themselves that getting Shaq back will be an answer in matching up inside with Joakim Noah and
Carlos Boozer
. That might be true. But things are different now for the Celtics. They've lost a little something. An edge, a mentality, a swagger -- whatever. And they may have lost their chance at it all this year too.