New Orleans Hornets guard Chris Paul had his knee drained of liquid this week. Posted by Ben Golliver.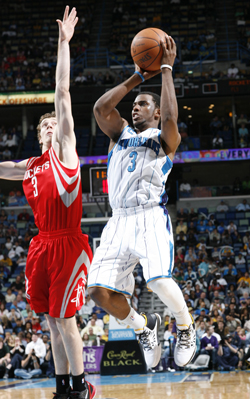 On Wednesday night, New Orleans Hornets All-Star point guard Chris Paul scored 28 points, dished 10 assists and grabbed nine rebounds to help the Hornets beat the Houston
Rockets
and secure a playoff spot. Hornets coach Monty Williams says that Paul's big night was all the more amazing because he needed to have a large amount of fluid drained from his ailing knee prior to the game.
In a video shot by NOLA.com
, Williams explains that Paul had roughly 20% of a cup's worth of liquid drained out of his knee on Tuesday.
"Chris almost had a triple double tonight and normally I don't say this because I don't like to put his stuff out there, but he had 45 CCs drained off of his knee yesterday from the hit he took.
"For him to be able to play at a high level like that with a sore leg. They just don't make 'em like that.
"Most guys would take the night off. Try to get this one game that we needed next week or something like that. I thought that act of sacrifice was what we needed. We certainly need him to play at that level but he's a monster."
Paul missed a good chunk of last season after undergoing knee surgery and he spent the early months of this season wearing a cumbersome brace to protect his surgically-repaired left knee. Paul hasn't been quite the same player as he was pre-surgery this season, but he's still been pretty dang good, and the burden on him to carry the Hornets got even heavier when forward
David West
went down for the season with an ACL injury of his own. Paul is averaging 16.3 points and 9.8 assists so far this season.
The Hornets are locked into a tight three-team race for the Western Conference's sixth, seventh and eighth seeds with the Portland
Trail Blazers
and Memphis
Grizzlies
. Williams doesn't really have the luxury of managing Paul's minutes, as holding on to the sixth seed would mean the Hornets would face the Dallas
Mavericks
rather than the defending champion Los Angeles
Lakers
in the first round. That's certainly a more favorable match-up for New Orleans, given the absence of West and the team's lack of size and depth up front.