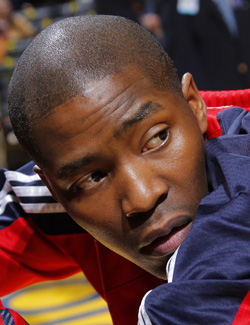 Jamal Crawford suing landlord for lost deposit due to dog behavior. Has apparently never heard of a rolled up newspaper.
Posted by Matt Moore
First of all, I want to apolgize for the headline. It's beneath all of us, and I really have no excuse. May God have mercy on my soul.
Here's a weird story. So Jamal Crawford rented this mansion from this woman. And Jamal Crawford had dogs which he kept in the house, two bull mastiffs and a rottweiler. (Why don't any NBA players own poodles? Or border collies? Collies are good dogs.) Crawford let his dogs roam around his house, and, well, his dogs did what dogs do. From TMZ:
But according to MyFoxAtlanta.com -- the landlord says she's going EASY on the guy -- because his massive doggies -- 2 bull mastiffs and a rottweiler -- relieved themselves all over the home ... we're talking #1s AND #2s.

In fact, the landlord claims the designer blinds are stained with dog pee ... and she has to replace the carpets because the smell is unbearable. She claims the dogs also chewed up several banisters and doors ... and the plumbing needs to be replaced because the sinks were clogged up with dog food.
via
NBA Star in DOG FIGHT Over Urine Stains | TMZ.com
.
Crawford's suing the landord for $60,000 plus legal fees over his $20,000 deposit. The landlord claims the damages totalled $28,000.
Can we take a second and ask who rents a mansion? I mean, I get that Crawford doesn't want to buy a place since they won't give him the extension. But how does one rent a mansion? And why is a mansion for rent? These things are very strange.
Second, so Crawford's just letting his dogs wander around and micturate and defecate all over the house? And he's just living with it? How does that work? Isn't that a health hazard?
Seems hard to believe the landlord's allegations, but with the history of behavior of professional athletes, and really, the human race, anything's possible. Jeez. No wonder he needs a new extension. He's got to move every six months because of the smell.