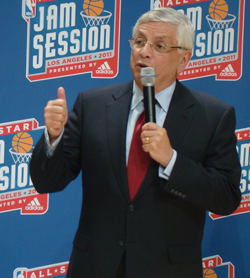 Posted by Royce Young
According to Yahoo! Sports,
the National Basketball Referee's Association has filed charges to the National Labor Relations Board claiming the NBA has violated federal laws by engaging in unfair labor practices.
A memo was distributed to 60 NBA referees and described the charges as "the league's refusal to negotiate with the union concerning non-economic issues."
The player's collective bargaining agreement isn't the only one the NBA is negotiating. The NBRA's expires Sept. 1. According to the report, the NBRA has hired an attorney and has met with the league three times thus far but the league hasn't responded to any proposals.
According to the report, the memos focused largely on issues like weight and fitness restrictions, travel and anti-discrimination based on race, sex and union activity.
Also included in the memos was this juicy nugget: David Stern allegedly made an "obscene expression" at union negotiators during a meeting on Jan. 24.
According to the memo, Stern – referred to as "one of the league's negotiators" – got angry when the union attorneys sought to include what the union called "standard language found in many collective bargaining agreements" on discrimination.

"One of the league's negotiators reacted to it with hostility and resorted to the use of an obscene expression in describing its effect," the memo said. "When the NRBA representatives declined his demand to delete the obscene expression from their notes, this negotiator abruptly left the room."
So evidently Stern did something "obscene" and then wanted it struck from the notes, he stormed out. Awesome. I'm sure these negotiations will go smoothly, just like the one with the players. Enjoy this last week of basketball if you're a fan of a lottery team because it might be the last you see for a bit.
Oh and if you're wondering, the league declined comment on this issue. Shocker.